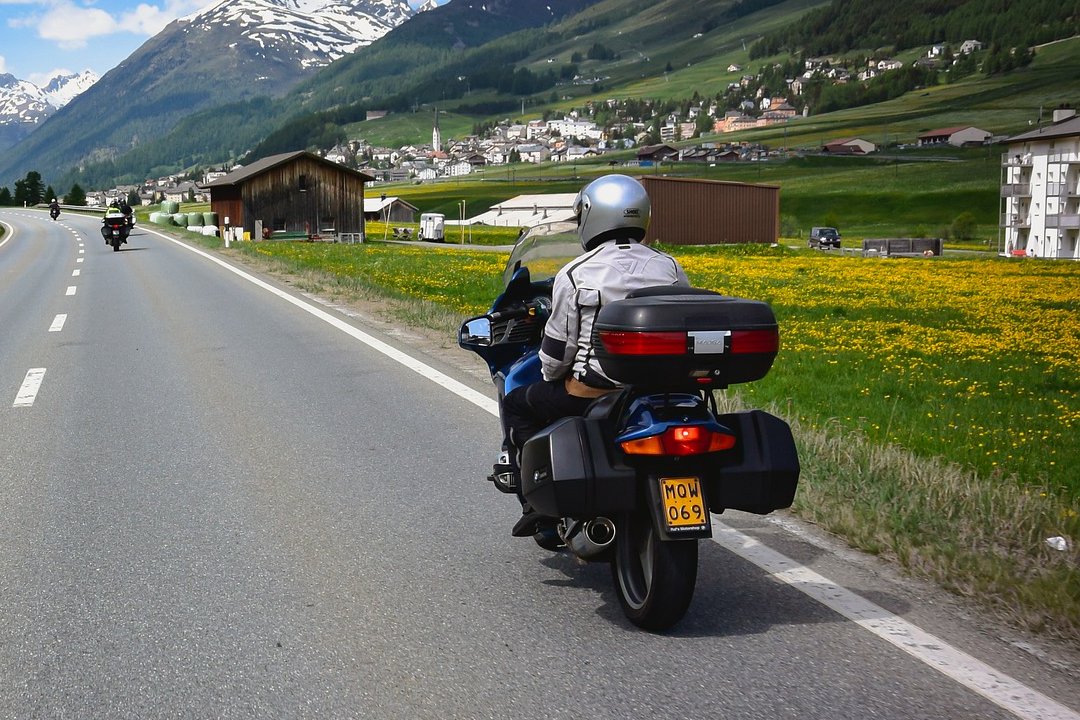 If you're planning a European motorbike trip but aren't sure where to begin, this comprehensive guide of motorcycle touring in Europe will help you get started. From the best time to ride to the most scenic routes and motorcycle choices, it's easy to get overwhelmed.
When should you go, what are the best motorcycle tours in Europe, and which countries offer the best experience?
In this article, we'll cover all the essentials for planning a motorcycle tour in Europe. You'll find:
What's the best time of year to tour Europe by motorcycle?
Where to go
What are the best motorcycle routes in Europe?
Which are the best motorcycle tours in Europe
What gear you'll need for touring Europe
How to travel Europe safely
In addition, we'll share some advice on what the best motorcycles for touring Europe are, what documents you'll need for your European motorcycle tour, and what to pack for the trip.
Planning a Motorcycle Trip in Europe
When you plan a motorcycle trip in Europe, one of the most important things to consider is the best time of year to go.  While most Southern European countries are great for motorcycling year-round, Western and Northern Europe sees cold temperatures during the late fall, winter, and early spring months.
To get the best experience out of your motorcycle tour in Europe, plan your ride for late April through to mid-September. Remember, however, that some of the European mountain passes may still be closed until as late as mid-May. If your goal is to explore the Swiss Alps, aim to ride here in June, July, or August.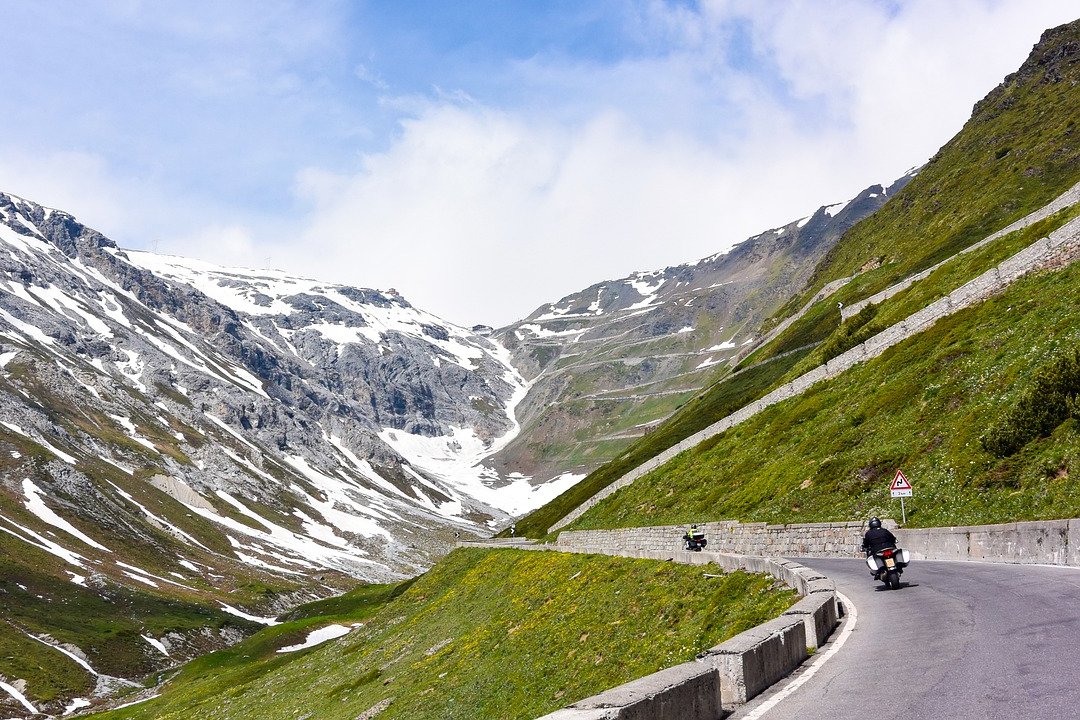 April and September months are the best for motorcycling in Spain, Portugal, Greece, and Italy. During May, June, and July, the temperatures here are hot, and it's high-tourism season. To avoid crowds and enjoy pleasant weather, pan your motorcycle tour of Southern Europe in early spring or fall.
On the other hand, Norway, Finland, Sweden, and Denmark are best explored in mid-summer. If you're planning to ride your motorcycle to Nordkap, for example, the best time to go is August.
While the best time for motorcycle touring in Europe is generally spring, summer, and fall, there are a few great winter destinations Europe has to offer. If you plan to ride Europe in December, January, February, or March, the best paces to travel are Crete (Greece), Sardinia (Italy), Southern Portugal, and Southern Spain.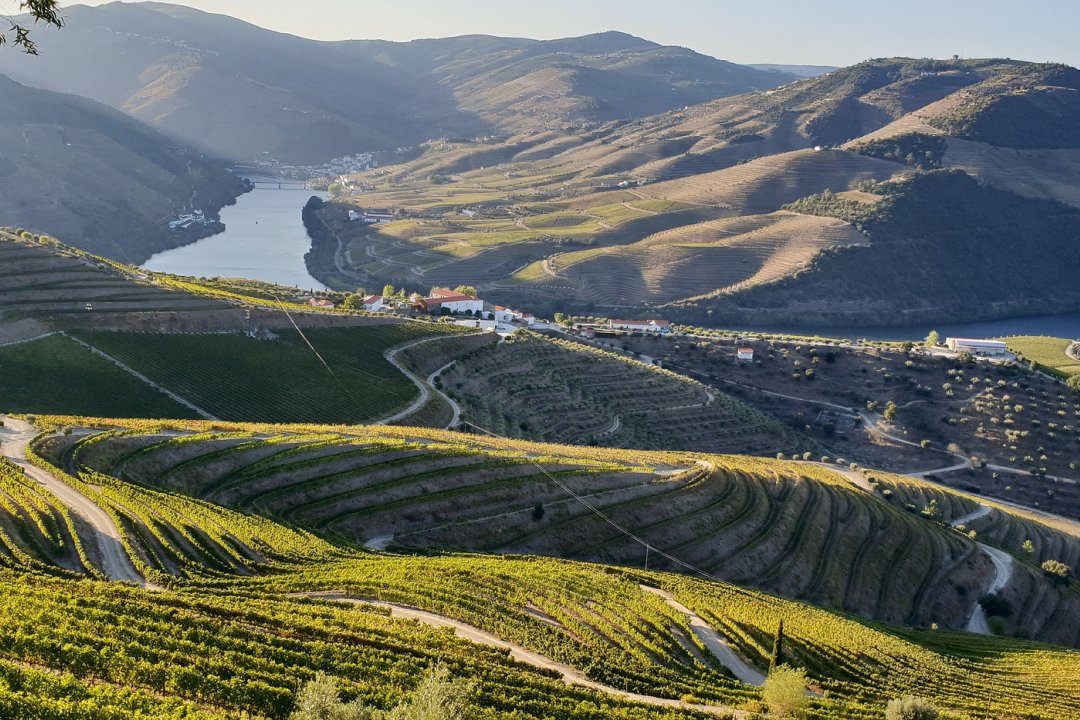 Where to Go
If you're planning to go on a motorcycle tour in Europe, you'll need to fly in to start your journey in one of the major cities. The best airports to choose from are located Amsterdam (the Netherlands), Frankfurt (Germany), Paris (France), Madrid (Spain), Rome (Italy), and Athens (Greece). From these major hubs, you'll easily find connecting flights to your destination or get a transfer to the location by the motorcycle tour operator.
Choosing one of these cities to fly in means you'll most likely get a direct flight. In addition, airfares to the major hubs are typically cheaper than to smaller, less popular destinations.
For more, see this extensive list of Europe's best airports.
Avoid flying to Europe during major holidays such as Christmas and Easter to avoid high prices and lots of tourist traffic. Thanksgiving, on the other hand, is a great time to travel as Europeans do not have this holiday.
Best Motorcycle for Touring Europe
In addition to knowing the best time to go, it's important to choose a motorcycle that will be comfortable and easy to handle during your trip. The best motorcycle for touring Europe is a bike that's mechanically sound, reliable, and comfortable for long distances.
For on-road motorcycle tours in Europe, look into sport tourers, adventure motorcycles, and cruiser motorcycles. These bikes are meant for traveling and offer a comfortable seating position, plenty of power, and great performance. Sport tourers, adventure bikes, and cruisers are ideal for European roads. You will comfortably cover long distances and enjoy those legendary mountain twisties and meandering coastal routes alike.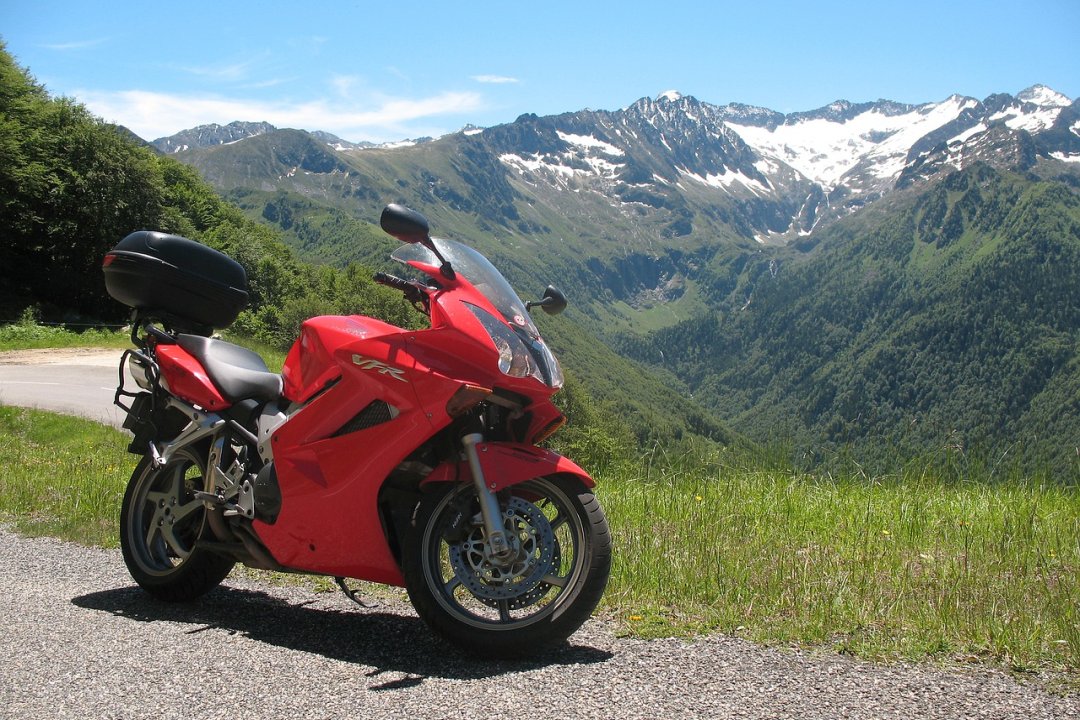 If you hope to explore the continent off-road, some of the best motorcycles for traveling Europe are dual-sport, adventure, and enduro motorcycles. These bikes are capable of both on-road and off-road riding, weigh less than cruiser and sport tourer motorcycles, and offer enough power and grip on gravel roads and trails.
If you plan to combine trail riding and tarmac, the best motorcycle for touring Europe will be an adventure or a mid-sized dual-sport motorcycle.
Best Motorcycle Routes in Europe
When it comes to the best motorcycle routes in Europe, there's no shortage of scenic rides to choose from. For the best mountain passes in Europe, look into Swiss, French, and Italian Alps: this region offers the best of European mountain motorcycle routes. In addition, the Spanish Pyrenees is another great region to explore, and you can ride both on-road and off-road here.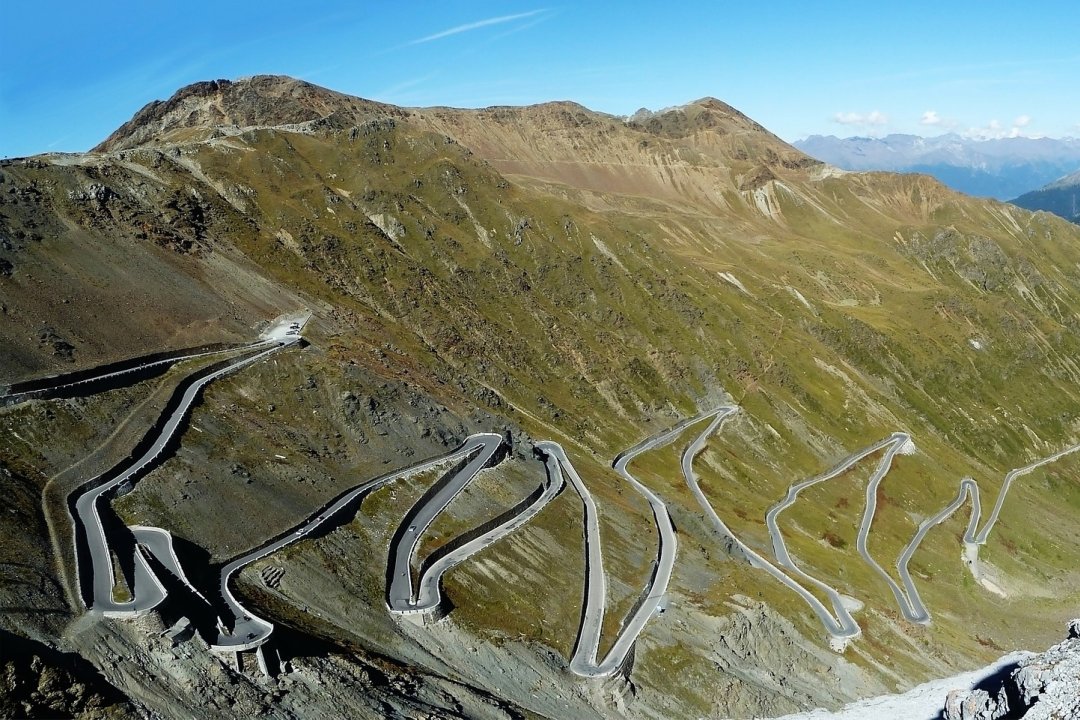 For coastal motorcycle routes in Europe, Italy's Amalfi Coast has few rivals. This scenic ride is considered one of the best motorcycle routes in Europe, along with the Adriatic Coast in Croatia.
If you prefer getting off the beaten path and see diverse scenery, explore Romania and the Balkans. Romania boasts two of Europe's most scenic motorcycle roads – the Transfagarasan and Transalpina – whereas Bosnia, Montenegro, and Croatia offer breath-taking mountain and coastal scenery combined. Another hidden gem in Europe is Slovenia. This tiny country packs a serious punch: it offers endless mountain twisties on good-quality tarmac roads, and there are plenty of trails to explore if you hope to get off the road.
For spectacular fjord scenery, dreamy coastal routes, and island hopping, Norway is your best bet. Two of the most scenic motorcycle routes in Europe, the Atlantic Highway and Trollstigen, are located in Northern Norway, and you're guaranteed to get your fill of awe-inspiring landscapes traveling here.
Portugal and Spain are great for diverse terrain ranging from deserts to mountains, both on-road and off-road riding, and fantastic weather year-round.
Best Motorcycle Tours in Europe
If you're planning to go on a motorcycle tour in Europe rather than ride on your own, there are plenty of interesting options to choose from. To research the best motorcycle tours in Europe, head over to MOTOURISMO, the biggest motorcycle tours booking platform online. MOTOURISMO is a combined online booking platform and travel agency for motorcycle tours, and they have a wide selection of motorcycle tours in Europe for each country, region, and type of riding.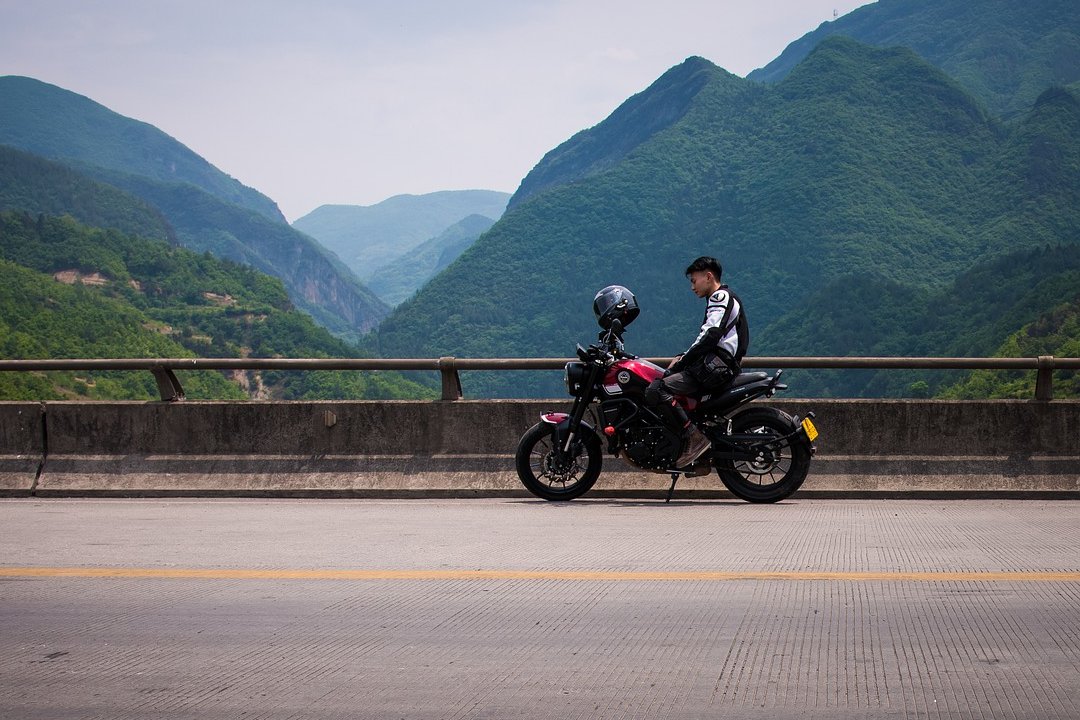 When researching the best motorcycle tours in Europe, look for options that appeal to you the most. You can choose between week-long trips or longer, twenty-day motorcycle adventures, pick on-road, off-road, or combined tours, or look into self-guided tour options. Some motorcycle tours in Europe offer all-inclusive packages. These packages have a motorcycle rental, accommodation, and routes all planned out ahead.
Others offer bike rental only, or self-guided motorcycle tour options where you ride a rental with pre-planned routes and hotels.
Guided Motorcycle Tours in Europe
Guided motorcycle tours in Europe usually offer the best experience if you don't have much time for planning and researching on your own. Guided tours typically include a rental motorcycle, a tour guide, hotels, points of interest, rest days, and meals.
All you need to do is fly in and ride. Everything else is taken care of for you. Some guided motorcycle tours also include a chase vehicle to carry your luggage.
For the best guided tours, see the extensive listings for guided motorcycle tours in Europe. You can also search by country, region, or the type of riding (on-road, off-road, or combination).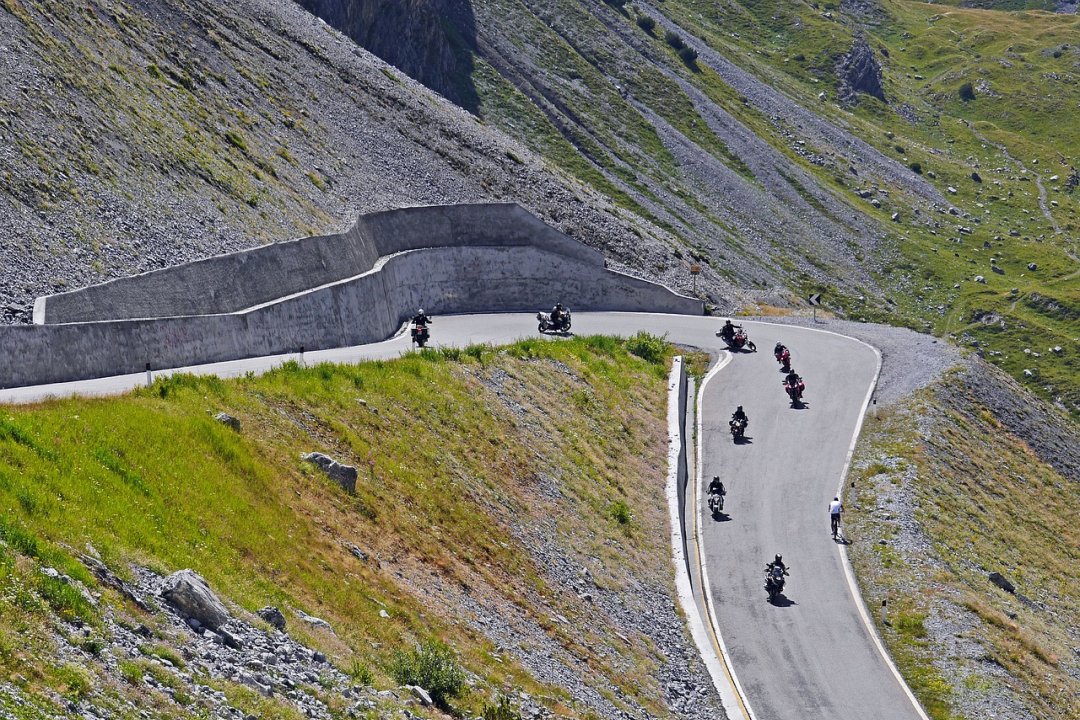 Self-Guided Motorcycle Tours in Europe
Self-guided motorcycle tours in Europe are ideal for riders who want to have the safety and comfort of an organized tour but travel independently. Self-guided tours typically include a rental motorcycle, a pre-planned route, and pre-booked hotels along the way. Self-guided tours are easier to customize, and you do not need to ride in a group.
To browse independent tour options, see this self-guided European motorcycle tours list.
What Gear Do You Need for Touring Europe?
For a motorcycle tour in Europe, you will need good quality riding gear. Remember, wearing a helmet is mandatory across the entire continent. Riding without one is illegal throughout the entire EU, so make sure you bring your helmet with you.
In addition, it's best to ride in sturdy, over-the ankle boots and wear protective pants, jacket, and gloves. If you're planning to ride Europe in summer, take lightweight, breathable motorcycle gear. For spring and fall riding, it's best to wear four-season riding gear or pack a few warmer layers. While the temperatures mostly stay mild and balmy, some high-altitude mountain passes may be a little chilly, even during the summer months.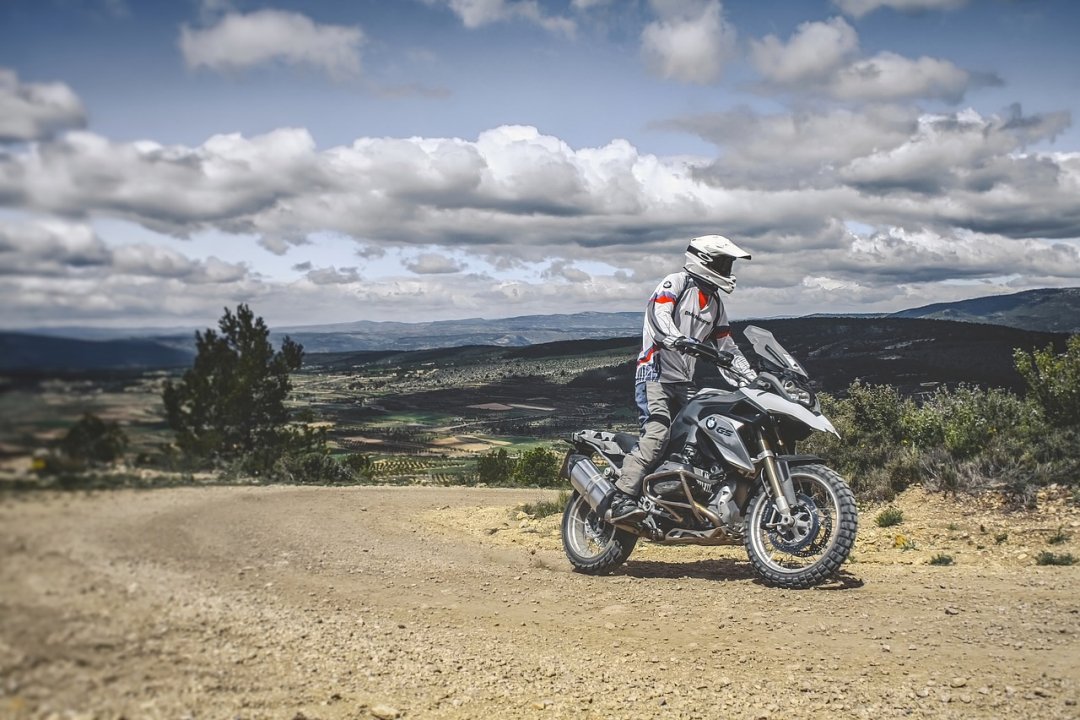 Motorcycle Navigation in Europe
If you're planning to go on a self-guided motorcycle tour in Europe, you'll need to have means of navigation. If you normally use a GPS unit, be sure to download European maps before you go. If you use a phone navigation app like Google Maps or similar, the maps will download automatically when you arrive. Just make sure you're downloading using WiFi, not data, to save on data costs.
If you prefer paper maps, you find European road maps at the airport or any gas station along the way.
 Safety When Touring Europe by Motorcycle
Traveling in Europe by motorcycle is generally safe. However, it's best to make sure you have some security measures when it comes to your motorcycle. Whether you're renting or riding your own, keeping your motorcycle safe while riding Europe is important, especially in big cities.
We strongly recommend only parking your motorcycle in secure garages and well-lit, secure parking lots. In addition, consider carrying a disc lock or a motorcycle chain with you so you can secure the bike while parked. Finally, having a GPS motorcycle tracker may save you a lot of hassle in case your bike gets stolen. A GPS tracker and alarm will alert you if your motorcycle is being moved, and you can track its live location via the app if the bike has been stolen.
FAQ
Can you travel Europe on a motorcycle?
Yes, you can travel Europe on your own or rental motorcycle. Motorcycle rentals are available in all major European cities.
Can you tour on any motorcycle?
You can tour Europe on any motorcycle you choose. For the best road touring experience, consider renting a sport cruiser bike. For dual-sport and adventure riding, it's best to pick an off-road capable motorcycle like an enduro or an adventure bike.
Which country is best for motorcycles?
While most European countries are great for riding, the best country for motorcycles is undoubtedly Italy. The Italian Alps, the Dolomites, and the Amalfi Coast are all iconic motorcycle destinations in Europe. For more European motorcycling route ideas, see this list of epic biking roads.
What do I need to travel to Europe by motorcycle?
To travel Europe by motorcycle, you will need your passport, your driver's licence, and your travel insurance. Your motorcycle will most likely be insured by the motorcycle tour or rental company, but double-check before you go. You do not need to have an international driver's license for Europe.
Get Ready for Your European Motorcycle Tour
Now that you know the best time to ride Europe, where to go for the most scenic roads, and what motorcycle should you choose, it's time to start planning your motorcycle tour in Europe. Research the destinations that you've always dreamt of seeing, pick a motorcycle tour that suits your needs, and hit the road! Wherever you go, a motorcycle tour in Europe will be an unforgettable experience, and we hope you thoroughly enjoy your two-wheeled adventure here.
Happy miles!
Wondering how YOU can protect your bike?
Check out Monimoto smart trackers