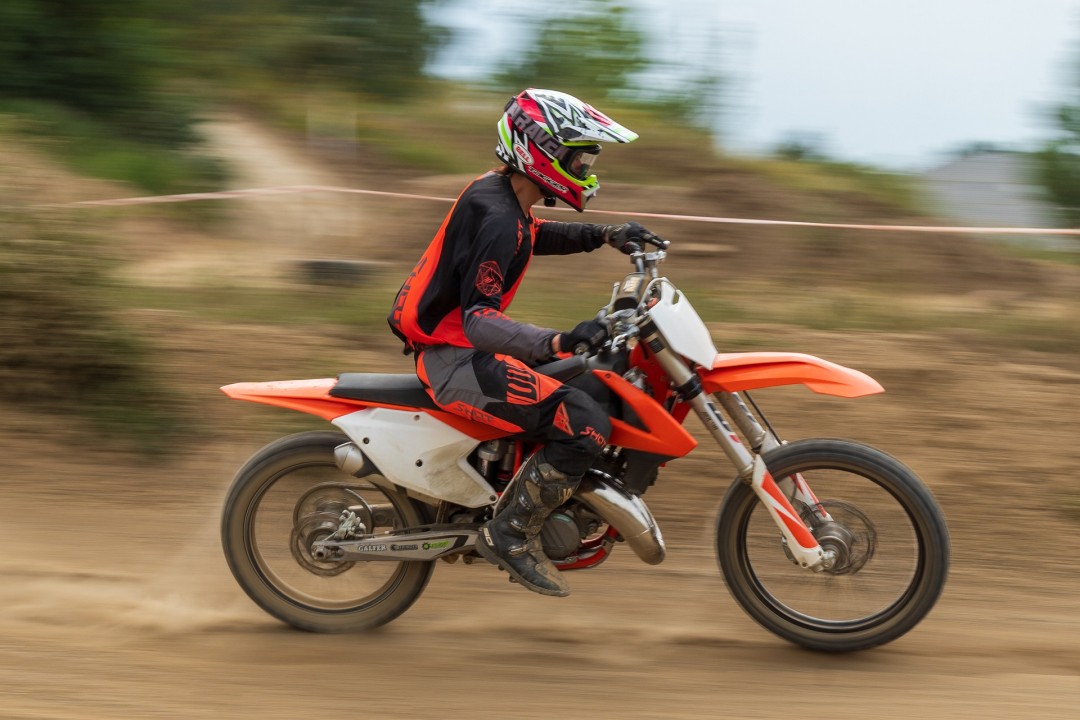 You may be considering entering your first enduro race or a rally. Or perhaps you're not thinking about racing at all, but there's just something about enduro motorcycles that calls out to you. We get it – there's nothing quite like ripping up dirt! If you're shopping for the best enduro motorcycle in 2022, whatever your reasons may be, we're here to help.
Choosing an enduro bike is harder than deciding between different flavors of Ben and Jerry's. There are so many awesome options out there, and almost every brand has at least one damn fine machine on offer. KTM is the undisputed rally king, but Huskies just have that look about them. A Yamaha WR is a beast on the trails, but then, a Honda CRF can double as a dual sport when needed…The list goes on and on.
If you're feeling overwhelmed , you're not alone – riding enduro motorcycles is very popular. The first Enduro motorcycles appeared on the scene in 1913 at the International Six Day Trial in Carlisle, England. More than a hundred years later, riders are still obsessed with them – and for good reason.
Purpose of Enduro Motorcycles
Enduro motorcycles are off-road racing bikes that are used for cross-country competitions, trail riding, rally racing, off-road travel, and just about everything in between. Enduro bikes are specifically built for long-distance racing and are designed to hold up under extreme conditions. Hence their name: enduro comes from endurance, the main requirement for both the rider and the machine in this type of riding.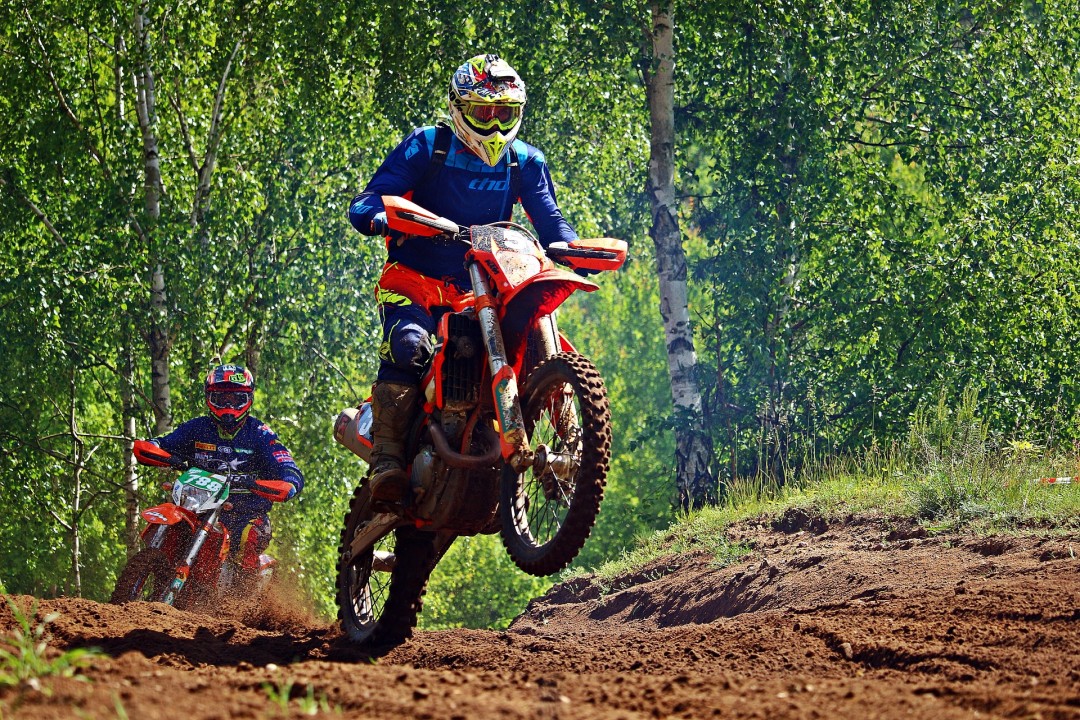 An enduro motorcycle is generally a tough motorcycle that can take a pounding. Unlike other types of motorcycles, enduro motorcycles are designed to take on and navigate difficult terrains. For this reason, the ergonomics of these bikes are set up for the rider to be able to stand on the pegs for long periods of time. These bikes are nimble, lightweight, and feature aggressive, knobby tires for good traction on rough terrain. Enduro motorcycles also have protective hardware around the engine, clutch, and handlebar area for crash protection. Don't worry too much if you drop your enduro dirt bike – these things are meant to be thrown around.
Street Legal vs Trail
Enduro motorcycles have strict requirements for road use. This means that you'll need to register your enduro beast before taking it on the road. However, there are now many enduro bikes on the market that are already set up for street use. Street-legal enduro motorcycles are considerably durable and tough, just like their trails-only counterparts.
While the main purpose of enduro bikes remains the same across the board, there are several different types of enduro motorcycles. The larger enduro bikes in the range of 350-450 cc can serve as dirt bikes, dual sports, rally bikes, and even long-distance travel bikes. The smaller, 250cc enduro bikes, on the other hand, best perform on rough, technical terrain and racing. Additionally, some enduro motorcycles like the KTM 450 EXC are built for rally racing.
Enduro Motorcycle Manufacturers
Just about every manufacturer out there now offers enduro motorcycles, but the best enduro bikes typically bear the names of KTM, Yamaha, Honda, Suzuki, and Husqvarna. New players on the scene include GasGas and Beta.
With so many different types and brands of enduro motorcycles on the market, finding the right one can be a challenging task. If you don't know where to begin when looking to buy an enduro motorcycle, we've got you covered. This piece highlights the best enduro motorcycles on the market in 2022. Our top picks for choosing these enduro motorcycles are based on a wide criterion such as power, speed, tank capacity, transmission, type of starter, and weight.
Let's dive right in:
Monimoto's Top Picks for the Best Enduro Motorcycle in 2022
1. KTM 300 EXC TPI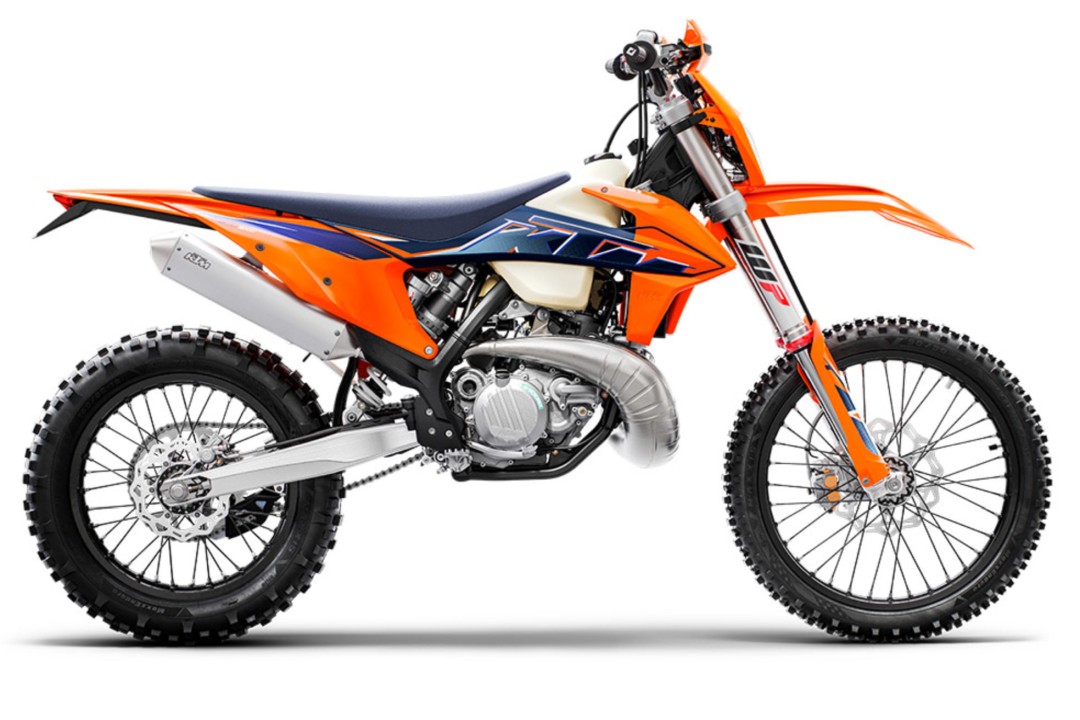 The KTM 300 EXC TPI is a powerful enduro dirt bike that has a great potential for speed. It has an onboard liquid cooling system that cools the engine. With a 9-liter gas tank and adjustable NEKEN tapered handlebars, this bike is one of the best enduro motorcycles in 2021. Aside from its fair price, the KTM 300 EXC is among our picks because of its power.
Dry weight: 103.4kg/228lb
Power: 55hp
Displacement: 293.2ccm
Top speed: 120mph/193km/h
Starter: Electric
Tank Capacity: 9L/2.38gal
Transmission: 6-speed
Wheel size: 21' front/18' rear
Fuel system: Injection
Cooling system: Liquid
Seat height: 960mm/37.8''
Engine type: Single cylinder, 2-stroke
Fuel control: Single overhead cams (SOHC)
Color: Orange/White/Gold
Price: $10,199
2. Husqvarna TE 300i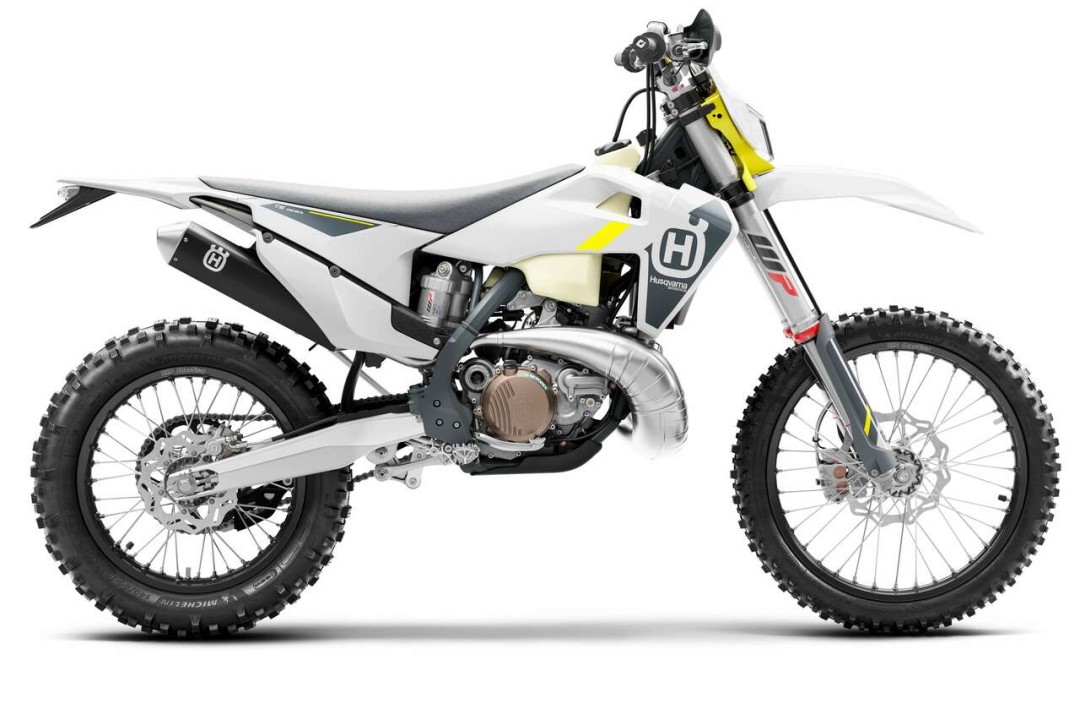 Husqvarna TE 300i is a 2-stroke enduro motorcycle. Although it has a carbon fiber subframe that is lightweight, the bike itself is slightly heavier than usual. This means it has a great potential for more control and anchoring. Husqvarna TE 300i enduro motorbike has a map select switch that provides two standard modes. This enduro dirt bike is on our list because of its great potential for control, especially for experienced riders.
Dry weight: 106.2kg/234.1lb
Power; 43.8hp
Displacement: 293.2ccm
Top speed: 71mph/115km/h
Starter: Electric with optional kick start
Tank capacity: 8.5L/2.25gal
Transmission; 6-speed
Wheel size: 21'' front/18'' rear
Fuel system: Injection
Cooling system: Liquid
Seat height: 950mm (37.4inches)
Engine type: Single cylinder, two-stroke
Fuel control: Double Overhead Cams/Twin Cam (DOHC)
Color: White/Blue/Yellow
Price: $10,299
3. Beta RR 300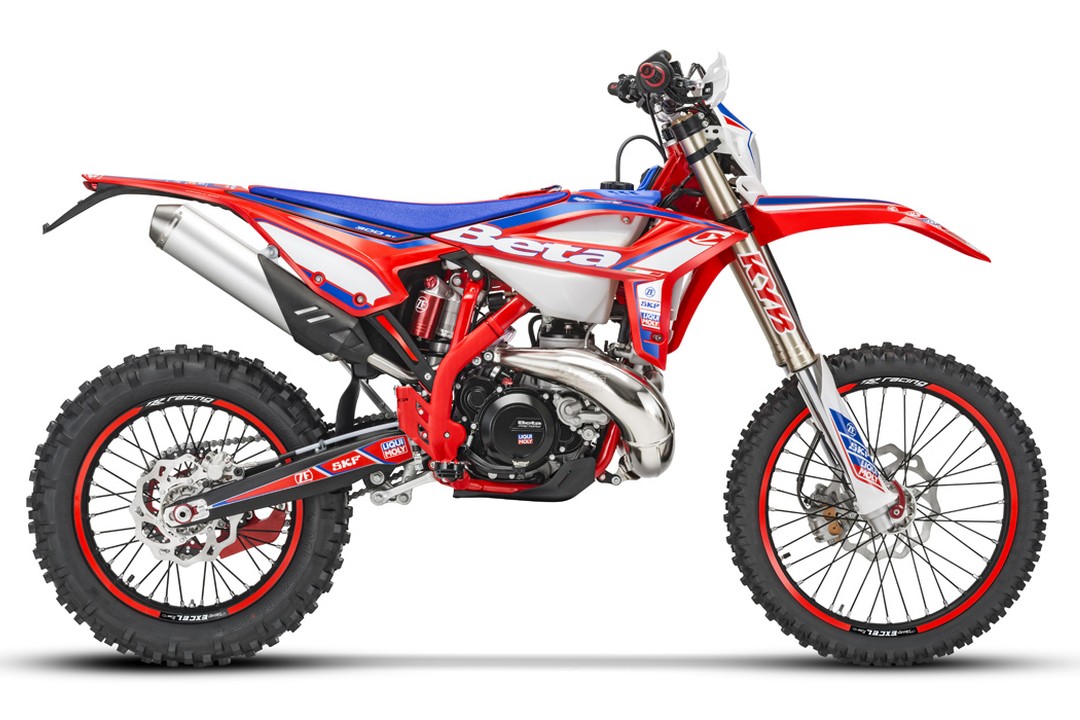 First of all, Beta RR 300 enduro motorcycle is on our list of the best enduro motorcycles in 2022 because of its suitability for short riders. With a 9.7L tank, a light frame, and counterbalance, this enduro bike is a serious contender for the best enduro motorbikes available on the market. Secondly, this enduro motorcycle is on our list because of its raw power and minimalism.
Dry weight: 103.4kg/2281lb
Power: 38.9hp
Top speed: 95mph/153km/h
Starter: Electric with optional kick start
Tank capacity: 9.7L/2.55gal
Transmission: 6-speed
Wheel size: 21'' front/18'' rear
Fuel system: Injection
Cooling system: Liquid
Seat height: 36.6inches
Engine type: Single-cylinder, 2-stroke
Clutch: Wet multi-disc
Color options: Red/Black/White
Price: $9199
4. 2022 Honda CRF450RL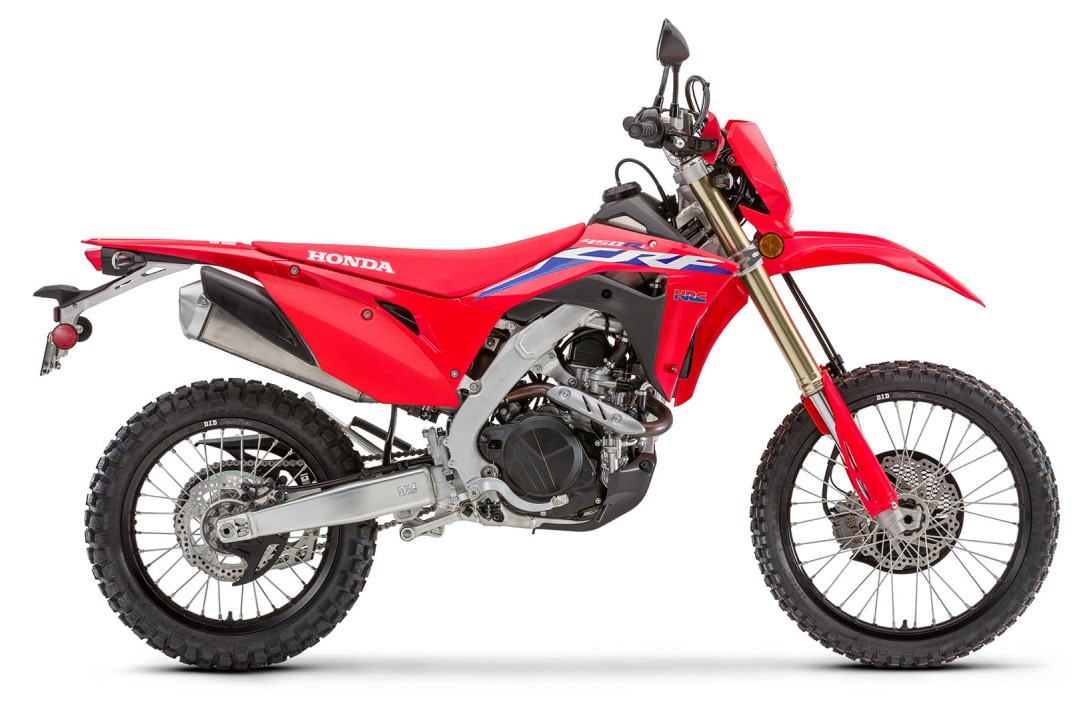 The Honda enduro CRF 450RL is an enduro motorcycle that uses the CRF450R Motorcross platform. The engine modification of these Honda enduro dirt bikes has a specific crankshaft that adds inertia and enhances low RPM torque. Honda CRF 450RF three-piston ring engine also increases durability. It has a wide frame which enhances a 6-speed transmission. The 6-speed engine enhances the bike's wider gear spacing that benefits both low-speed abilities and a tall 6th gear for long high-speed stretches. This enduro motorcycle has a 2-gallon titanium fuel tank that is 20% larger than the R model. This enduro motorcycle is on our list because of its durability.
Curb weight: 291lbs
Valve Train: Unicam OHC, four-valve
Displacement: 449.7cc
Final Drive: #520 sealed chain; 13T/51T
Starter: Full transistorized
Tank capacity: 2.0 gal.
Transmission: 6-speed wide ratio; manual
Wheelbase: 58.9 inches
Fuel system: Injection
Cooling system: Liquid
Seat height: 37.2 inches
Engine type: Single-cylinder, four-stroke
Clutch: Multiplate wet (6 springs)
Color options: Red
Price: $9,999
5. 2022 Yamaha WR450F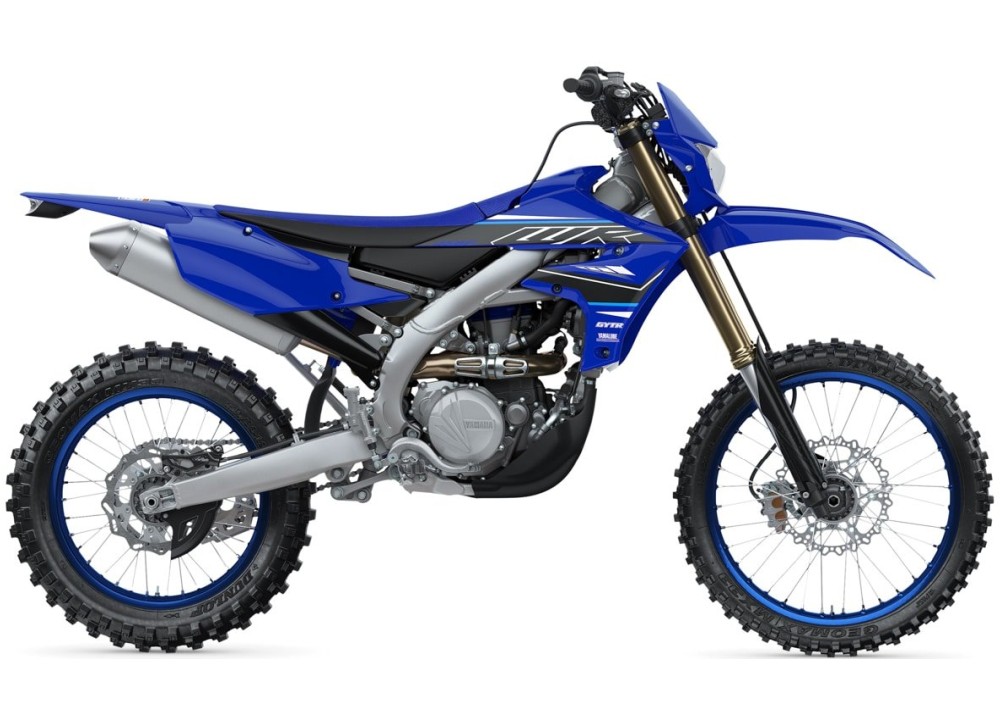 Yamaha WR450F is the latest enduro Yamaha released in 2021. It has a 5-speed, a wide-ratio transmission that enhances smoother shifting. While it's lighter than previous models, the enduro Yamaha is more powerful and has better handling. The liquid-cooled 499cc engine of this enduro motorcycle has a compact cylinder head with a redesigned combustion chamber shape and steeper valve angles. This enduro monster comes with an upgraded heavy-duty clutch that is superior to the YZ450F model. This bike is on our top enduro motorcycle list because of its improved handling and feel (and, let's face it, ridiculous wheelie capacity).
Wet weight: 262lbs
Valve Train: DOHC 4-stroke; 4 valves
Displacement: 450cc
Final Drive: O-ring chain
Starter: Electric
Tank capacity: 7.9L
Transmission: Wide-ratio 5-speed
Wheelbase: 58.3 inches
Fuel system: Injection
Cooling system: Liquid
Seat height: 37.6 inches
Engine type: Single-cylinder, four-stroke
Clutch: Wet multiplate clutch
Color options: Blue
Price: $9,799
6. 2022 KTM 350 EXC-F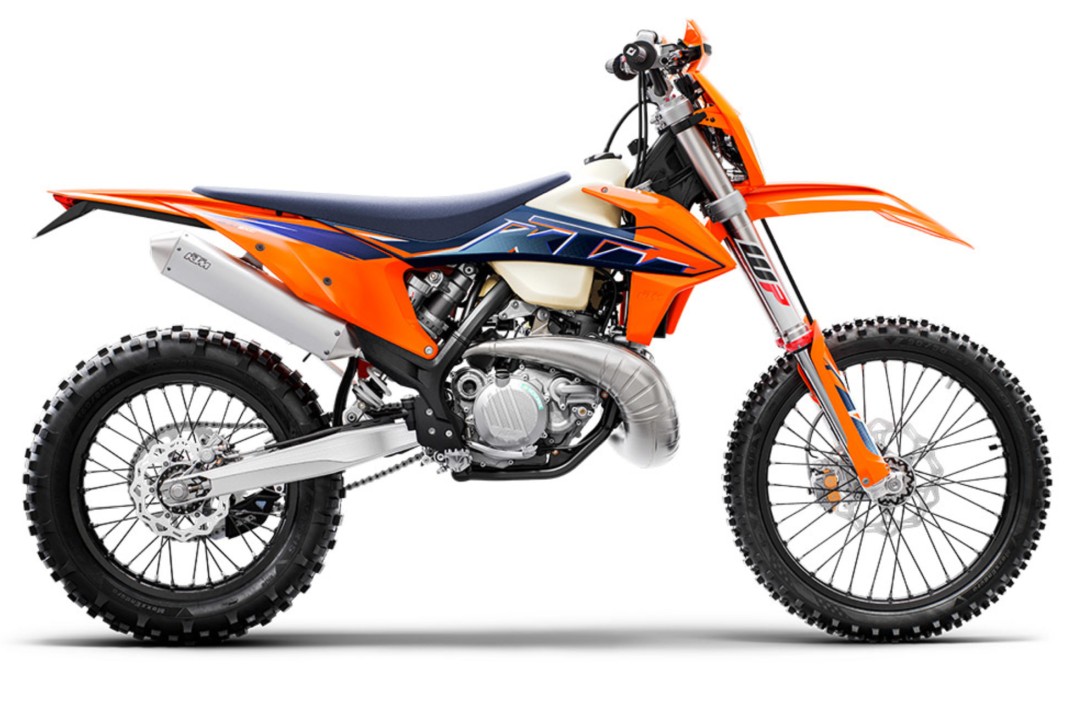 The 2022 KTM 350 EXC-F is a four-stroke engine enduro motorcycle. The bike's potential for power is the same as you'd get in a 450 enduro motorcycle, but it maintains 250-like handling. The WP suspension of previous models of KTM 350 has been improved on in the 2022 KTM 350 EXC-F. The upgraded WP XPLOR forts now have an external preload adjuster—making trail adjustments quick and easy. This enduro motorcycle is on our 2022 best enduro motorcycle list because it's the best in the KTM enduro lineup yet.
Curb weight: 237.6lbs
Bore x Stroke: 88.0 mm x 57.5 mm
Displacement: 349.7 cc
Final Drive: 14:48
Starter: Electric, Lithium Ion 12 V 2 Ah
Tank capacity: 2.25 gal
Transmission: 6 Gears, Wide Ratio
Wheelbase: 58.3 inches
Fuel system: Injection
Induction: Keihin EFI, 42 mm
Seat height: 37.8inches
Engine type: Single-cylinder
Clutch: Wet Multi-Disc DDS-Clutch, Brembo Hydraulics
Color options: Orange
Price: $11,199
Tips for Enduro Bike Owners
One of the greatest ways of ensuring that you enjoy your enduro motorcycle and extend its lifespan is to keep up with the motorcycle maintenance. With proper care and a basic understanding of mechanics, you will be sure to enjoy your enduro dirt bike for many seasons.
Following are tips for every enduro motorcycle owner:
It's essential that you wash your enduro dirt bike after every ride and inspect it thoroughly before putting it in the garage. This will not only help you remove mud and other dirt particles from your motorcycle, but will help detect anything that requires attention on time (think loose bolts, damaged skid plates, and the like).
It's important to regularly clean and lubricate the throttle and clutch cables of your bike.
Never ride your enduro motorcycle with dry chain or sprockets. Ensure you clean your chain and sprockets after every ride, then lubricate them thoroughly.
Regularly change your enduro motorcycle oil. If you don't change the oil, your bike's engine can easily knock. The more often you change the oil, the longer your dirt bike engine will live. Also, never leave your dirt bike with used oil in the case during the winter season. If you are planning to store your dirt bike during the winter season, be sure to check the oil status in the crankcase.
The carburetor is the heart of enduro motorbikes. You need to clean and service your bike's carburetor regularly.
An enduro bike means riding dirt, and riding dirt means clogged air filters. It is essential to ensure that you keep your air filter clean and soaked with sufficient oil that will keep your enduro motorcycle engine running smoothly. Always find time to pull out the air filter and clean it thoroughly.
Check all the electricals to ensure that everything is in order. If you notice that the charge on your enduro motorcycle battery is low, charge the battery or replace it if it can no longer hold a charge.
Check and regularly change your enduro motorcycle coolant and ensure it's in good condition. This will help keep your engine cool and prevent overheating and damaging the small components of your engine.
In addition to bike maintenance, don't forget to consider your motorcycle's safety and security. A lot of enduro motorcycles aren't street legal and therefore, unregistered. This makes them easy targets for thieves. To prevent your bike from getting stolen, always leave it in a secure garage or parking lot. Additionally, keep it locked up with a disc lock and chain. For maximum security and peace of mind, we recommend installing a motorcycle GPS tracker so you can have it tracked in real time in case of theft.
FAQ
Who makes the best enduro motorcycles?
While there are many great enduro manufacturers in the market, KTM sits atop the list of the best enduro motorcycle brands with Yamaha, Husqvarna, and Honda coming hot on their heels.
What is the difference between dual sport and enduro?
Enduro motorcycles are smaller, lighter, and more adapted for high speeds on rough terrain. Enduro bikes are capable of multiple disciplines from rally and enduro racing to riding technical terrain. Dual sport motorcycles, on the other hand, are larger, heavier motorcycles designed for both off road and on road use.
What size of enduro motorcycle should I get?
The size of the enduro motorcycle you're buying depends on several factors, especially your experience level, weight, and height. It's usually recommended that beginners go for an enduro motorcycle of between 250cc-350cc. A 450cc enduro dirt bike may be too powerful for a beginner, and believe us, a 250cc dirt bike has plenty of bite. On the other hand, some of the 450cc enduro bikes – like Honda's CRF line – are known for stability and reliability, so when all is said and done, pick what feels right for you.
Are enduro bikes reliable?
The answer is a resounding yes. Enduro motorcycles are not only reliable but durable and can withstand extreme conditions. KTM's may be a little more capricious than the more reliable Hondas and Yamahas, but generally, dirt bikes are meant to be abused – and withstand that abuse.
Go With the Enduro That Feels Right For You
With all of this information at your fingertips, what are the deciding factors that'll determine the kind of enduro motorcycle you go for? You are! We all have our own reasons why we want an enduro dirt bike. Something as simple as seat height can prove very important in making a purchase decision. Your body type, intended use, and how complex your riding will be, are some of the things to consider. Whatever type of enduro motorcycle you buy, keep in mind the maintenance tips we discussed here. And, as always, be safe out there!
Wondering how YOU can protect your bike?
Check out Monimoto smart trackers