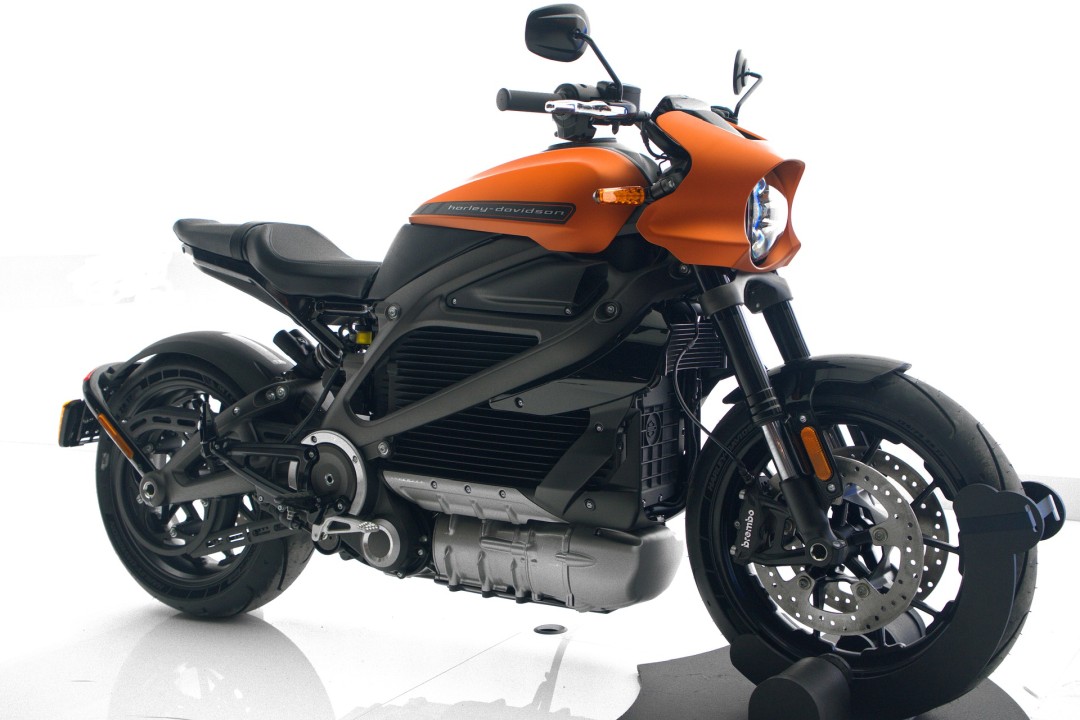 Why Should You Buy a Motorcycle in 2022
With big shows and public launches having been canceled because of the pandemic last year, motorcycle manufacturers have had even more time to design, improve, and craft the best new motorcycles in 2022. And after the long lockdown periods around the world, your thirst for freedom and adventure will be greater than ever! What better way to celebrate the thrill of being alive than with a new motorcycle?
Of course, there is a lot to consider before investing in one of the brand-new high-end 2022 motorcycles. That's why we've made this list to help you decide what is the best motorcycle for you in 2022. But first, let's dive into the reasons why 2022 is the perfect year for buying one of these top 10 best motorcycles.
More Power
The need for speed – and with that, smooth and efficient acceleration – is a common reason to invest in a more powerful new motorbike. 2022's newest and best motorcycles sport solid amounts of horsepower, impressive torque specs and bigger engines for top speeds regardless of the type of road you're riding.
Improved Design
Let's be honest: style is an important factor when it comes to choosing the best motorcycle. Whether you prefer a sturdy, torquey adventure bike or are more of a sports bike rider and regardless of whether you've been around the track for a while or just starting out, 2022 has some sleek new designs in store for you.
New Technology
Aside from increased top-speeds and engine displacement, the best motorcycles in 2022 also come equipped with high-end electronic systems, rider assists and advanced safety features which cannot be overestimated when considering the sheer brute force of today's most spectacular two-wheelers.
Higher Comfort
The enhanced technology features of the new motorcycles 2022 not only improve your safety when riding and racing but are also designed for more comfort and convenience. With radars, blind-spot-monitoring, Bluetooth connectivity and more, the latest features are guaranteed to give you the most relaxed and comfortable riding experience possible.
Improved Aerodynamics
Did you know that most of your motorcycle's energy is spent on overcoming air resistance? Any rider who has experienced the knocks of turbulent air on their helmet will happily invest to avoid that feeling. The good news is: the top rated motorcycles of 2022 come with winglets, streamlined bodies and lower drag coefficients, making for a smoother and more aerodynamic ride!
More Economical
Over the last decade, riders and non-riders alike are growing more environmentally conscious and the manufacturers rise to the demand: with improved engines, fuel efficiency is at an all-time high while emissions are reaching a new low and electric motorcycles are up and coming. In the long run, buying one of the top ten motorcycles in 2022 can be a relief for the environment and your wallet!
Types of Motorcycles
When deciding which new motorbike you want to shell out on this year, it is important to consider the kind of riding you'll want to do. So to know what is the best motorcycle for you, let's first talk about the different types of motorcycles.
Street bikes, or naked bikes are designed for commuting and short distance journeys. With their upright seating position, minimalist style, easy handling and no-frills technology, they are perfect for your urban road needs.
Cruisers are your bikes of choice if you're dreaming of relaxed weekend outings while avoiding the rugged dirt tracks. With a cruiser, you might want to look for features such as baggage options, seat comfort and style rather than sheer power.
With sport bikes, the clue is in the name: these performance-built machines are made for reaching top speeds while keeping you as safe and comfortable as possible!
If you're looking for the best all-around motorcycle in 2022, an adventure bike might be the go-to choice for you. They combine the efficiency of a street bike with the off-road capabilities of a dirt bike and are suited to all kinds of roads.
Another good choice, if you're looking for an allrounder, is a dual-sport bike. These versatile machines are powerful, fast, and highly adaptable to the style of riding you prefer, be it dirt trail or cross-country tarmac.
If you want more technical information on the different categories for each type of riding, a style-specific buyer's guide can offer some great insight.
Criteria
When making the list of top 10 best motorcycles 2022, a lot of different factors went into consideration.
Firstly, performance-related specs such as horsepower and torque have obviously played an important role in deciding on the top performing motorcycles this year. However, there is more to the world best bike than sheer engine power…
Secondly, we had a look at economical aspects such as fuel efficiency, range and other environmental aspects, which is why we are especially excited to include a top-performing new electric motorcycle!
Thirdly, we looked at the comfort and handling of this year's contestants for world best bike.
Last but not least, we have been trying to include something special for every taste, riding style and budget.
What Are the Best Motorcycles?
Now that you are up to speed on the improvements, types and criteria for best motorcycle of the year, it is time to choose your new motorcycle. Without further ado, let us present to you the list of top 10 best motorcycles in 2022.
1. Royal Enfield Meteor 350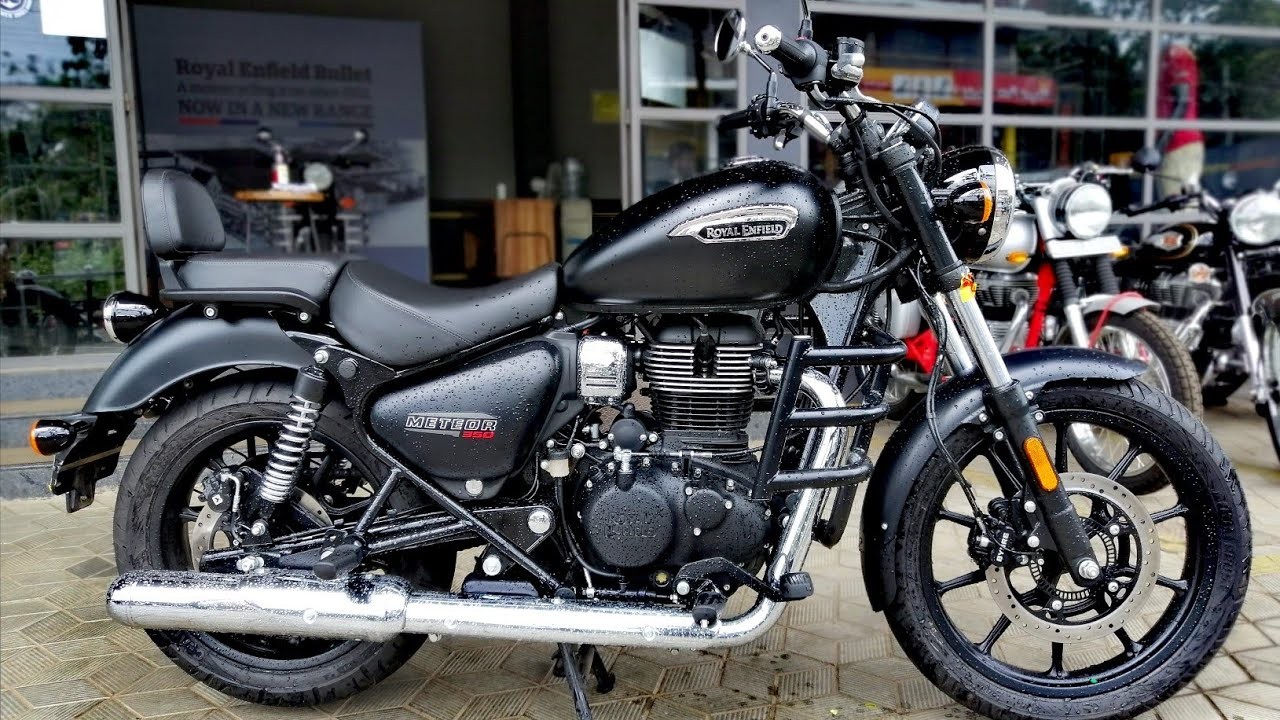 Style: Cruiser
Engine Type: air-cooled, single cylinder, SOHC, 2 vpc
Displacement: 349cc
Bore x Stroke: 72.0 x 85.8 mm
Max Horsepower: 20 hp @ 6,100 rpm
Max Torque: 19.9 lb-ft @ 4,000 rpm
Weight: 421 lbs / 191 kg
MSRP: $4,399
While the Royal Enfield Meteor 350 with it's small-displacement, low horsepower engine may not be pushing the limits of speed and performance, it has already won an impressive array of awards, including the IMOTY 2021 and Two-Wheeler of the Year! With its lush high-quality retro design, incredibly competitive price and a range of 300+ miles, this cruiser is a superb entrance level machine and offers amazing value for little money.
2. Triumph Trident 660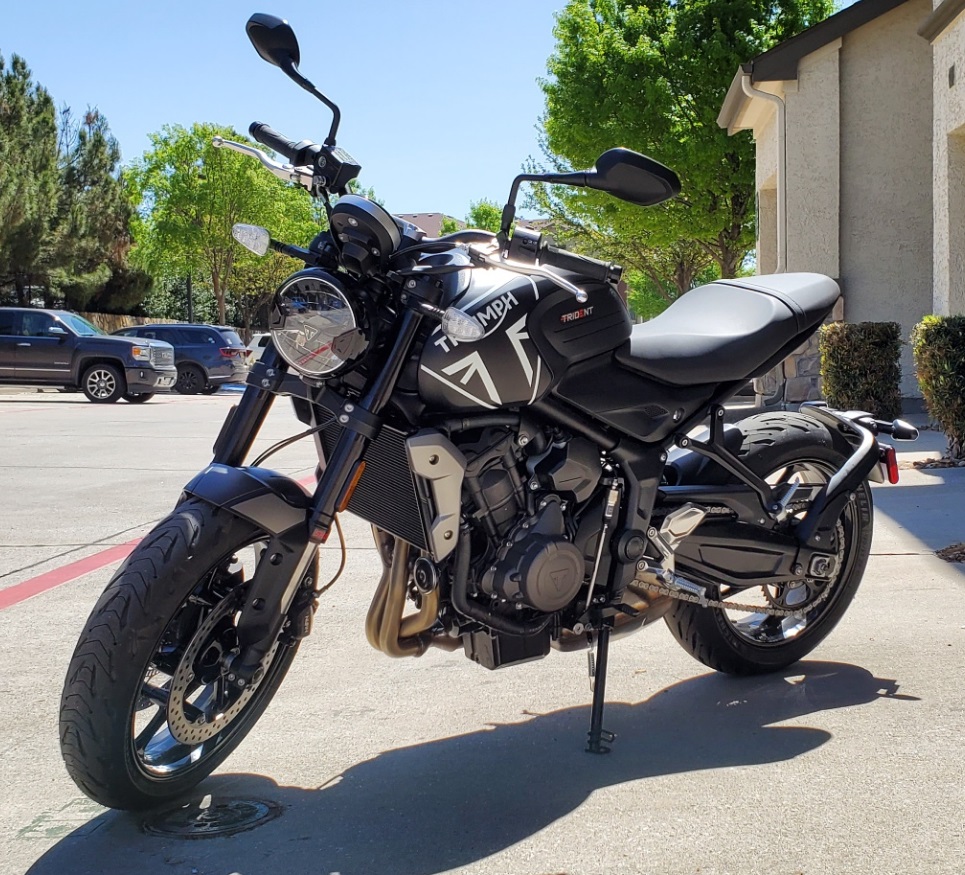 Style: Street Bike
Engine Type: liquid-cooled, inline 3-cylinder, DOHC, 4 vpc
Displacement: 660cc
Bore x Stroke: 74.0 mm x 51.1 mm
Max Horsepower: 81 hp @ 10,250 rpm
Max Torque: 47 lb-ft @ 6,250 rpm
Weight: 417 lbs / 189 kg
MSRP: $7,995
This agile roadster is a spectacular middleweight addition to the Triumph lineup. Like other Triumph models, the Trident 660 sports the torquey inline-three engine Triumph is famous for and its 10,000 mile maintenance intervals make it extremely economical and equally accessible to newer riders on a budget. Additionally, its light weight, low seating position and slim frame make for easy handling and fun, dynamic rides.
3. Yamaha Tenere 700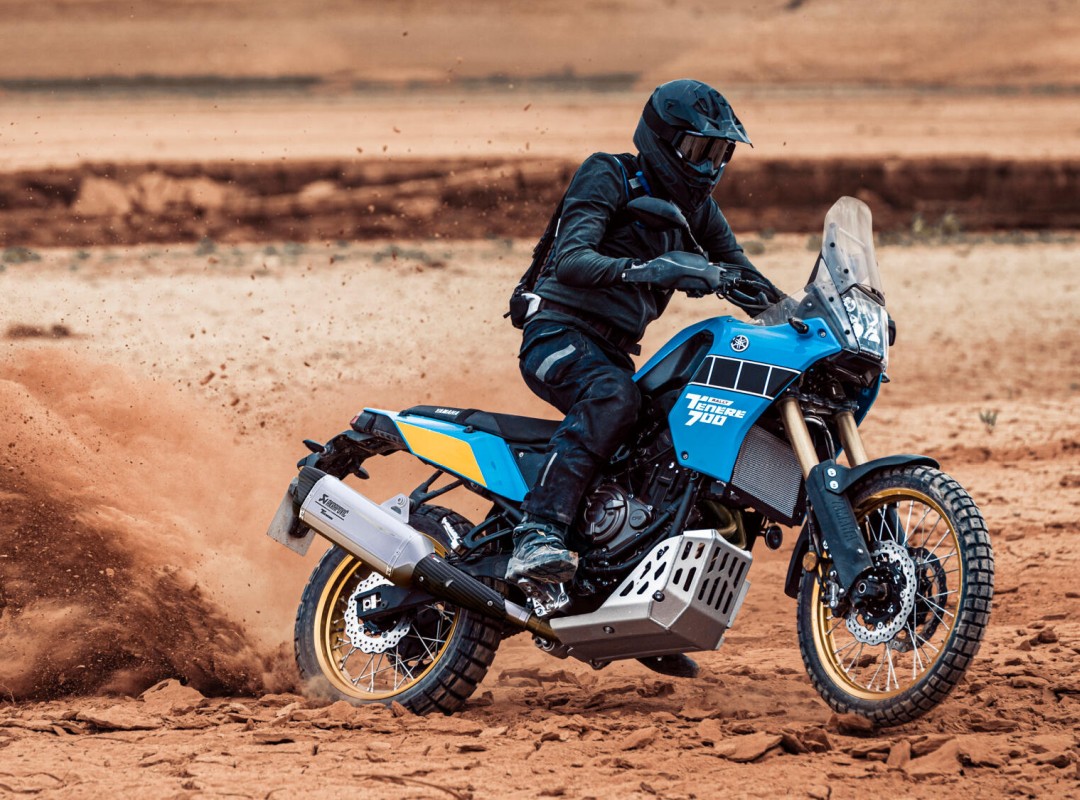 Style: Adventure Bike
Engine Type: liquid-cooled, parallel twin, DOHC, 4 vpc
Displacement: 689cc
Bore x Stroke: 80.0 mm x 86.6mm
Max Horsepower: 72.1 hp @ 9,000 rpm
Max Torque: 50 lb-ft @ 6,600 rpm
Weight: 452 lbs / 205 kg
MSRP: $9,999
Yamaha's new adventure bike is a good-looking steed for all road-types. Its mid-displacement engine combines reliability with a solid power-output, great linear torque and improved economy. It is rally-inspired ergonomics allow the rider great agility without compromising comfort and allow confident handling on dirt tracks and tarmac alike. At a competitive price-point, it sure is a solid contestant for best all around motorcycle!
4. KTM 890 Adventure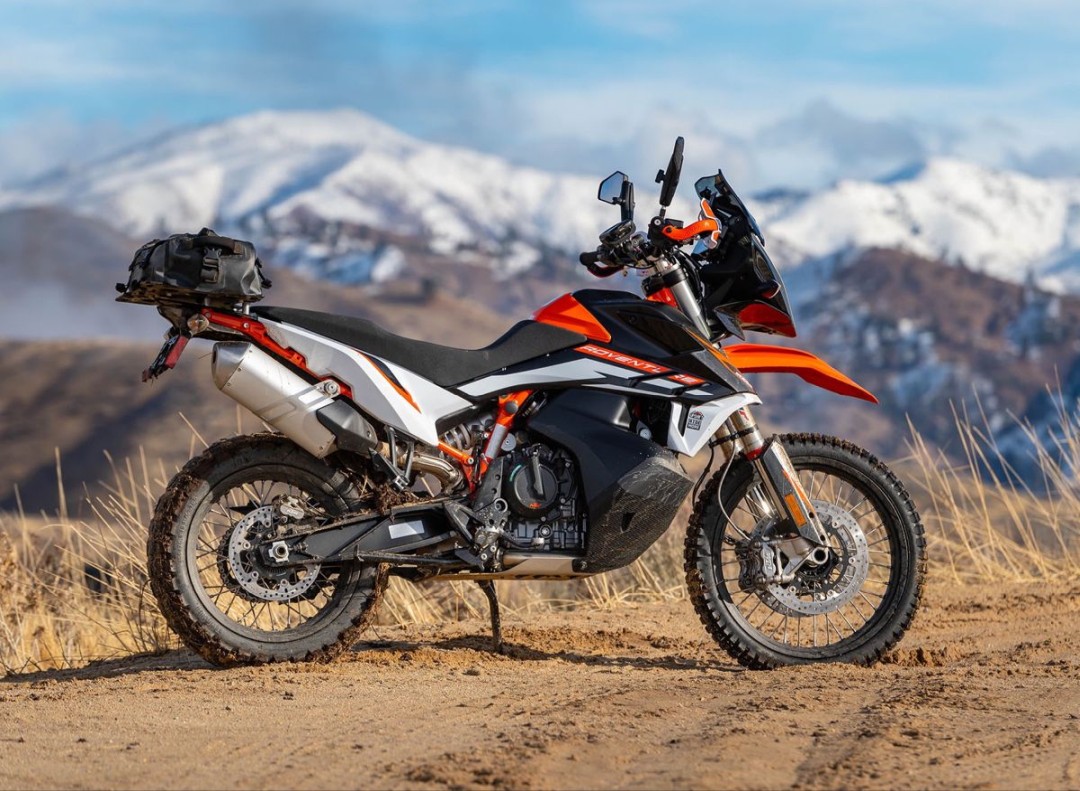 Style: Adventure Bike
Engine Type: liquid-cooled, parallel twin, DOHC, 4 vpc
Displacement: 889cc
Bore x Stroke: 90.7 mm x 68.8 mm
Max Horsepower: 105 hp @ 8,000 rpm
Max Torque: 63.8 lb-ft @ 6,800 rpm
Weight: 464 lbs / 210 kg
MSRP: $13,099
Featuring an impressive 889cc engine with105 hp and solid linear torque, long service intervals and low fuel consumption, the Austrian KTM 890 Adventure is a good long-term investment for any serious rider looking to hit the road – be it smooth cross-country tarmac or a rugged off-road dirt trail. Designed for comfort on long-distances and off-road missions, the KTM 890 Adventure offers great ergonomics and ease of handling. What's not to like?
5. 2022 BMW R 1250 GS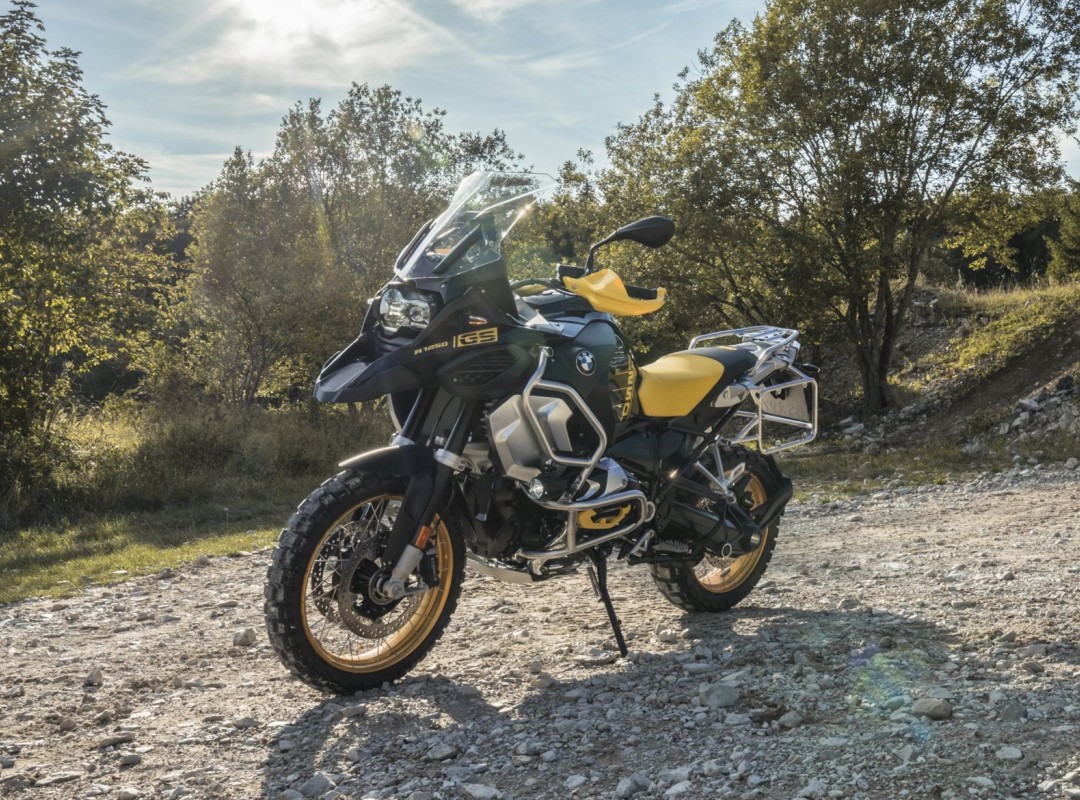 Style: Adventure Bike
Engine Type: air/liquid-cooled, flat-twin boxer, DOHC, 4 vpc
Displacement: 1,254cc
Bore x Stroke: 102.5 mm x 76 mm
Max Horsepower: 136 hp @ 7,750 rpm
Max Torque: 105 lb-ft @ 6,250 rpm
Weight: 529 lbs / 249 kg
MSRP: $17,995
The 2021 BMW R 1250 GS with its large-displacement boxer engine common to many of the German motorvehicle giant's bikes offers cutting-edge performance on and off-road alike. Its low emission, reduced fuel consumption and available eco driving mode make it as economical as possible. The 2022 BMW R 1250 GS comes with new color schemes and a different set of riding modes.
6. Aprilia RS 660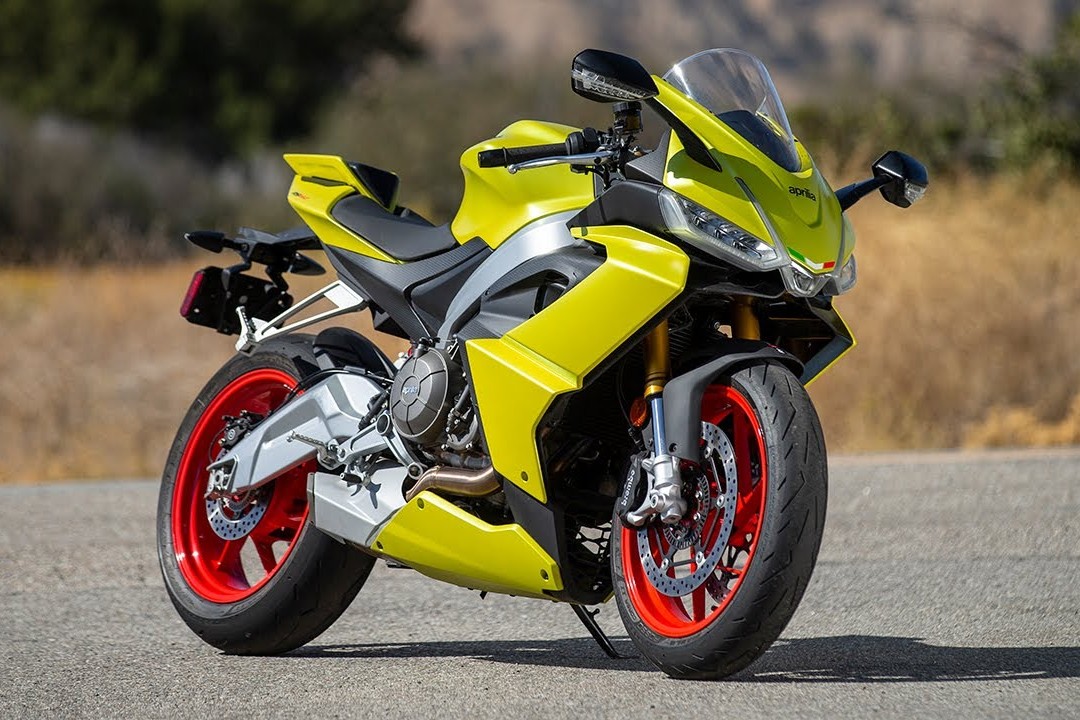 Style: Sports Bike
Engine Type: liquid-cooled, transverse parallel-twin, DOHC, 4 vpc
Displacement: 660cc
Bore x Stroke: 81.0 mm x 63.9 mm
Max Horsepower: 100 hp @ 10,500 rpm
Max Torque: 49 lb-ft @ 8,500 rpm
Weight: 404 lbs / 183 kg
MSRP: $11,299
Are you seeking a bike you can take to the race track on the weekend and still use for a speedy commute during workdays? Look no further! With the RS 660, the Italian manufacturers have created an incredibly nifty middleweight motorcycle with a cunning aerodynamic design and an outstanding power to weight ratio. To keep you safe at these high speeds, it also boasts the Aprilia Performance Ride Control (APRC) originally developed for race use.
7. 2022 Kawasaki Z H2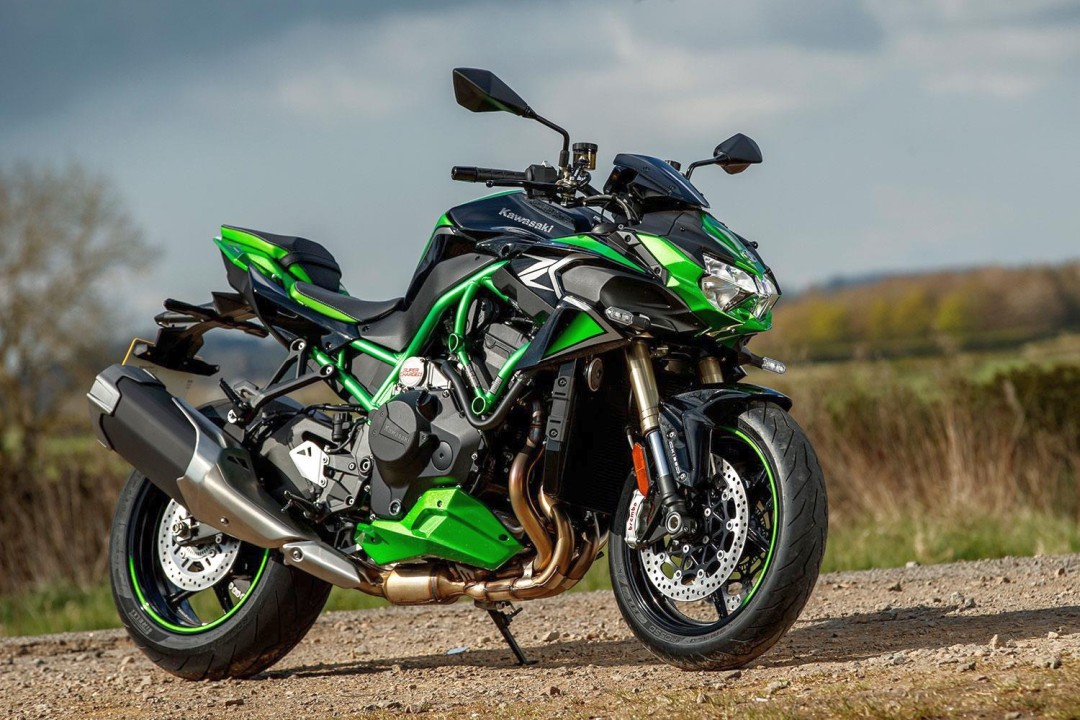 Style: Street Bike (Hyper Naked)
Engine Type: liquid-cooled, 4-cylinder, DOHC, 4 vpc
Displacement: 998cc
Bore x Stroke: 76.0 mm x 55.0 mm
Max Horsepower: 200 hp @ 10,500 rpm
Max Torque: 101 lb-ft @ 8,500 rpm
Weight: 527 lbs / 239 kg
MSRP: $17,500
If you are after a powerful naked bike, the 200 hp, over 100 ft-lbs of torque and smooth supercharged engine of the 2022 Kawasaki Z H2 are sure to deliver. The edgy Z design and street bike ergonomics make it an irresistible choice for the speed-loving everyday rider who can choose from a vast range of amenities to be included in this high-end bike.
8. Ducati Multistrada V4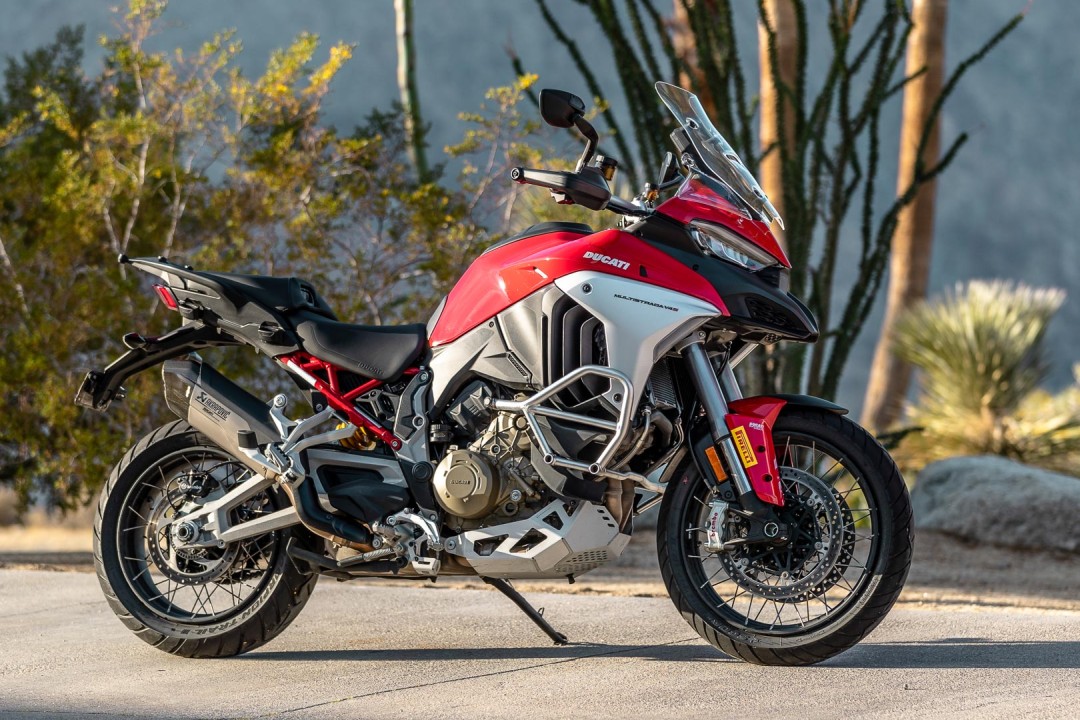 Style: Dual Sport Bike
Engine Type: V4 Granturismo 4 cylinder, DOHC, 4vpc
Displacement: 1,158cc
Bore x Stroke: 83 x 53.5 mm
Max Horsepower: 169.9 hp @ 10,500 rpm
Max Torque: 92 lb-ft @ 8750rpm
Weight: 529 lbs / 240 kg
MSRP: $19,995
With the Multistrada V4, Ducati have undoubtedly rolled out its best and most versatile bike to date. The powerful V4 Granturismo engine with a whopping 1,158cc of displacement is taking a big step towards increased performance. Another innovation of this model is the radar-guided cruise control technology available as an added option, making the Multistrada V4 the first ever motorcycle with this feature, definitely a great candidate for best motorcycle 2022!
9. 2022 Zero SR/S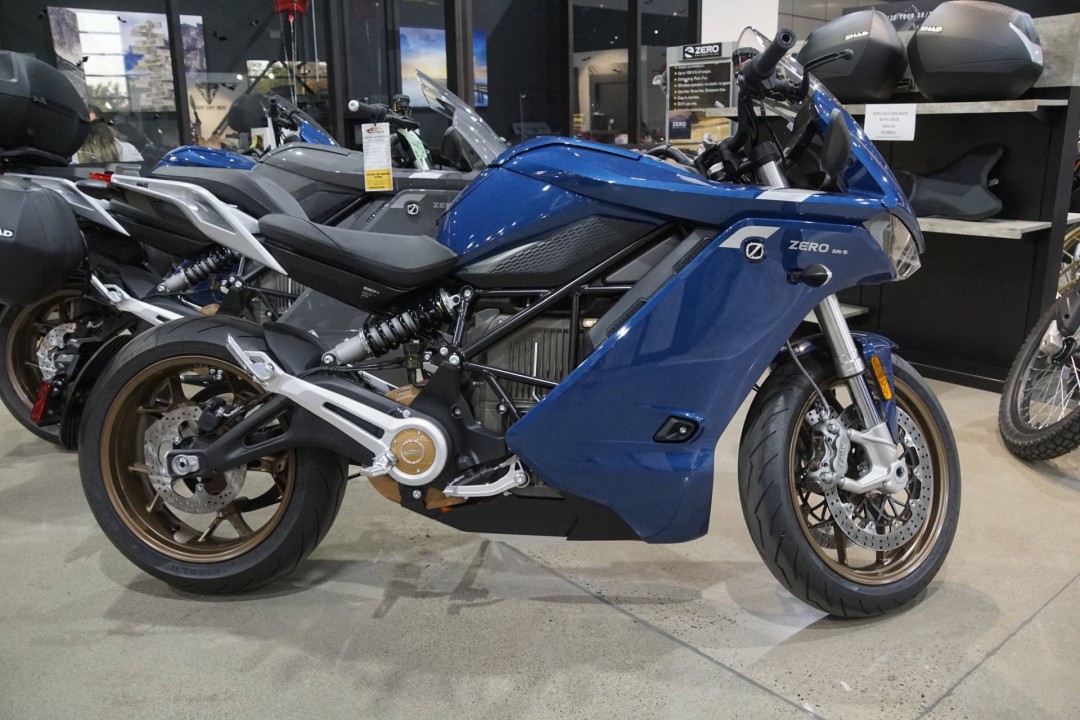 Style: Sports bike
Engine Type: air-cooled Z-Force 75-10 PMAC
Displacement: –
Bore x Stroke: –
Max Horsepower: 110 hp @ 5,000 rpm
Max Torque: 140 lb-ft
Weight: 505 lbs / 229 kg
MSRP: $19,995
In the environmentally friendly high-end range of this list, we are excited to present you the 2022 Zero SR/S electric motorcycle. This sport bike boasts some serious horsepower and its ergonomics allow both city rides as well as a swift race around the track. With a 200-mile range and quick recharging times, the new Zero model is sure to be a serious competitor for traditional middleweight sports bikes.
10. Harley Davidson Pan America 1250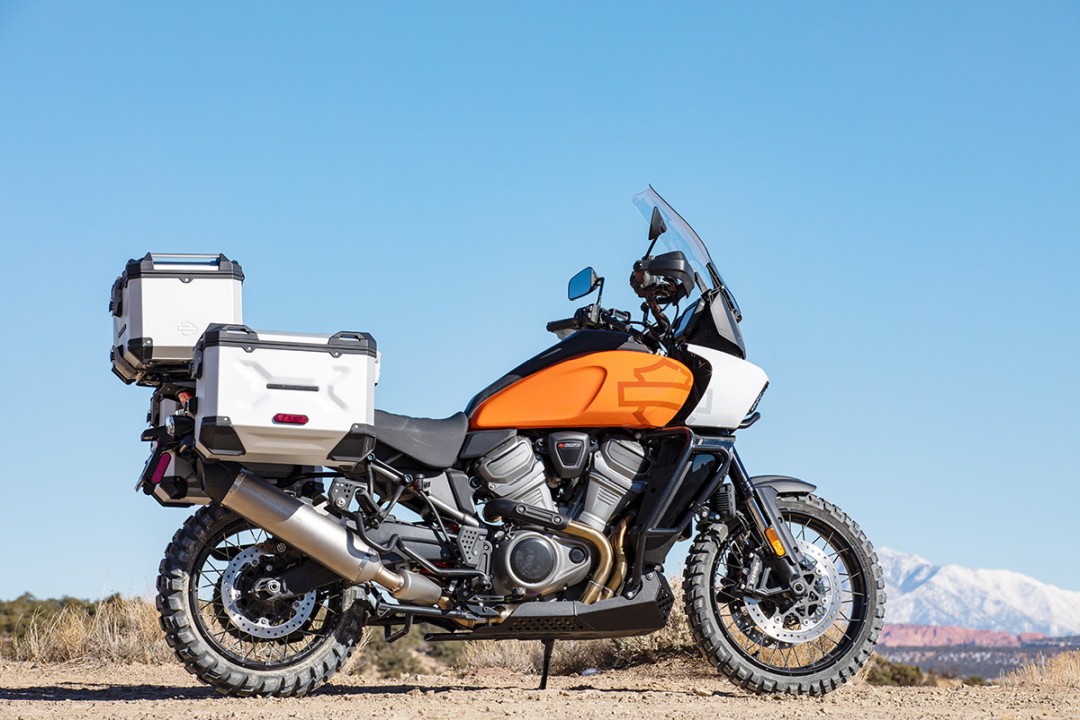 Style: Adventure Bike
Engine Type: Liquid-cooled, transverse 60-degree V-twin, DOHC, 4 vpc
Displacement: 1,252cc
Bore x Stroke: 105.0 mm x 72.0 mm
Max Horsepower: 150 hp @ 9,000 rpm
Max Torque: 94 lb-ft @ 6,750rpm
Weight: 559 lbs / 254 kg
MSRP: $19,999
A long time in the works, the highly-anticipated Pan America is the first adventure touring bike by American motorcycle giant Harley Davidson. Combining the traditional comfort of HD bikes with a power and torque sure to beat your average lightweight adventure bike, the Pan America opens up a whole new world to ADV riders.
After You Buy a Motorcycle
After you have bought your brand new dream motorcycle 2022, the journey has only just begun. Buying the bike is just the first step – don't forget you'll also need to protect yourself while riding, make sure your bike is safe, and maintain your newly purchased steed!  Here's what to keep in mind as a new owner of a brand new bike:
Depending on the new motorbike you got, your power and speed levels will have increased dramatically and you may want to consider investing in an upgrade of your protective gear.
Your health and safety are paramount, but you also want to make sure to keep your new motorcycle as safe as possible. In addition to your regular locking systems, we recommend installing a motorcycle GPS tracker which will alert you to any unwanted location change of your bike and transmit its current position directly to you. Additionally, there are many competitive insurance options out there for the newest best motorcycles.
Lastly, make sure to stick to your service intervals and treat your new motorbike with the care it deserves so you and your new steed can travel the distance together.
Conclusion
2022 is an exciting year for new motorcycles: from innovative designs and more power than ever when it comes to sport bikes, the Paris-Dakar nostalgia inspired adventure bikes, and the bold new move by Harley-Davidson breaking into the ADV world with a brand-new, aggressive machine, this may be the best year to shop for a new bike. Whether you're looking for style, comfort, pure horsepower, or off-road capability, there is something out there for every taste – and if you're ready to go green, an array of electric bikes are also on offer. Whatever new motorcycle you're opting for, Monimoto wishes you many happy miles!
Wondering how YOU can protect your bike?
Check out Monimoto smart trackers