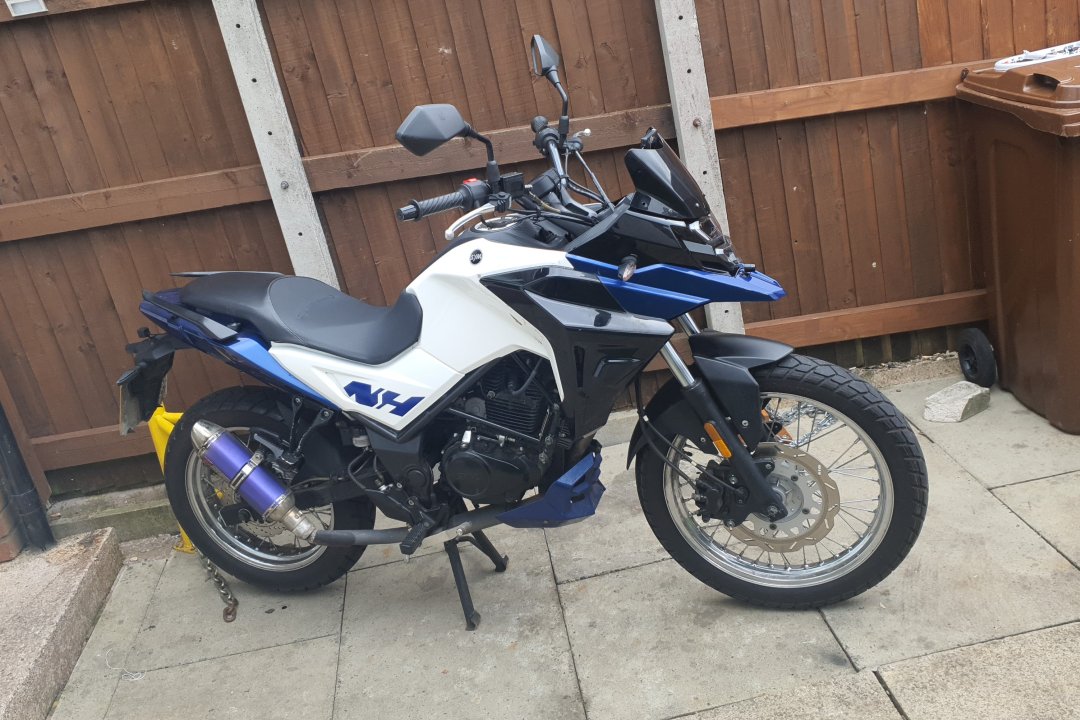 Many motorcycle owners today unfortunately know how painful it is to have a vehicle stolen.  It can feel deeply personal and make one sick to the stomach even though for thieves it's usually just business. As any rider knows, bikes represent massive investments of time and money.  Riders customize, care for and make bikes their own to the point of obsession – and there is nothing else like taking them out on the road (or dirt) for a spin and the sense of freedom one gets while riding.  Such important possessions deserve the investment of additional theft prevention and this is exactly what Mark of Accrington, UK did by installing a hidden Monimoto GPS Tracker on his prized SYM NHT 125.
Mark was soundly asleep in bed one early morning, when he received a loud call from his phone.  He immediately saw it was from his Monimoto, "rang me at 4:30am to say my bike was on the move" and realized what might be happening.  Getting out of bed and going to his back garden to check on the bike he discovered it was gone.  The chains he had locked it with had been cut and discarded and the bike was nowhere to be found.  Mark's heart sank, but there was still hope as the tracker started sending locations to his App – immediately calling the Police and thankfully receiving a prompt response, "The police were awesome they was out within minutes and soon as I got tracking updates they raced to the location and spotted the lads who robbed the bike."
Still out in the open and probably exhilarated at what they thought was an easy theft, the thieves suddenly found themselves being chased and surrounded by the police and quickly apprehended.  Mark explained humorously : "(From) what I can gather I reckon the lads were like wow what's goin on how are the police following us how do they know hahaha."
After getting to the scene Mark saw the damage to his bike "snapped reg plate 2 missing wing mirrors and hot wired they had no chance of finding my device "  he had hidden his Morimoto tracker well and camouflaged it within the internal components so it would be difficult to find.  The most important thing to do with any GPS tracking system is making sure it is well hidden on a vehicle, if it's not concealed well enough then it's usually quite easy for thieves to find and dispose of a tracker.  In Mark's case he had given this some thought and taken the appropriate actions earlier when installing the device.
After kindly getting transported home by the police with his bike Mark said: "The first thing I did I took the tracker out where I hidden it and it might sound stupid but I gave it a kiss and my bike a nice little tap hahaha stupid but the bike is black blue and white but you know what? The bike and the tracker are my GIRLS."
"Brilliant service for tracking info saved my bike the joy and love and all the hard work i've put in to have my bike and you guys and the tracker smashed it for me, massive respect and what a cracking set of kit it is I will be defo regarding u guys as my number 1 and won't hesitate to recommend also with a great fast and friendly customer service I owe u guys a massive amount if it wasn't for you and my tracker my bike would be long gone and not seen again even the police officer was like WOW even he's just bought one hahaha"
"I really can't put into words how much it meant getting it back and it's thanks to Monimoto I had the bike back in less than a hour."
With a quick reaction from Mark and a speedy response from Accrington Police another motorcycle was saved with the help of Monimoto.  Mark was able to receive the call from his device when it was being stolen and the locations helped the police track down the thieves while they were still transporting the bike, a great example of how a GPS tracker can help prevent motorcycle theft.
Wondering how YOU can protect your bike?
Check out Monimoto smart trackers