What happens when your Monimoto 7 GPS tracker alerts you on an otherwise normal weekday morning? Why, you immediately sprint downstairs to check on your bike carrying a gun of course! It sounds crazy but that's exactly what Monimoto user Carlos found himself doing one 'regular' Colorado morning in the U.S.A.
It was 10am Thursday morning, I was barely up and suddenly my Monimoto called me at 10:05 telling me my motorcycle was being moved. As soon as I got that call I quickly grabbed my gun and ran down 2 flights of stairs to the underground parking garage to sure enough find 2 males drilling a hole into my ignition. I had my gun on me so when I popped out of the staircase, I'm sure they were caught off guard. I had stopped them dead in their tracks, both of them ran back to enter their unmarked car and pulled a gun on me stating "we will be back for that bike boy" before peeling off so it was truly a crazy day. I was able to scare them off and avoid my bike being taken.
Carlos' Monimoto performed exactly as designed, it noticed unauthorized movement, started the silent alarm (not letting the thieves know its presence) and immediately called him/sent notifications in under 1 minute. He was also able to get to his bike in the parking lot just 2-3 minutes after the alarm had started, a fast response time which also prevented the theft from being completed.
"Thankfully I got there in time as about another couple minutes and they would have drilled through the ignition and my babe woulda been gone. After they left I ran over to check on my bike and found the key hole was completely shredded.The repairs will be around 300-400 with the tow and new ignition and set of keys. So so happy. I would rather pay 200+ damage fees than lose my whole bike. The police came to my apartment but could not do much. They checked the security footage, but the apartment building cameras were not working and they are still trying to find the thieves.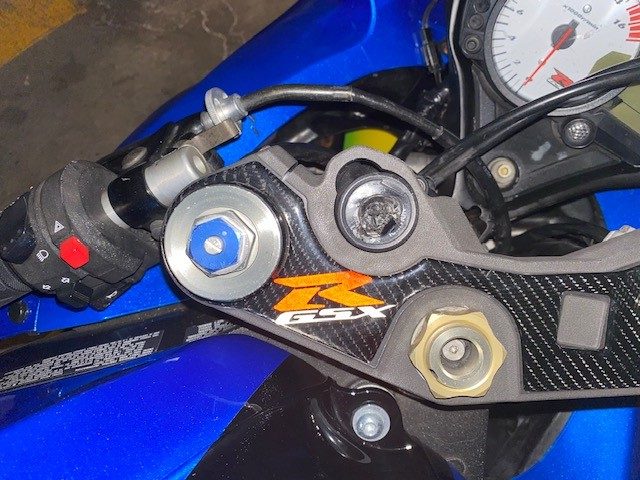 I had locked the forks the night before and other than that I was relying on monimoto. One of the best alarms I have ever gotten. If not for it, my bike surely would have been gone. I am so happy the motion sensor noticed it being DRILLED into. The bike was not even moved a foot from where I left it. But it sensed someone touching the bike. Absolutely crazy and awesome!!"
Yes! Actually the Monimoto tracker's motion sensitivity can be triggered just from a slight back and forth shaking of the bike. There is also an option to increase or decrease the motion sensitivity from low to medium to high, in case the device false alarms (set to low) or you want to make sure it will alarm at the slightest unwanted touch/vibration (set to high).
"Thanks to monimoto, my bike's life was saved. I am so happy that I bought this on Tuesday (2 days before the attempted theft). It saved my bike and me from a lot of pain and heartbreak. I was skeptical about Monimoto at first but my friend had his bike stolen in Florida in January and was able to get it back thanks to Monimoto tracking, so I decided to get one, best $200 spent of my life. I really did not think it actually took 1 minute for it to call me. Also the bike wasn't even MOVED an inch, Monimoto sensed the drilling vibrations and alerted me, I was truly amazed at it. And the sensitivity levels were on medium so nothing crazy. Truly a great device and everyone should get one. My bike is worth around 10K, with a limited edition paint job so Monimoto saved it."
Carlos gives due credit to Monimoto for helping alert him to the theft in progress, but we think he certainly deserves more than his fair share of credit as well, reacting quickly to the alert, arming himself with his gun, and bravely confronting the two would-be thieves by himself in the underground parking lot, all within a few minutes after waking up in the morning! Also how lucky that he bought the Monimoto Tracker only 2 days before the attempted theft! Simply an amazing story. Carlos, we're glad Monimoto was able to help you prevent the theft of your precious Suzuki GSXR750, and hope it will continue to serve you in the future.
Wondering how YOU can protect your bike?
Check out Monimoto smart trackers