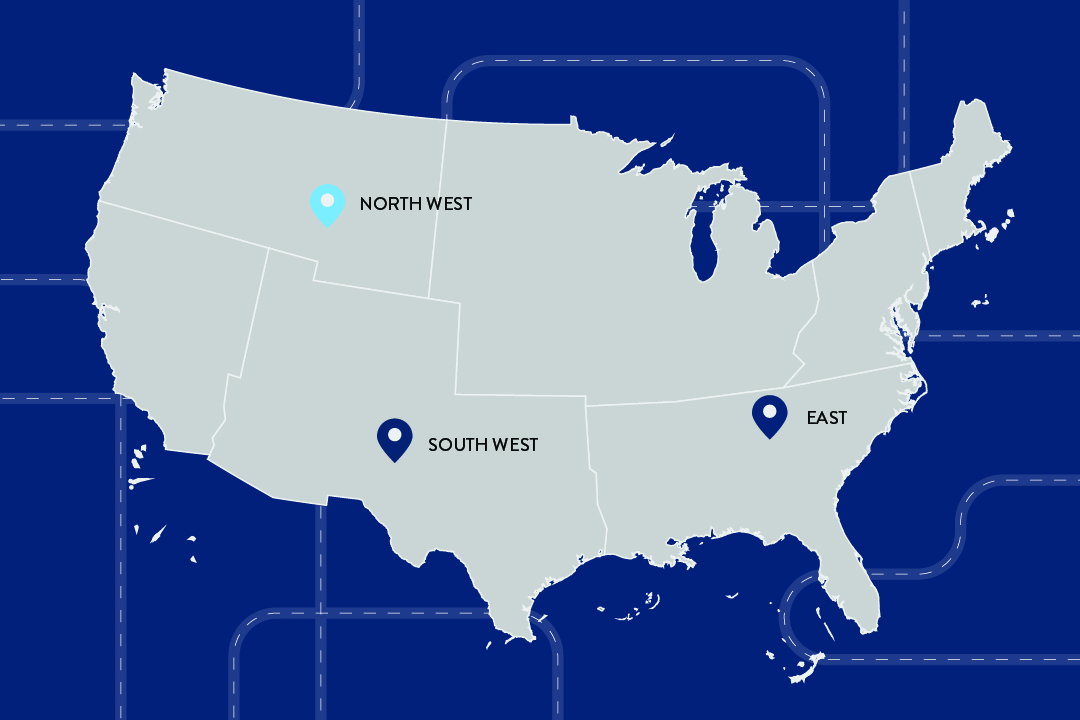 Looking for a weekend ride or an epic cross-country adventure, but not sure where to find the best motorcycle roads? You've come to the right place. If you find yourself typing "best motorcycle roads near me" in the search engine and coming up with few suggestions, we've got you covered: in this article, we'll share twenty scenic routes from California to Maine, complete with motorcycle riding maps and tips on where to stop and what to see along the way. Most riders assume the best motorcycle roads in the US are concentrated in California, Colorado, and Arizona, but it couldn't be further from the truth: in this comprehensive guide, you'll find scenic motorcycle roads in almost every state.
Ready to ride? Let's dig right in.
Best Scenic Motorcycle Roads In the Southwest
1. Pacific Coast Highway, California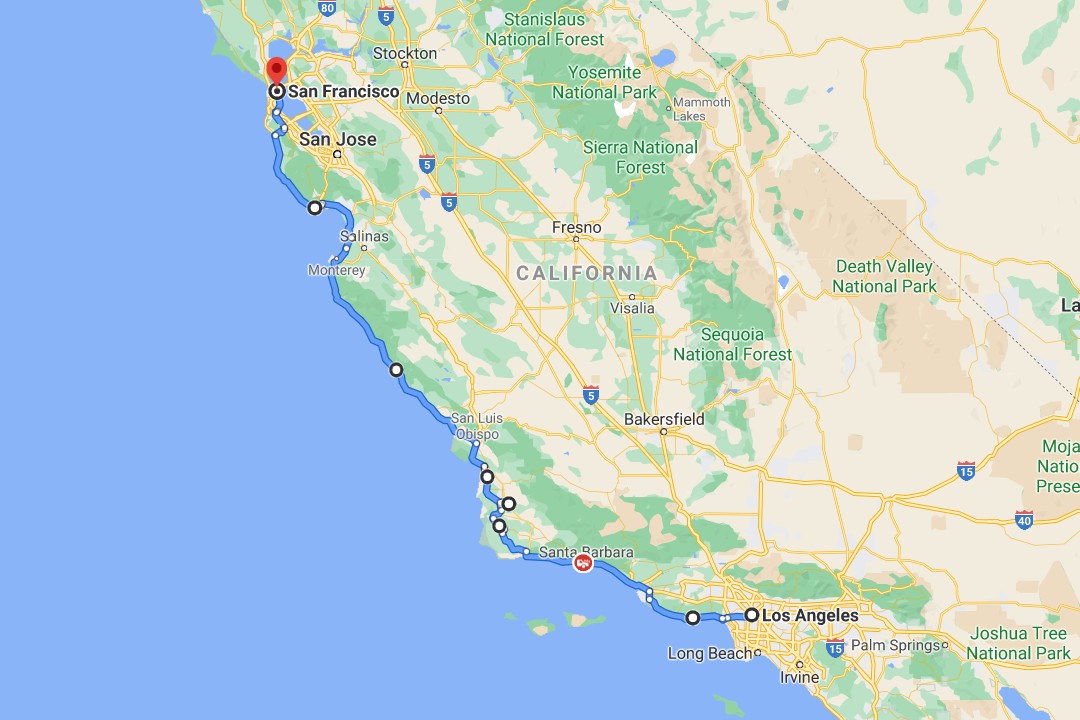 Easily one of the most iconic motorcycling roads in the US – if not the entire world – the Pacific Coast Highway is a must-ride for anyone on two wheels. Stretching for over 470 miles from Los Angeles to San Francisco, Pacific Coast Highway is a stunning coastal road meandering along the Pacific Ocean and revealing dramatic scenery of towering cliffs and rugged mountains plunging into the water. Big Sur, a section of the Pacific Coast Highway, is one of the most beautiful areas to explore on a motorbike.
Pacific Coast Highway has no rivals when it comes to Southern California motorcycle rides as it offers plenty of sweeping bends and generous curves, lots of stunning lookout points, and plenty of biker-friendly eateries and places to stay along the way.
Ride length: 478 miles
Route: Google Maps
2. Skyline Boulevard, California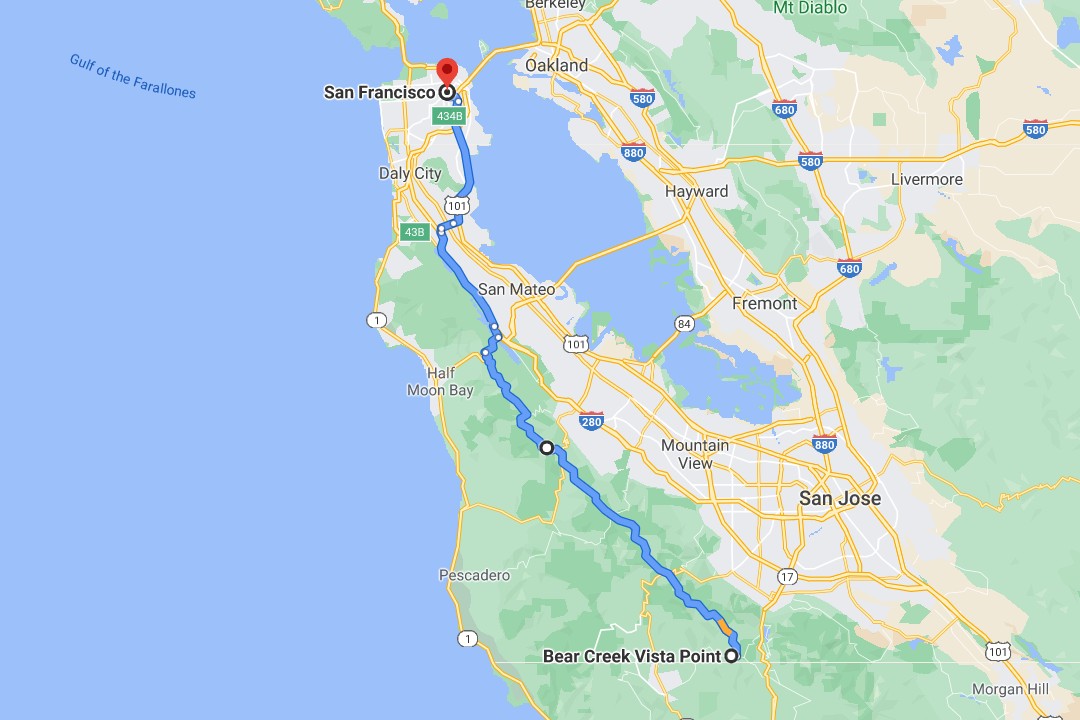 A short San Francisco ride, Skyline Boulevard is a sixty mile stretch offering jaw-dropping views of the San Francisco Bay and Silicon Valley. Zigzagging across the Santa Cruz mountain range, Skyline Boulevard is one of the most beloved Southern California motorcycle rides. Go easy on that throttle, however: this road is known for its sharp turns and corners, and on weekends, there may be lots of other bikers and cyclists on the Skyline road.
Ride length: 61 miles
Route: Google Maps
3. Death Valley Loop, Nevada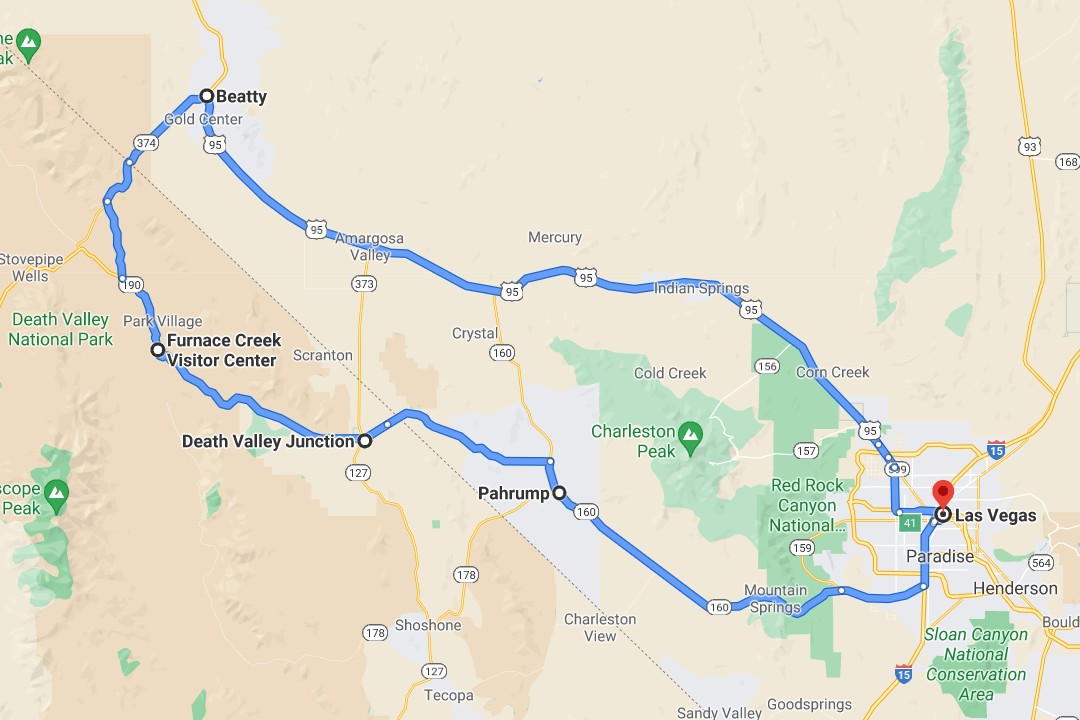 If you're based in Las Vegas and are searching for "motorcycle rides near me" but only come up with short highway routes outside the city, be sure to plan a ride across Death Valley. You can do a scenic 280-mile loop across the national park visiting the infamous Badwater Basin lying at the lowest elevation in all of North America and enjoy the breath-taking desert landscapes boasting Moon-like salt flats, sand dunes, and red rock outcroppings. Death Valley Loop is one of the best motorcycling roads in the US because of its otherworldly scenery, but keep in mind that the area sees extremely hot temperatures during the summer, so be sure to carry plenty of water and stop in the shade as often as you can to avoid dehydration.
Ride length: 280 miles
Route: Google Maps
4. Hoover Dam, Nevada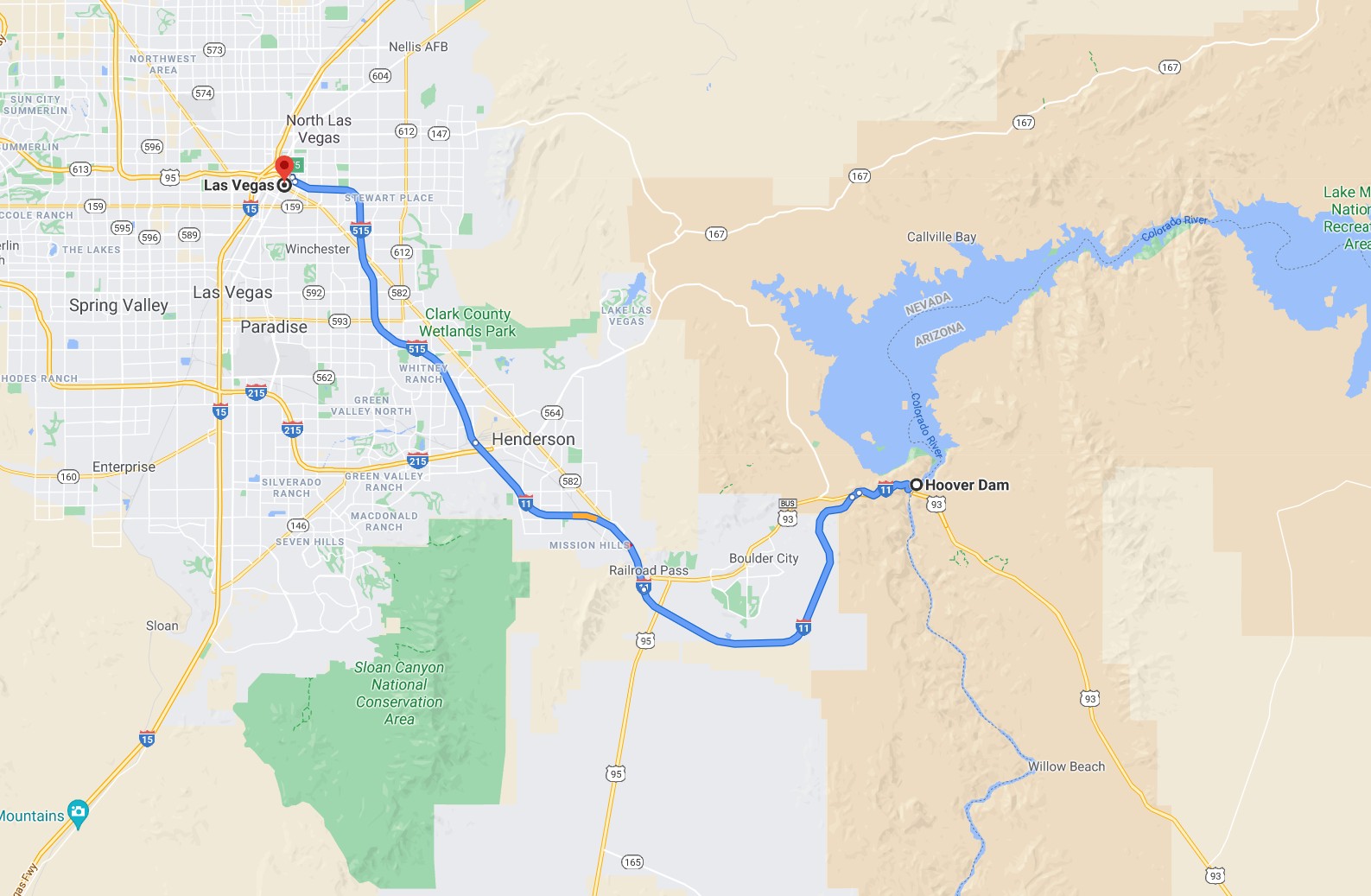 Want to escape the hustle and bustle of Las Vegas for a few hours? A short ride to Hoover Dam can be the perfect getaway: one of the most popular landmarks in the US, Hoover Dam is a stunning feat of engineering, and there is a scenic motorcycle route leading via Boulder City (make sure to stop for lunch here – you'll see dozens of bikes parked outside the local cafes and restaurants) and across the Dam. This 2726-foot tall concrete mammoth dams Colorado River creating Lake Mead, and the views from the top of the Dam are nothing short of awe-inspiring. If you have the time, park your bike at the Hoover Dam Visitor Center and take a stroll across the Tillman Memorial Bridge for the best views.
Ride length: 33 miles
Route: Google Maps
5. Monument Valley, Arizona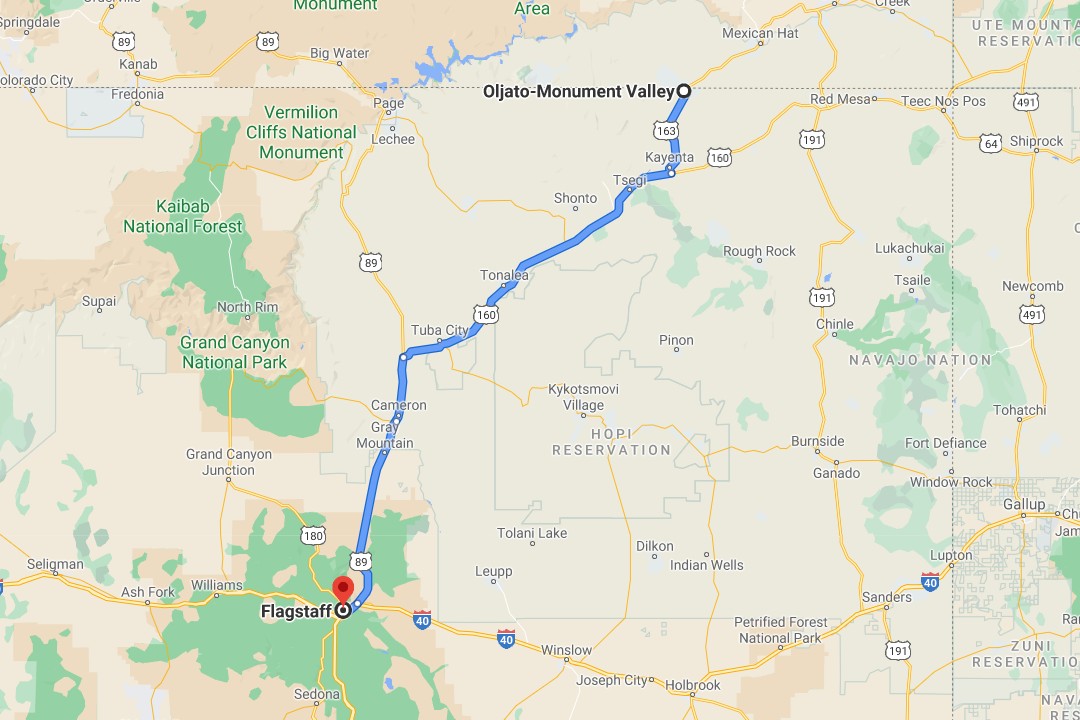 Riding across Monument Valley is one of the most iconic motorcycle rides in the country. Leaving Flagstaff, head North until you reach Kayenta where the desert scenery takes over and you travel through a Mars-like landscape with rugged red rock formations and the famous towering buttes rising up from the red and gold earth. The Monument Valley road carves the landscape in big, generous sweepers, and it's easily one of the best motorcycling roads in the US offering high-speed curves, breath-taking scenery, and the feeling of traveling the old Wild West. If you're hoping to take some of those iconic photos of Monument Valley, aim to arrive there just before dusk – the "golden hour" light reveals the stunning red, orange and golden colors of the rocks and the desert best.
Ride length: 172 miles
Route: Google Maps
6. Twisted Sisters, Texas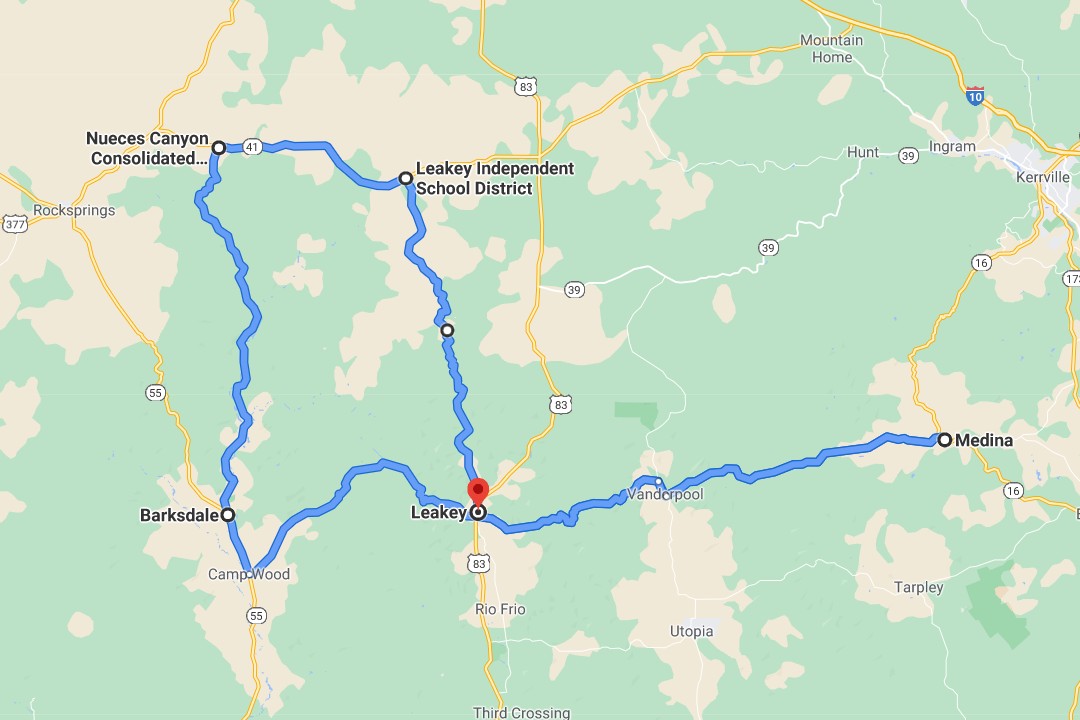 Think Texas doesn't have scenic motorcycle roads? Think again: Twisted Sisters, a 170-mile loop just outside of San Antonio, Texas, is one hell of a ride if you're into fast bends and tight turns. Both local and visiting motorcyclists love this road because of its canyon and rolling hills scenery, and there will be so many adrenaline-inducing twists and corners you may end up riding here again and again. If you're riding Twisted Sisters for the first time, be careful with that throttle – some of the blind corners on this road are incredibly tight!
Ride length: 170 miles
Route: Google Maps
7. Route 66, New Mexico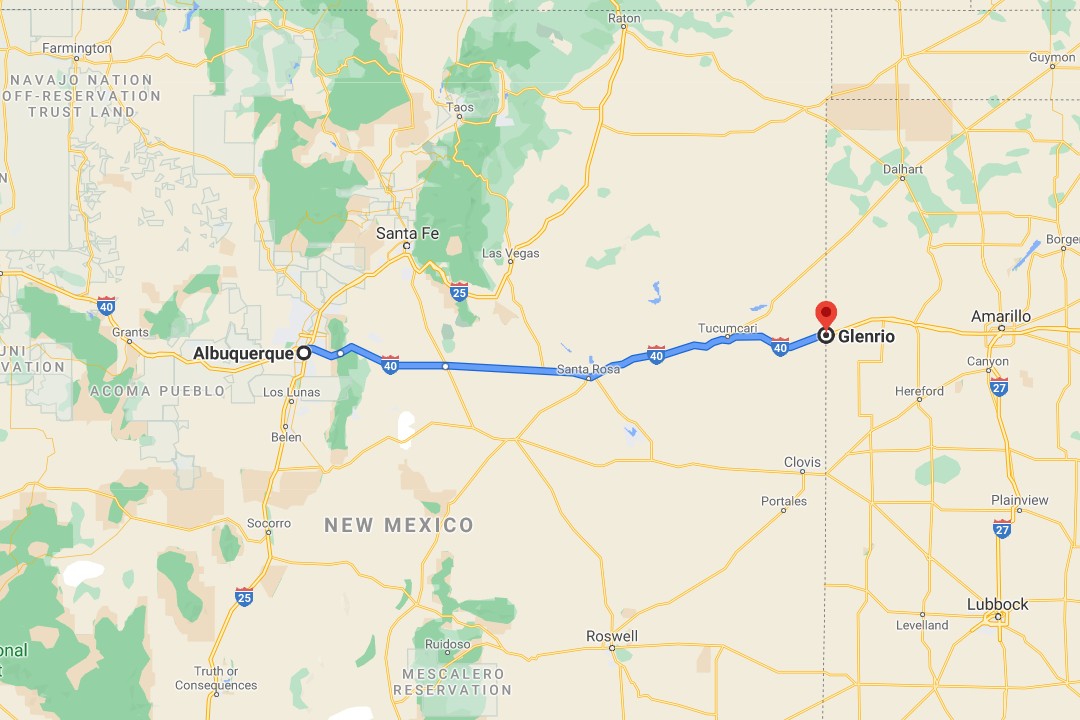 Few riders can afford to take the time and ride the entire length of the historic Route 66 from coast to coast, but if you're looking for the best motorcycling roads in New Mexico, the stretch between Albuquerque and Glenrio might be your best bet. This 217-mile ride covers some of the most nostalgic parts of the old Route 66: out of all American cities, Albuquerque boasts the longest section of Route 66 , and you'll see old neon signs and classical 50's diners that seemingly haven't changed since the heyday of the Mother Road.
In Glenrio, an iconic Route 66 ghost town, you'll see abandoned motels and gas stations harking back to the fifties. Stop at the Russell's Truck and Travel Center, a general store and gas station crammed with Route 66 memorabilia, antique cars, and nostalgic Americana curiosities and souvenirs you can buy.
Ride length: 217 miles
Route: Google Maps
Best Motorcycle Roads in Northwestern US
1. Million Dollar Highway, Colorado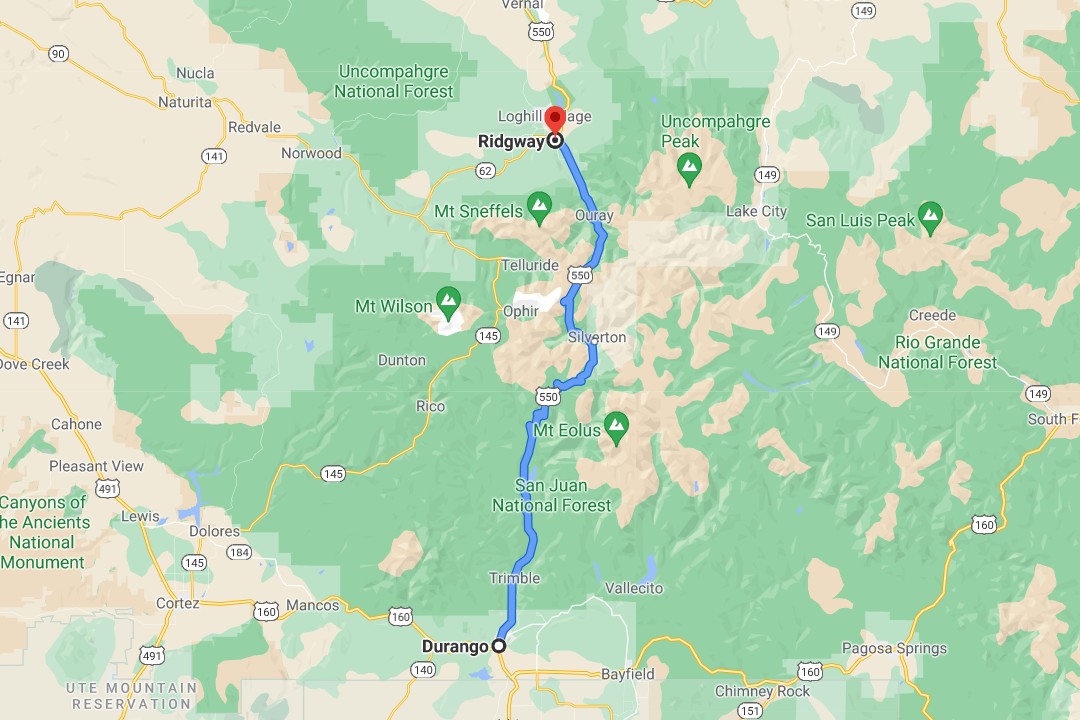 Leading across the wild, rugged San Juan mountain range in Colorado, Million Dollar Highway is easily one of the most scenic motorcycling roads in the US. Twisting and turning in breath-taking bends, Million Dollar Highway reveals spectacular views of the mountains, valleys, and gorges, often skirting cliff edges and sheer drops in death-defying corners. The Highway is especially scenic between Ouay and Telluride, and if you're into the Old West vibes, be sure to stop in Silverton and check out the local saloon.
Million Dollar Highway isn't for the faint of heart: some sections of the road are narrow with no guardrails, so keep that throttle steady and enjoy the views! Keep in mind that the best time of year to ride here are the summer months, as some of the high passes see heavy snowfall in winter.
Ride length: 81 miles
Route: Google Maps
2. Puget Sound, Washington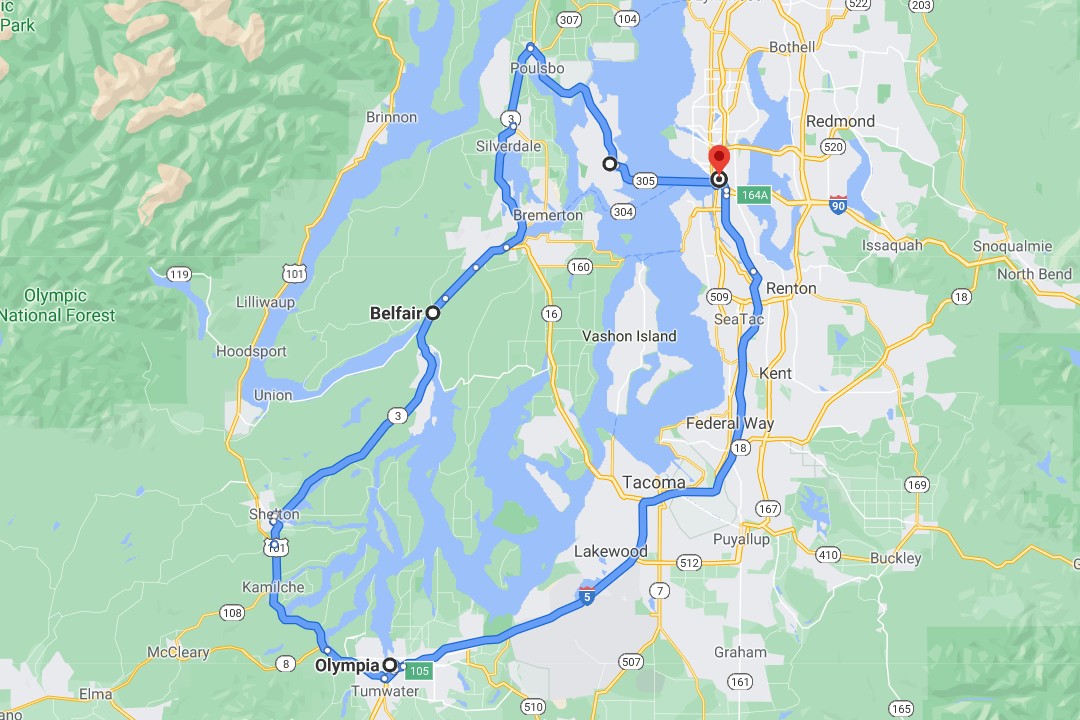 If Puget Sound hasn't made it to your motorcycle maps collection yet, be sure to add this route to your favorites. Starting right outside of Seattle, the Puget Sound Loop takes you island-hopping across a maze of fjords, bays, and a jagged coastline framed by the snowy peak of Mount Rainier. Charming little coastal towns offer fantastic lunch options on the go, and the roads in Puget Sound feel like they've been built with motorcycle riders in mind.
Ride length: 157 miles
Route: Google Maps
3. Beartooth Pass, Wyoming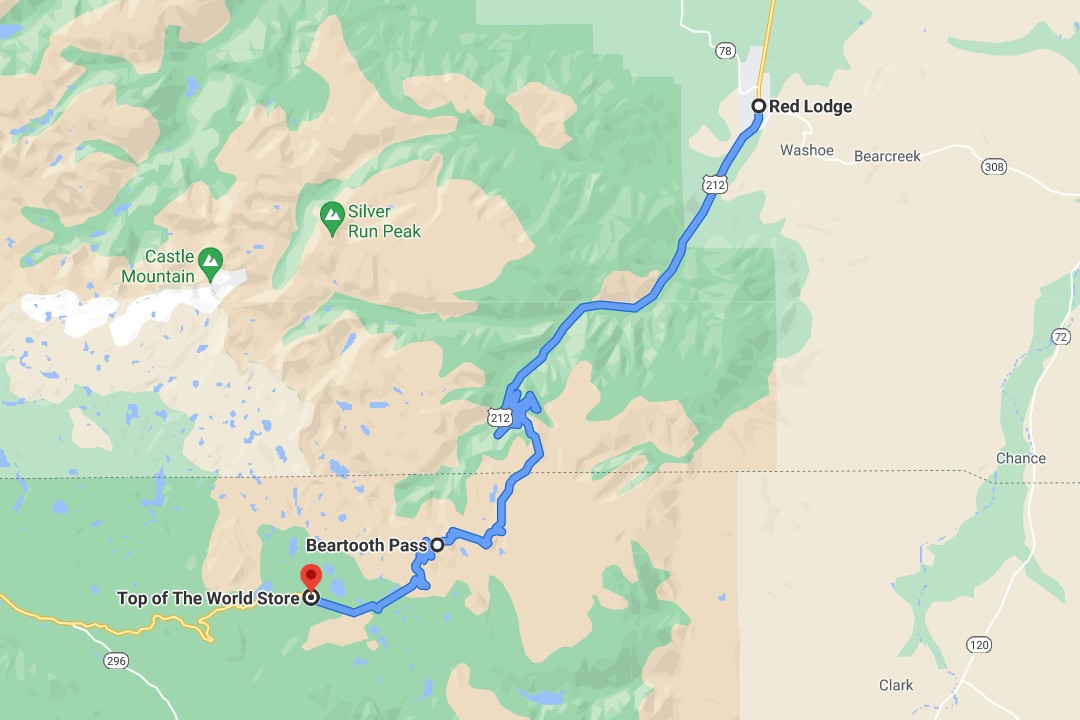 Wyoming is a motorcycling paradise, and the Beartooth Pass road is one of the most spectacular motorbike routes in the entire state. Snaking across rugged, wild mountain country, the Beartooth Pass road offers endless adrenaline-inducing hairpins, switchbacks, and sweeping curves revealing breath-taking scenery of the mountains and valleys. The scenery here is simply out of this world, so make sure you stop often to take in the views!
Beartooth Pass lies at over 10,000 feet of altitude, so make sure to pack a warmer layer – the temperatures at the Pass are usually quite cool. Make a stop at the Beartooth Pass Vista Point to enjoy the majestic views of the snow-capped mountain ridges.
Ride length: 81 miles
Route: Google Maps
4. Lolo Pass, Idaho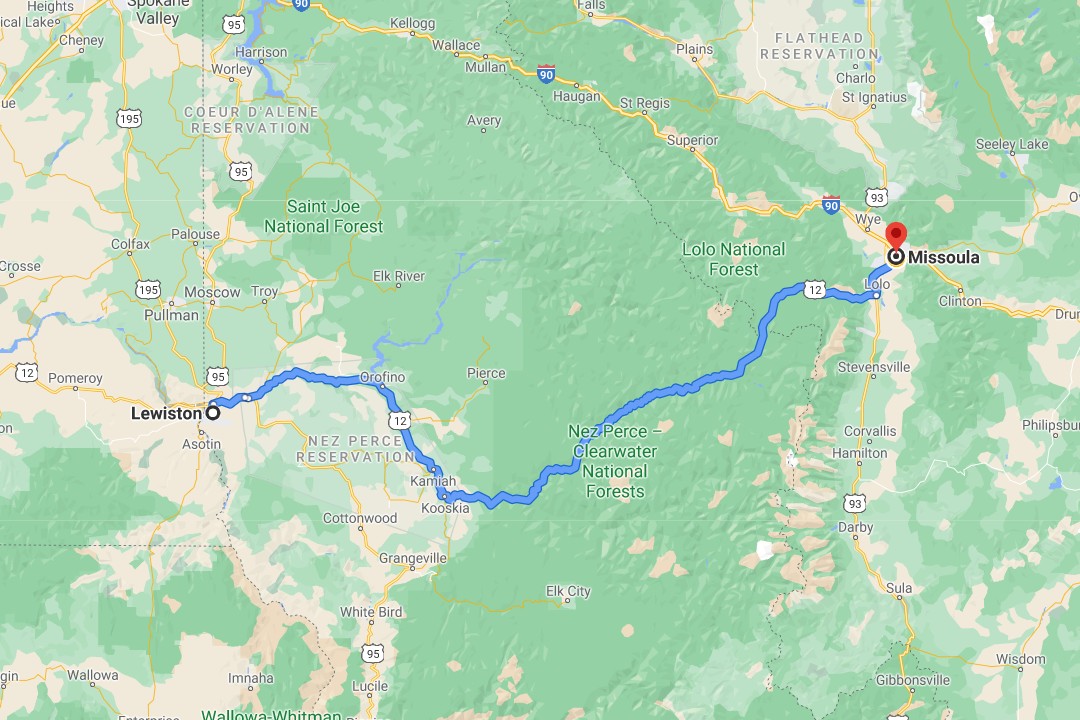 Another stunning mountain road, the Lolo Pass route takes you through the Bitterroot Mountains of Idaho. The route boasts an insane number of twists and turns. So much so, in fact, that you'll probably end up riding this road twice. Lolo Pass road meanders through remote, densely forested country. You'll feel like a nineteenth-century pioneer discovering a new unknown land riding here. Be sure to fill up your tank before you go, however. Fuel stations on this road are few and far between, so get some gas and stock up on snacks and water before you head out!
Ride length: 217 miles
Route: Google Maps
5. Black Hills, South Dakota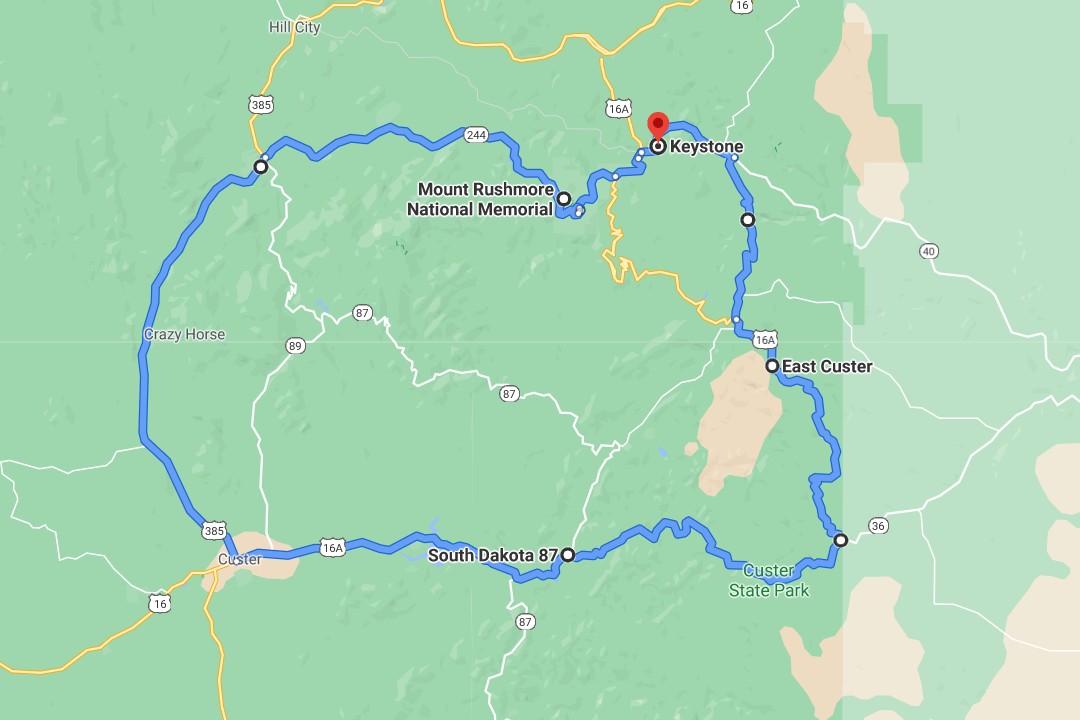 The legendary location of Sturgis Rally, Black Hills route in South Dakota is one of the most iconic motorcycling roads in the US. Along the way, you'll spot familiar landmarks like Mount Rushmore. You'll probably meet dozens of like-minded riders along the way. This, quite literally, is the American motorcycling Mecca.
Black Hills route is as curvy as it is scenic. However, because it's so popular among riders from across the country, it can get a little crowded on weekends and holidays. Aim to ride here during the week, or simply hit the road early in the morning to avoid the traffic.
Ride length: 53 miles
Route: Google Maps
6. Yellowstone, Wyoming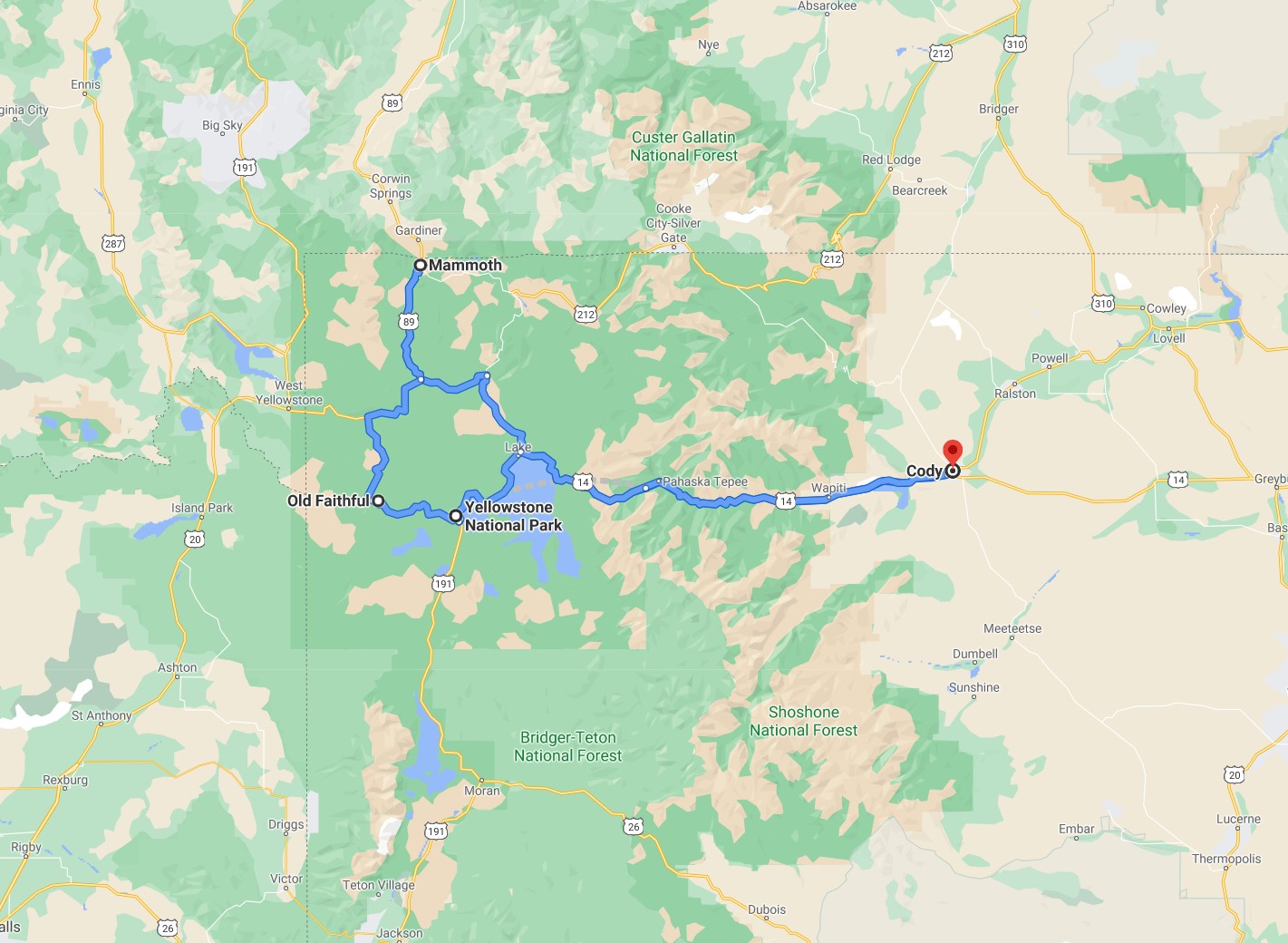 Yellowstone National Park is the most visited park in the US. The good news is, you can ride across it on your motorcycle. The Park sits on an intricate network of volcanoes, lava fields, and hot springs. The scenery here is so out of this world you'll feel like you're riding on another planet. Keep your eyes on the road, though! Yellowstone is frequented by herds of free-roaming bison, so watch out for those majestic beasts on the road.
The Yellowstone route will take you across the entire park offering glimpses at the Old Faithful, the famous geyser, the Mud Volcano, and the Sulphur Cauldron.
Because Yellowstone is so vast and scenic, it's best to take two or three days to ride the entire route to truly appreciate the magnificence of this place.
For more information on park fees and road access, visit the Yellowstone National Park page.
Ride length: 295 miles
Route: Google Maps
7. Bighorn Route, Wyoming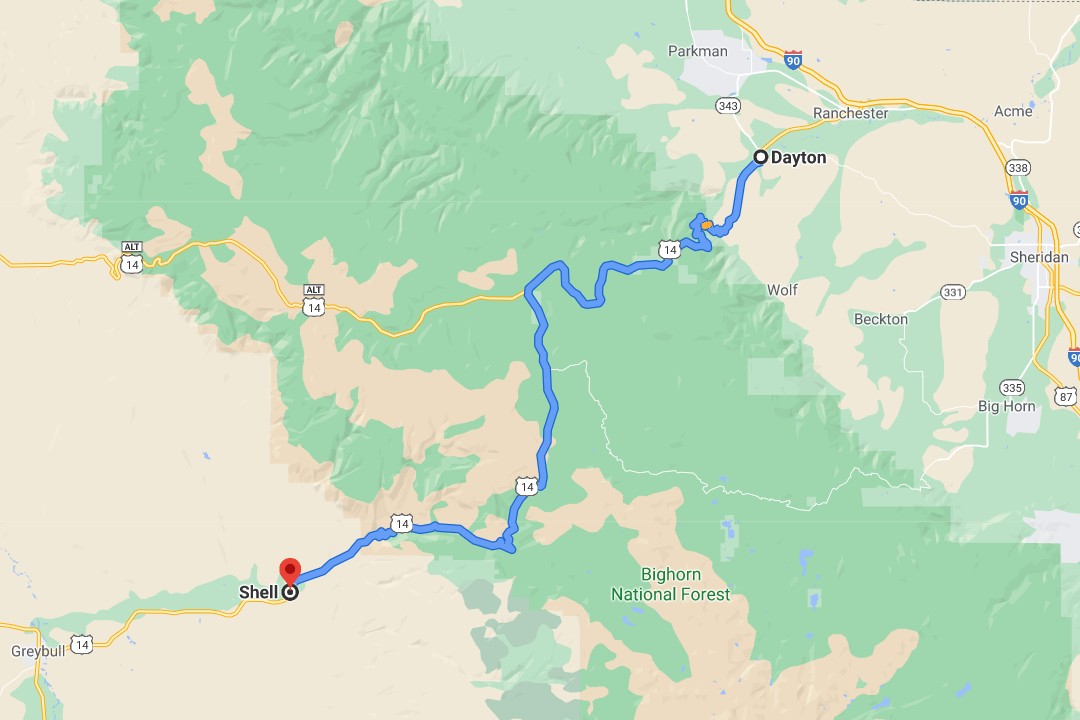 Another iconic Wyoming destination, Bighorn Route is jam-packed with steep climbs, tight turns, and jaw-dropping switchbacks. Bighorn Mountains reveal spectacular scenery all around. As a bonus, you're guaranteed to spot wildlife as you travel across the ancient Sioux and Cheyenne country. The Bighorn Route is one of the best motorcycling roads in Wyoming. You can spend a whole day exploring this stunning mountain route.
Ride length: 57 miles
Route: Google Maps
Best Motorcycle Roads in Eastern US
1. Tail of the Dragon, Tennessee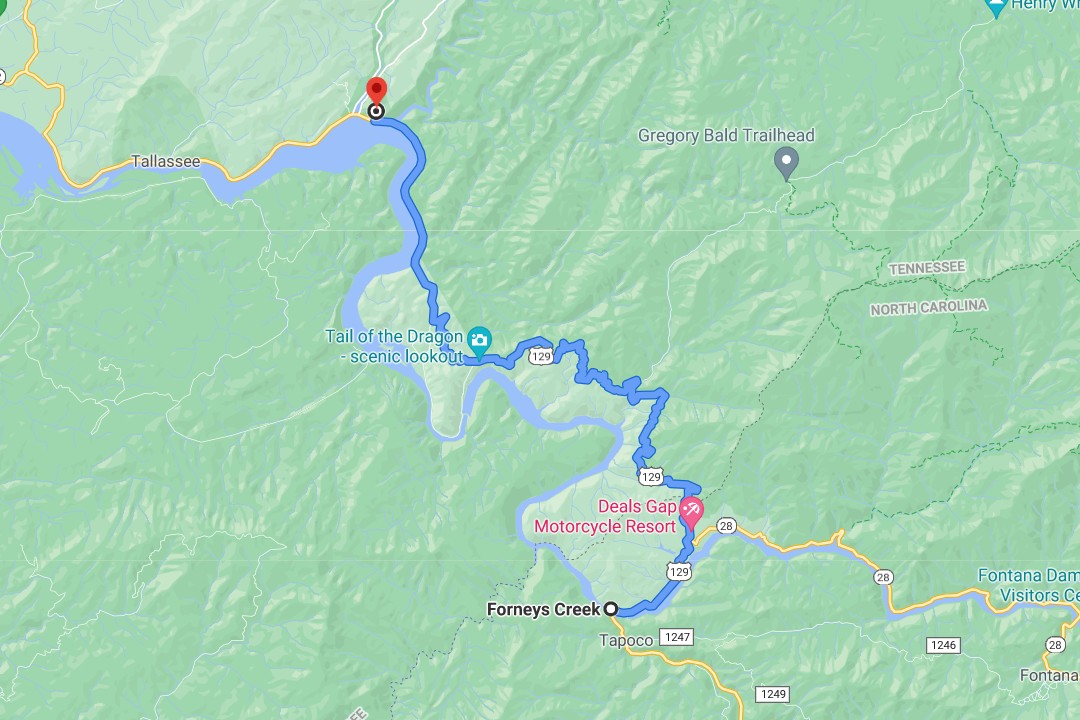 Promising 318 curves in eleven miles, Tail of the Dragon is America's most famous motorcycling road. Wedged between the Smoky Mountains, Tail of the Dragon offers countless fast turns and hair-raising corners – and no intersecting roads or pull outs along the way, which means it's pure motorcycling bliss all the way down (or up – most riders choose to do Tail of the Dragon twice!). As you ride, you'll notice photographers taking shots of some of the tightest corners, and you can ask them for a photo of yourself at the Deals Gap store. You can also find your Tail of the Dragon signs, patches, and other souvenirs here meet like-minded bikers, and enjoy the camaraderie.
Ride length: 16 miles
Route: Google Maps
2. Cherohala Skyway, North Carolina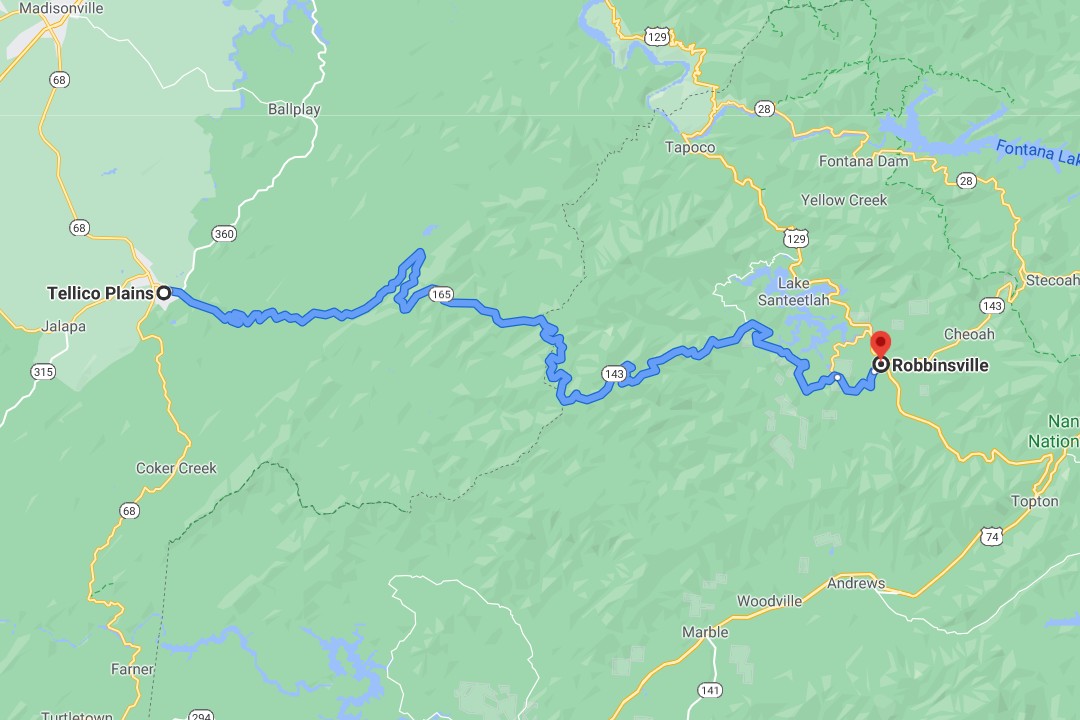 If Tail of the Dragon hasn't satisfied your thirst for adventure, head on over to Cherohala Skyway for more curves and mountain views. Countless switchbacks and incredible scenery of the Smoky Mountains make this road an excellent motorcycle route, and the best part is, Cherohala is much less known than the tail of the Dragon, which means there won't be any traffic on the road and you're likely to have the place to yourself.
Be sure to have a hearty lunch and fill up your tank before you go: there are no service stops on the Skyway, so get ready to experience the perfect solitude of the Smoky Mountains.
Ride length: 51 miles
Route: Google Maps
3. Blue Ridge Parkway, North Carolina – Virginia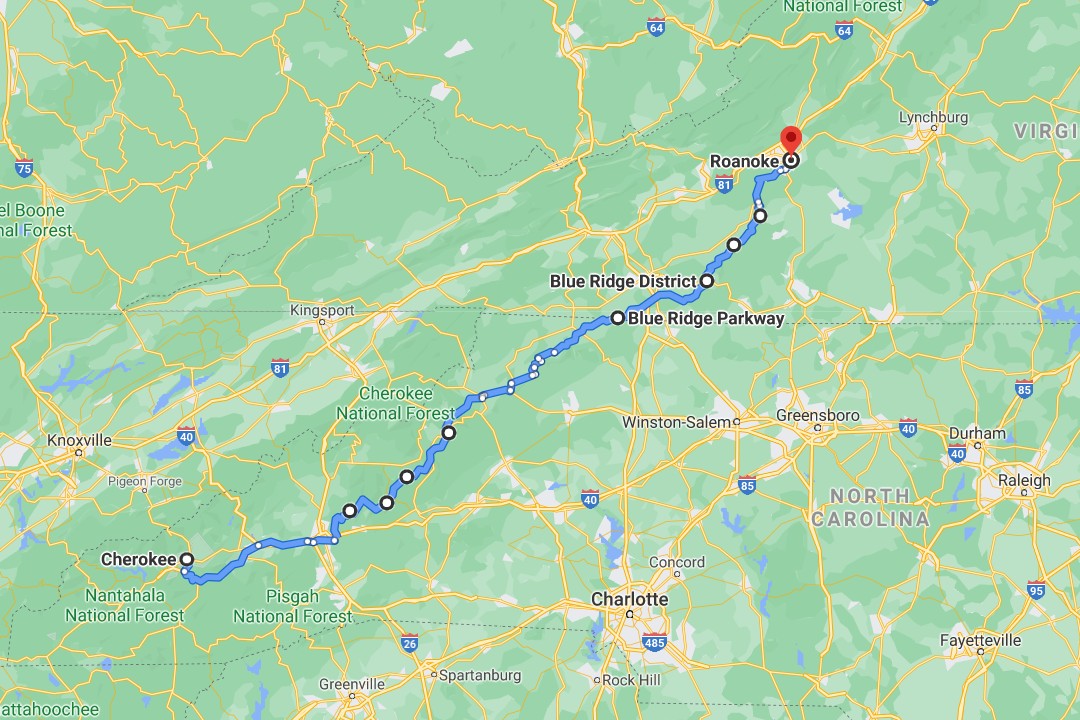 Ready for the long haul? Blue Ridge Parkway, a 400-mile road connecting Tennessee and Virginia following the ridge of the Appalachian Mountains. Hands-down the best motorcycling road on the East Coast, Blue Ridge Parkway boasts plenty of curves and twists, jaw-dropping scenery, and wildlife sightings (don't be surprised to see a black bear family crossing the road). Along the way, there will be plenty of scenic lookout points, food and lodging options, and views to steal your heart: it's as if Blue Ridge Parkway was built to reveal the natural beauty of Appalachia.
Keep in mind that the speed limit on the Parkway is 45mph, so keep the throttle steady and enjoy the spectacular views as you ride. Be careful during the spring and fall months as thick foliage often covers the road in wet, slippery leaves.
Ride length: 314 miles
Route: Google Maps
4. Natchez Trace, Mississippi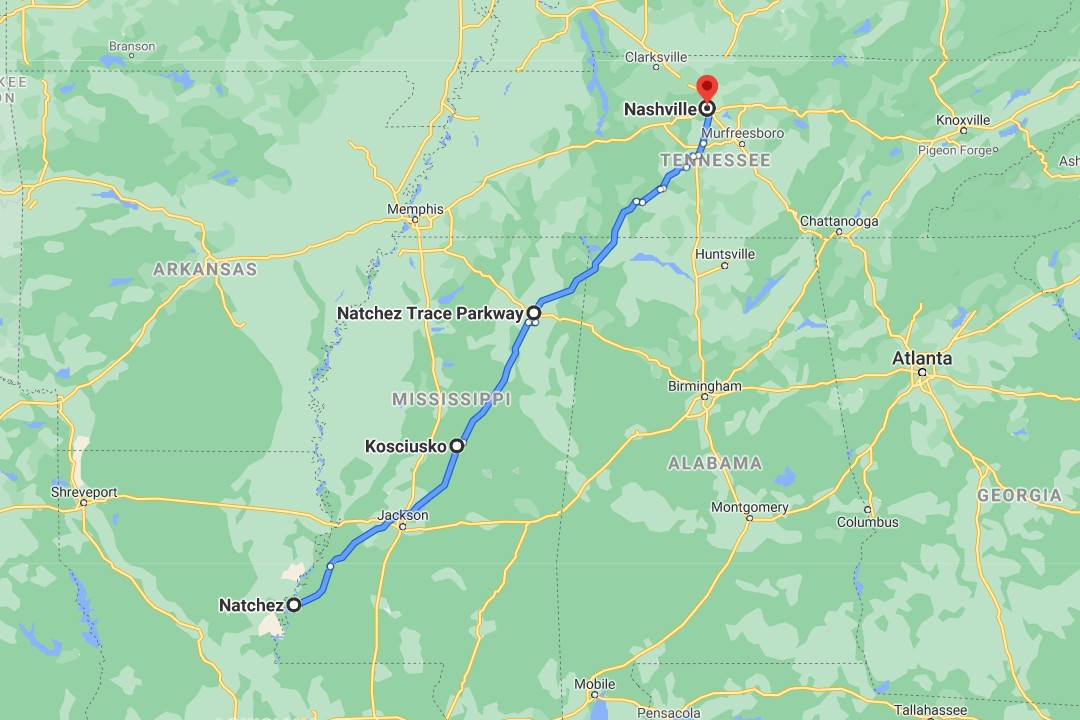 Mississippi may not be on any famous motorcycle riding maps… that is, unless you know the Natchez Trace Parkway. This is the oldest route in North America: once a massive bison migration path, the Parkway was used by Native American peoples for thousands of years. Later, it became a well-trodden trail of settlers and traders, and these days, Natchez Trace is a beautiful route meandering across green rolling hills and hardwood forests. Because commercial traffic is prohibited on the Parkway, it's perfect for motorcycling, and the landscape here is unbroken by billboards and utility poles.
Keep in mind that the speed limit on the Parkway is 50mph, so don't rush and enjoy this old route to the fullest.
Ride length: 471 miles
Route: Google Maps
5. Acadia, Maine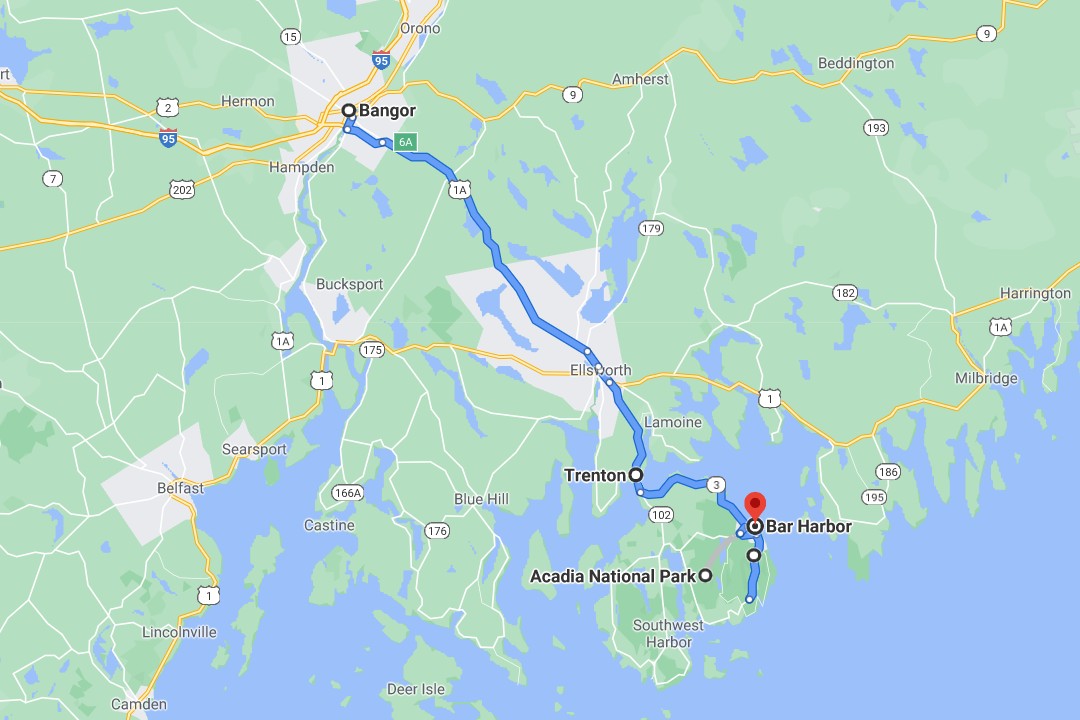 Maine may not boast the rugged landscapes of the Rockies or the dizzying mountain twisties, but Acadia National Park his a true hidden gem for motorcycle riders. Featuring curvy roads and meandering coastal routes, Acadia is a two-wheeled paradise, especially in the summer and fall season. Make sure to spend a day exploring Bar Harbor and tasting local lobster, or visit the Seal Cove Auto Museum boasting a large collection of vintage cars and motorcycles.
Ride length: 60 miles
Route: Google Maps
6. Florida Keys Scenic Highway, Florida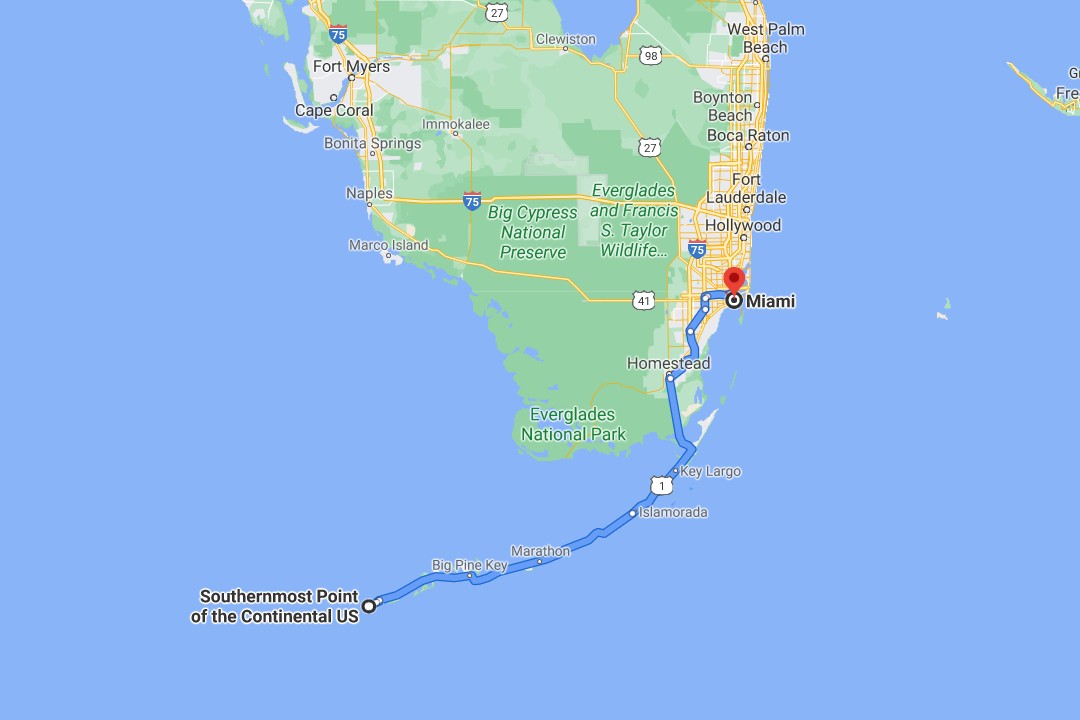 Ocean breeze, Cuban vibes, and the delicious sense of freedom: riding the Florida Keys Scenic Highway is a must for motorcyclists. Connecting Key Largo and Key West, the Highway runs across 43 islands connected by long bridges and offering spectacular views of white sand beaches and turquoise-blue waters. Steeped in Cuban and Bahamian influences, Florida Keys are all about leisurely cruising, salsa bars, and motorcycle-friendly restaurants and hotels along the way. Be sure to stop at Hog Heaven, an all-American biker bar offering food and drinks till the small hours. If you have the time, relax on a sunny beach the next day before hitting the road again.
Ride length: 165 miles
Route: Google Maps
Things You Need to Know Before Going on a Road Trip
Armed with this list and a collection of motorcycle maps, you're probably itching to get going. However, even if you're only planning to ride for a couple of days, it's best to be prepared. Before you leave, go over your motorcycle to make sure it's road-ready. Check your oil levels, brake pads, and tires. Make sure that your lights and turn signals are working properly, and top up your fluids if needed.
Next, do a little route planning. See if you need to pack some water and snacks. Then, plan some rest stops, and make a list of places you want to see along the way. Often, you can mix and match several motorcycling roads to create your own route: Motorcycle Roads have plenty of good suggestions of where to go and how to design your own motorcycle map.
Then, plan your accommodation: it's always best to book hotels or motels that offer secure motorcycle parking. If you can't find any, don't forget to bring your disc lock and chain and install a motorcycle GPS tracker that can alert you if your bike is being moved and help you recover the motorcycle in case of theft.
Finally, pack as light as you can. Even for longer trips, you'll only need the essentials and a change of clothes. Don't overpack – it's a rookie mistake!
Once you've planned your route, packed your bike, and booked your stays, it's time to finally hit the road. Happy miles and two-wheeled adventures!
Wondering how YOU can protect your bike?
Check out Monimoto smart trackers