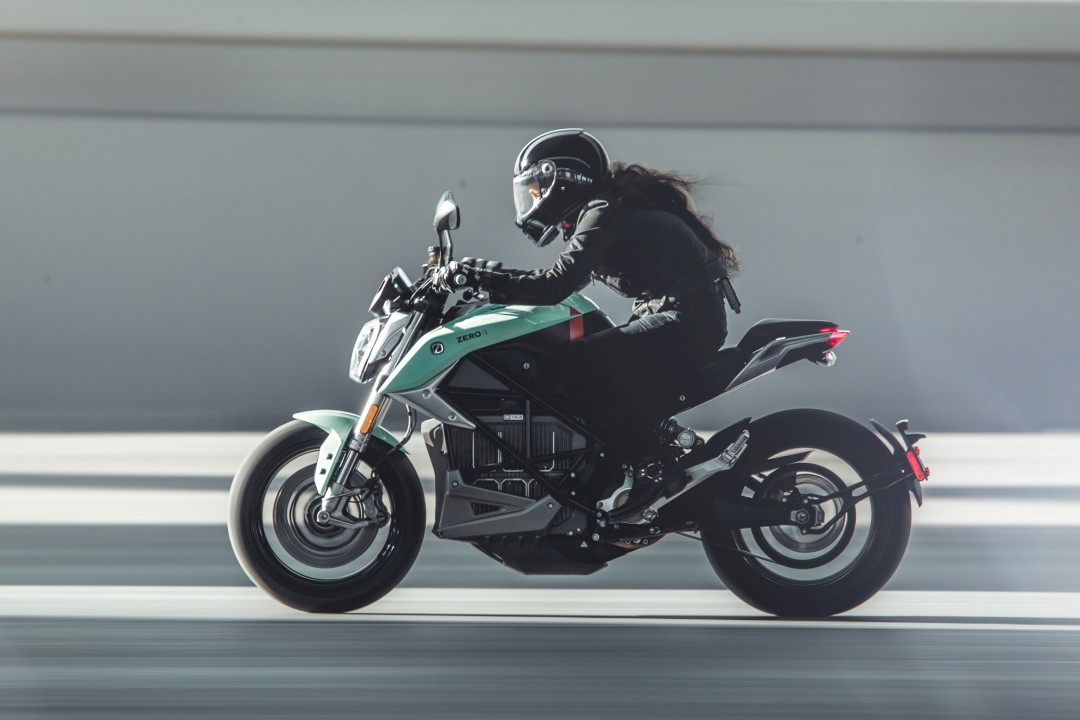 Few motorcycle enthusiasts believed electric motorcycles can go beyond fantasy and become an everyday occurrence any time soon. Here we are in 2022, and electric motorcycles have not only become incredibly practical, but they are now faster and cheaper than they were when they were first introduced. Perhaps the pace at which electric motorcycles are evolving has to do with the global push for green energy. The proposed mission to dump the pump and place a ban on internal combustion engines is definitely making a dent, too. Whatever the reason, electric motorcycles are here to stay.
Recently, electric bikes have become a great option for many commuters as well as those who just want to have fun riding a battery-powered motorcycle. Recharge times are dropping as technology improves, and range is increasing at breakneck speed. So much so that the newest installation of LWR, the Long Way Up, featuring co-stars Ewan McGregor and Charley Boorman, was done entirely on electric bikes. If those two switched to Harley-Davidson Livewires for their trip across the Americas, it's clear where we're all headed.
A full battery in a half-an-hour isn't far-fetched these days as high-quality, high-speed chargers become available and easier to use. This remarkable evolution of electric motorcycles is happening at the same time as the flooding of the market with lower-cost electric scooters.
The Future Is Electric
Although they still tend to cost more than their gas-powered counterparts, electric motorbikes are—without a doubt—the future of the motorcycling world. This is because the technology behind electric motorcycles and scooters continues to relentlessly evolve (and fast). Since electric motorcycles are the future, let's dig deeper. So, first, what are electric motorcycles?
What is An Electric Motorcycle?
An electric motorcycle is powered by electricity rather than petrol. Electric motorcycles are bikes with electric motors rather than internal combustion engines that are used in conventional gas bikes. Sure, you might miss the traditional vroom or the braap, and it takes time to get to the electric woosh, but the source of energy for electric motorcycles is Lithium-ion batteries. Electric motorcycles—electric street bike, electric sport bike, electric cruiser motorcycle—are produced in different shapes and sizes by different manufacturers.
An electric motorcycle can be charged through a wall socket, and will normally take about eight hours or less to be fully charged. The batteries of electric motorcycles can take you up to 280 miles, depending on the type of bike. And since the engine is electric, there's nothing like engine oil, spark plugs, gearbox, clutch, timing belts, and air filters. You'll only have to maintain the tires, the brake pads, and the hydraulic fluid. What's more? An electric motorbike uses less power when it's at a standstill. And if it's fitted with regenerative braking, you can restore lost power while waiting at the traffic lights. Sounds pretty neat to us.
Electric Bike Costs
As previously mentioned, electric motorcycles tend to be relatively more expensive than conventional motorcycles. However, you can get an electric motorcycle—the CSC City Slicker—for as little as $2,500 in the U.S. CSC is arguably the cheapest electric motorcycle in the market. If you feel that won't cut it for you, and you need something on the high end, then you may consider the Arc Vector – but this baby sells for well over $100,000.
Range and Power
If you're thinking about buying an electric motorcycle, welcome to the league! Here are some of the best electric motorcycles you should consider as of this year. Our criteria for choosing these electric bikes as the best in 2022 is based on their safety, range, power, style, and comfort.
Harley-Davidson LiveWire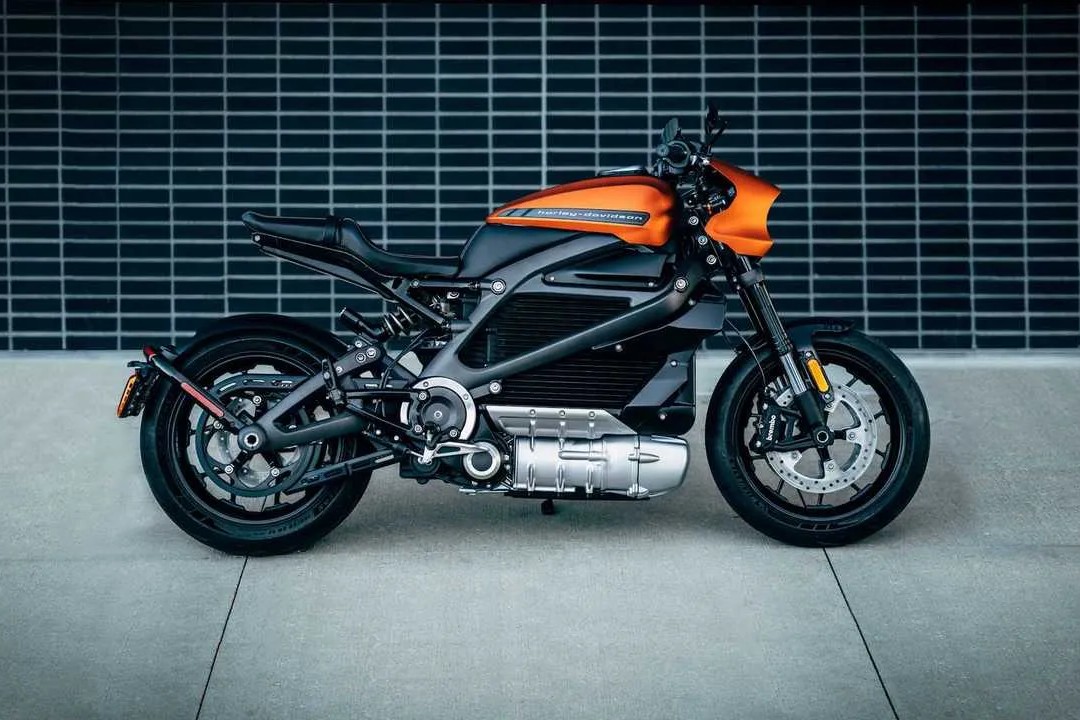 The Harley-Davidson LiveWire electric motorcycle is a top-quality motorcycle with outstanding performance. Designed to attain a similar speed as any other Harley-Davidson gas-powered motorcycle, LiveWire can produce high-powered speed using its technologically advanced batteries. It has a top speed of 95 mph/ 153 kph and an acceleration of 0-60mph (0-100kph) in three seconds. It has a fantastic shock and suspension setup. This electric motorcycle is very durable without harming other important specifications. LiveWire electric motorbike offers a range of 146 miles (24km). Harley-Davidson LiveWire sells below $30,000.This bike sits top of our list because it's given electric motorcycles a new definition (and yes, because we're fans of Ewan and Charley. You got us there).
Engine type: Electric
Engine: 753cc, High Output Revolution X™ V-Twin
Power: 105hp
Wet weight: 549lbs
Seat height: 30 inches
Motor: Revelation
Starter: Electric
Charging: 13 miles for each hour of charging
Transmission: 6-speed
Color: Vivid Black, Orange Fuse, and Yellow Fuse
Price: $29,799
Zero SR/F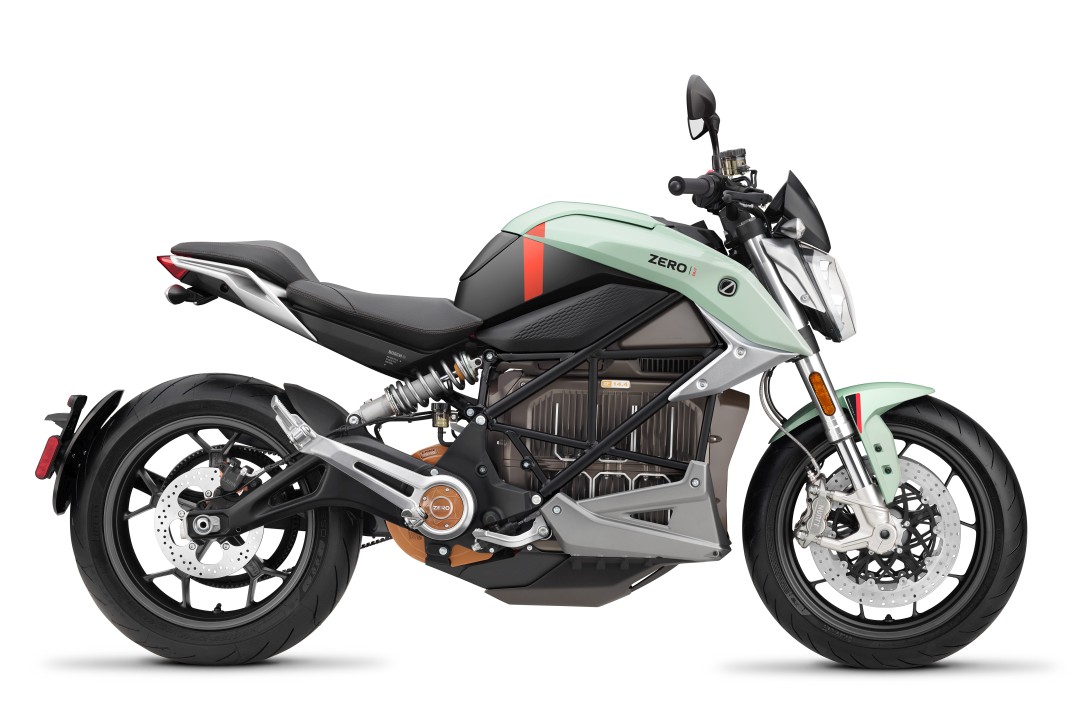 The Zero SR/F is a good electric motorbike with top-notch features, impressive stats, and skillful manufacturing. In trying to remain the number one producer of electric motorcycles, Zero expended a lot of energy and knowledge in making this battery powered motorcycle. The Zero SR/F electric motorbike is powered by a ZF14.4 kWh lithium-ion battery, as well as a ZF75-10 compact motor—giving the bike optimal power and a very competitive range. We chose this bike because of its incredible power potential and because, in our humble opinion, this motorcycle redefines the word "smooth".
Engine type: Electric
Charger: 3.0 kW / 6.0 kW
Power: 110 hp @ 5,000rpm
Claimed weight: 498 lb
Seat height: 31inches
Motor: ZF75-10 air-cooled AC motor
Battery: 14.4 kWh Z-Force 14.4 lithium-ion battery pack
Charging time: 2.5 hr. (100%)
Transmission: Clutchless direct drive
Final drive: Carbon belt
Price: $19,990
Lightning LS-218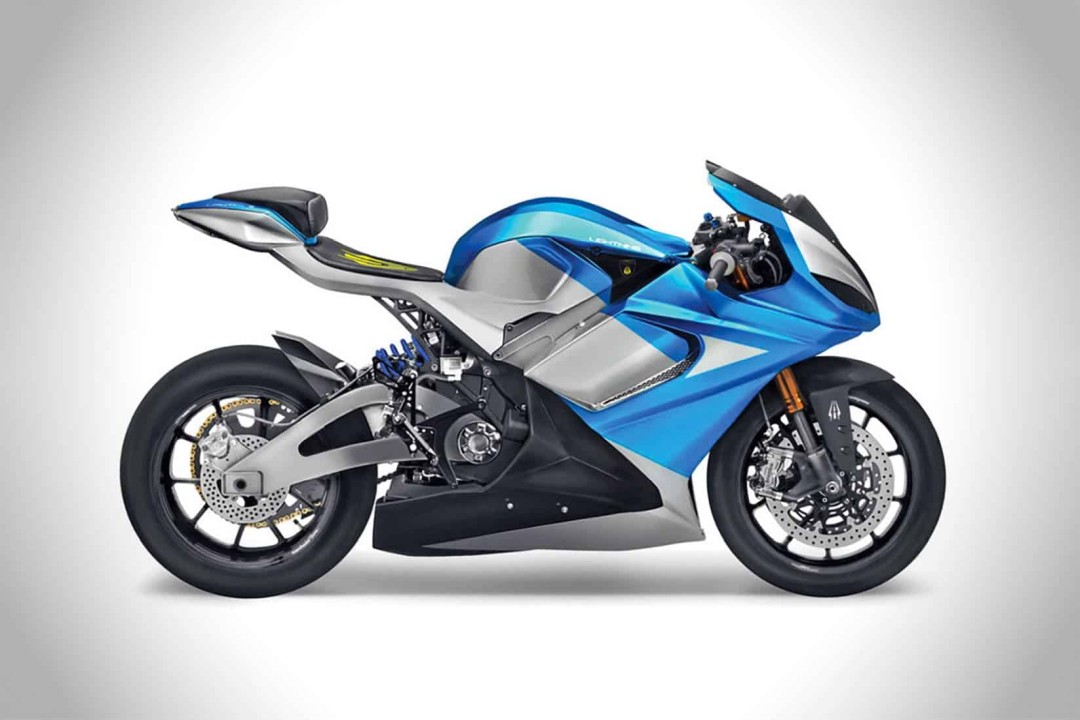 Lightning LS-218 is the fastest electric motorcycle in the market. With a top speed of 215mph/346 kph, Lightning LS-218 is specially built to take your breath away—speed-wise. It can accelerate from –60mph (0-100kph) in 2.2 seconds. Apart from its speed, durability, and power, this electric motorbike has an elegant and lightweight style. We choose this electric motorbike because of its unbeatable speed.
Braking system: Programmable
Top speed: 218mph
Power: 200hp
Weight: 495lbs
Seat height: 32inches
Average range: 100mi at high speed
Torque: 168ft/lbs
Charging time: 30 mins on a DC fast charger
Transmission: None; Direct drive motor
Color: Blue
Price: $38,888
Energica Eva Ribelle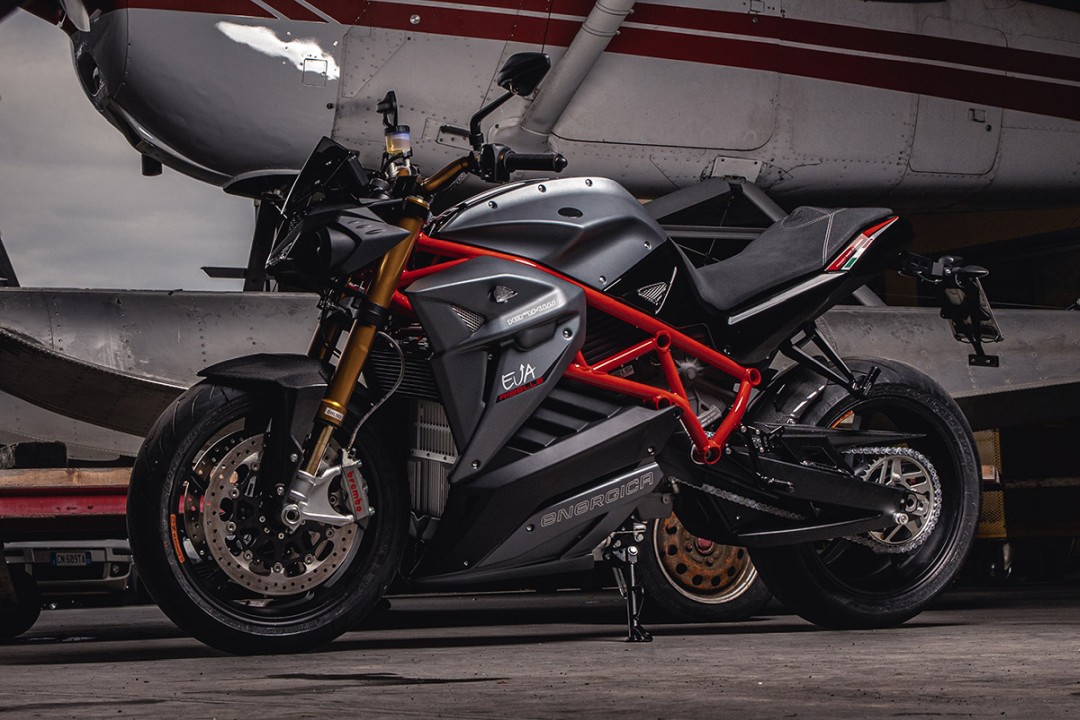 Aside from power and performance, the Energica Eva Ribelle electric motorcycle is one with dynamic styling and an iconic aesthetic. It has all the elements of top-notch build quality. This electric motorbike has an updated battery and can attain a range of 249 miles/ 400 km, with a quick 42-minute charge to 80% waiting time. What's more? You get bold color-blocking, keyless ignition, cruise control, traction control, and ABS with this battery powered motorcycle. We choose this bike because it combines performance with great styling.
Engine type: Electric
Top speed: 124 mph / 200 kph
Power: 145hp
Torque: 159ft.lb
Seat height: 31.1inches
Motor: Permanent Magnet AC, Oil Cooled
Battery: Max 21.5 kWh / Nominal 18.9 kWh – lithium
Starter: Electric
Frame: Steel Tubular Trellis
Charging time: 42 minutes, 80% waiting time
Color: Rosso Corsa, Stealth Grey
Price: $22,160
Lightning Strike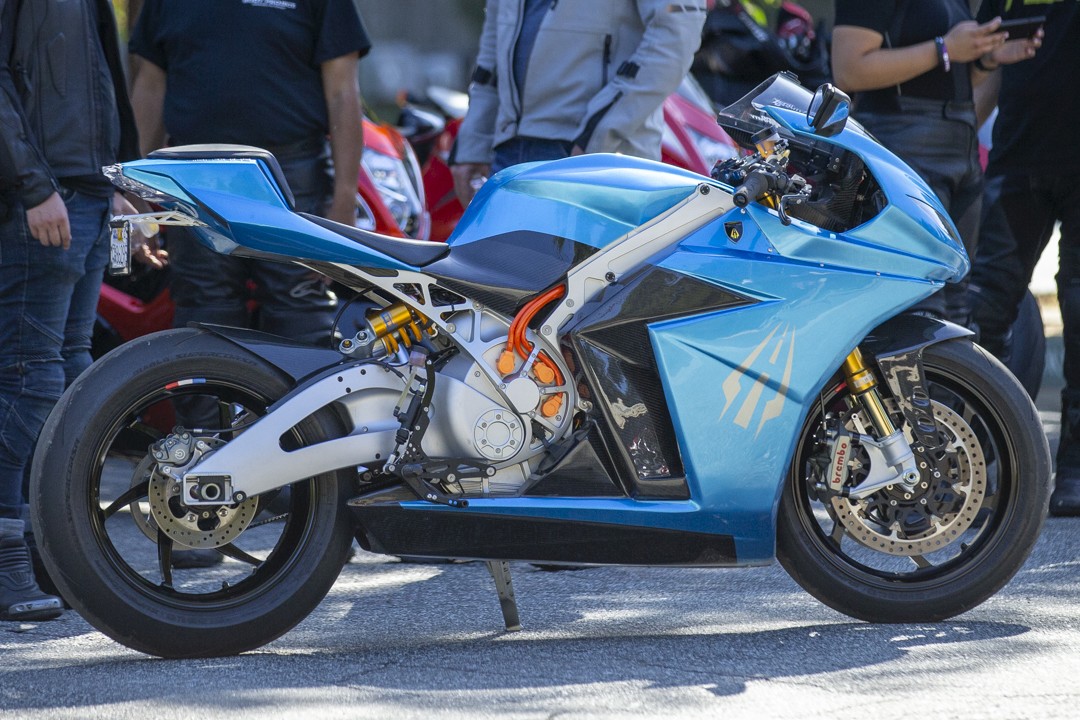 The Lightning Strike leads the way as one of the best performance and technologically advanced electric sport bikes. This electric motorcycle was designed to offer the best performance at an affordable price. It's arguably the best value and cheapest electric motorcycle on the market. Lightning Strike brings track-ready performance with daily rideability. You get 120 horsepower, 180 lb-ft of torque, a top speed of 150mph with this bike. For its price, the Lightning Strike electric sport bike has an excellent amount of power. With this electric motorcycle for adults, you can accelerate from 0-60 mph in just three seconds, yet you get a smooth and comfortable ride. Lightning Strike is one of our 2022 best electric motorcycles because of its affordability and performance.
Engine type: Electric
Top speed: 150mph (241kph)
Power: 120hp
Torque: 252.2 Nm (25.7 kgf-m or 186.0 ft.lbs)
Seat height: 32.0inches
Driveline: Clutchless direct single-speed drive
Transmission type: Belt
Starter: Electric
Power/weight ratio: 0.5825 HP/kg
Dry weight: 454.2lbs(206.0kg)
Color: Blue
Price: $19,998
Things Every Electric Motorcycle Owner Should Know
Compared with gas-powered motorcycles, electric motorcycles and scooters require less maintenance. However, you've got to keep your battery powered motorcycle in a good condition for you to keep having a great riding experience. Whether yours is an electric cruiser motorcycle or an electric sport bike—no matter what kind of electric motorcycle you own—the following tips are worth considering:
Regularly take your bike for servicing and maintenance at trusted service centers. Experts recommend that you go for an inspection after every 2000mi (3,000km) or every six months. It's also essential that the electrical system of electric motorcycles and scooters is not tampered with. Always engage an experienced technician and don't ride your electric motorbike if there's an issue with any of the electronic parts.
Your electric motorcycle's battery is the most important electrical component on the motorcycle. If you don't properly charge the Lithium-ion batteries of your electric motorbike, its lifespan will be shortened. Replacing your bike's battery will also cost you. To maintain your battery in a good shape, never charge it with the ignition turned on.
Do not use a charger from a different manufacturer, as this can cause the electric motorbike system to malfunction as well as shortening the battery lifespan. Don't overcharge the motorbike's battery. You should charge your electric motorcycle only when the battery is not fully charged.
Don't let the battery of electric motorcycles and scooters drain completely. Letting the motorcycle go fully discharged will shorten the battery's lifespan. It is recommended that you start charging your battery when it's at around 25-30%. If you just got a new electric motorcycle, fully charge the battery for the first 3 times. In addition, make sure that your best electric motorcycle receives a full charge at least every 2 months.
Don't expose your bike's battery to extreme conditions. Lithium-ion batteries don't like cold or extremely hot temperatures. It is recommended to store and charge your motorcycle battery at room temperature. Any temperature between 32-95°F (0-35°C) is best.
Never leave your electric motorcycle battery to overcharge outside during a winter night. If the battery seems to be deteriorating, the capacity can be checked at any electric motorcycle shop. Do not attempt to perform any diagnostics on the battery yourself. This is extremely dangerous and can result in fire and explosion.
Because mud and other dirt particles can get into your motorcycle's engine and cause serious problems, you must clean your electric bike regularly. Clean your bike using a soft sponge and mild detergent in water. Avoid high-pressure cleaners as they can penetrate the seals and damage the electrical system of your bike. Dry your electric cruiser motorcycle with a soft cloth or a towel after washing.
Regularly lube the chain of your electric motorcycle or scooter if they're designed with chains.
Regularly check the condition of your bike's tires. Observe your bike's tire pressure, tread, and wear. Keep in mind that low tires or worn tires will affect the range and handling. Depending on the size and width of the tire, the pressure in each tire of your electric motorcycle should be around 2-2.2 bars (29-32 psi).
Always inspect the basic components of your electric motorcycle. Ensure that the brakes on your electric street bike, electric sport bike, electric motorcycle for adults, and so on, are effective. Ineffective brakes can result in an accident. . You should change the brake pads and discs when they begin to wear out. It's recommended that you change the brake fluid every 2 years.
In addition to keeping your electric bike in top shape, make sure you keep it safe. To prevent theft, always lock it up safely, keep it in a secure garage, and consider adding extra layers of security such as disc locks and chains. Finally, think of installing a motorcycle GPS tracker on your electric beast – this will help ensure you can track your bike in real time in case of theft.
FAQ
What license do you need for an electric motorcycle?
You need a Class M1 license to ride an electric motorcycle. To get this license, however, you must have a certificate of completion of the motorcycle basic rider course, take a vision test, and a written test. An intending rider who is younger than 18 will also have to pass a driving test.
How fast do electric motorcycles go?
Since electric motorcycles develop their torque instantly, they can go very fast. You can go from 0 to 60mph with electric motorcycles in seconds, which is faster than is obtainable with gas-powered bikes.
Are electric motorcycles street legal?
Unless otherwise designated, most electric motorcycles are street legal.
What's the fastest electric motorcycle you can buy?
As of 2021, the fastest electric motorcycle you can buy is the Lightning LS-218. This electric motorcycle can go from 0 to 60 mph in just 2.2 seconds and has a top speed of 218 mph.
Electric Decisions
Electric motorcycles are here to stay, and their production will only ramp up and get better. The options will increase, too. This is the future, and it's time to jump on board! If you own or are planning to purchase an electric motorcycle, safety, range, power, and comfort are things you should look out for. Remember: To have a great riding experience for a long time, proper and regular maintenance is key. But so is the fun factor – so make sure you enjoy the hell out of your new electric steed.
Wondering how YOU can protect your bike?
Check out Monimoto smart trackers