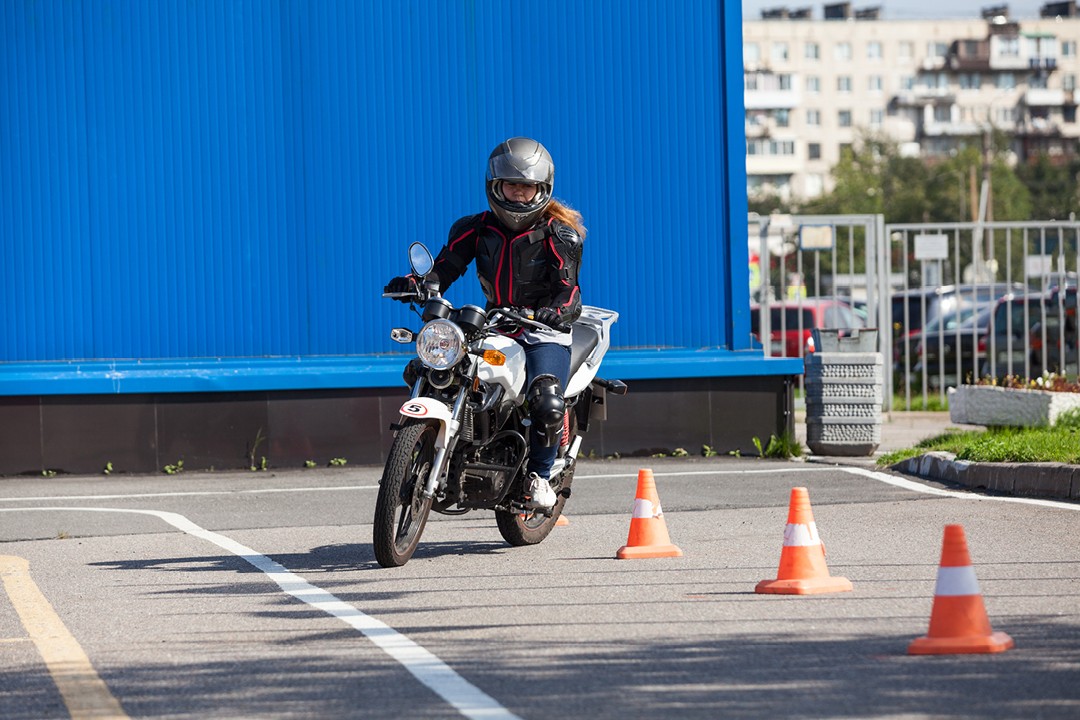 If you're a new rider looking for a bike, the choices can be overwhelming. Different motorcycle makes and models aside, there are many other important things to consider. The type of riding you want to do, whether to buy the bike new or used, the price points, the ease of maintenance… The list goes on. In this article, we're discussing some of the best beginner motorcycles to help you out. The best first motorcycle is usually one that isn't too powerful, too heavy, and too expensive, but it all depends on what you want to ride, what your budget is like, and what is your dream bike model.
While most good beginner motorcycles will have some commonalities across brands, as a new rider, you need to base your decision on some solid criteria such as the bike's handling, reliability, and cost. And finally, you need to be stoked about your first bike. Let's face it: motorcycling is about fun, so you should also think which bike models excite you the most – being sensible when buying your first bike is important, but so is the fun factor!
Best Motorcycle to Learn On
Before you start poring over biker forums and Google searches for best beginner motorcycles, you need to consider some good learner bikes. Most rider schools offer standard street motorcycles to learn on, and that's certainly a good choice. However, the learning won't stop once you get your endorsement: as a new rider, you'll need to constantly practice and hone your skills before you're fully confident on the bike.
Keep this in mind when choosing your first motorcycle. You'll need something that's easy to handle, forgiving, and reliable – there's nothing worse than trying to wrestle a motorcycle that's too big and too powerful for you as a beginner. Next, think about the type of riding you'll want to do: will you mostly be commuting on your bike? Do you want to get into adventure motorcycling and travel? Are you into sports bikes or off-road riding? As you progress, your priorities may change, and you may end up changing disciplines or buying multiple motorcycles, but a good motorcycle for beginners will typically be capable of handling a little bit of everything.
Street motorcycles like Yamaha Tracer and Kawasaki Ninja, as well as Honda NC models are great bikes to learn on regardless of what discipline you may choose down the line.
Reliability and Maintenance
Next, you have to consider things like reliability and maintenance. Most modern motorcycles do not break down easily and, as long as you service the bike regularly, you shouldn't have any issues. However, some bikes are more highly strung than others and may require additional care and frequent service, and for new riders, this can be intimidating.
Finally, think about your budget. Are you buying new or second-hand? Are you looking for a bike that's brand-new but affordable? Price points matter when you're looking for an entry level motorcycle because, once you've mastered the basics, you may want to move on to a different machine, and there's no point spending tens of thousands of dollars on something you may decide to change within a year or two.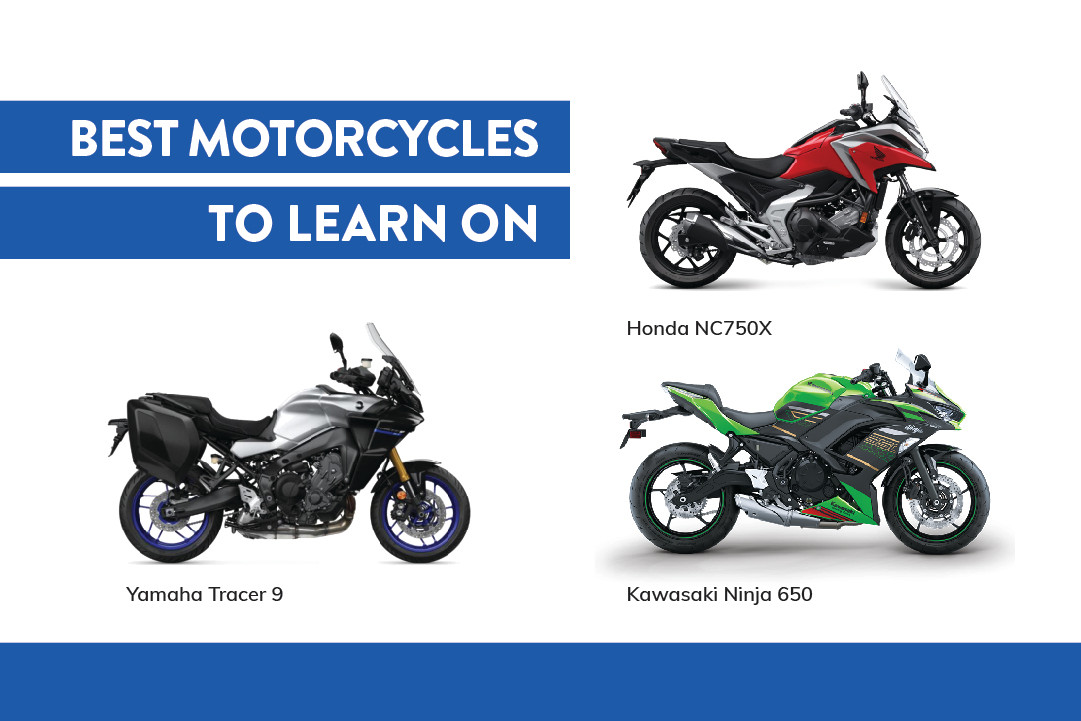 Learner motorcycles to check out
Yamaha Tracer 9 – $11,799 – 890CC engine
Kawasaki Ninja 650 – $7,699 – 649CC engine
Honda NC750X – $8,499 – 749CC engine
With all of this in mind, here are some ideas for the best beginner motorcycles in different disciplines.
Best Beginner Street Bikes
Ask any motorcycle vet about what the best entry-level motorcycle is, and most of them will tell you it's a street bike. Street motorcycles make excellent starters because they have a comfortable, upright seating position, are well-balanced and aimed at riding in traffic as well as doing short weekend rides or tackling some fun mountain twisties. As a rule, they're generally very forgiving, well-built, and easy to handle even when you're just starting out. Beginner street bikes are excellent for building confidence and serving as commuters, travel bikes, and in some cases, even entry level dirt bikes for new motorcyclists. A street motorcycle is usually a good all-rounder, and that makes it much easier to progress as a rider while having a lot of fun at the same time. When you're thinking about how to ride a motorcycle, you'll likely have a street bike in mind.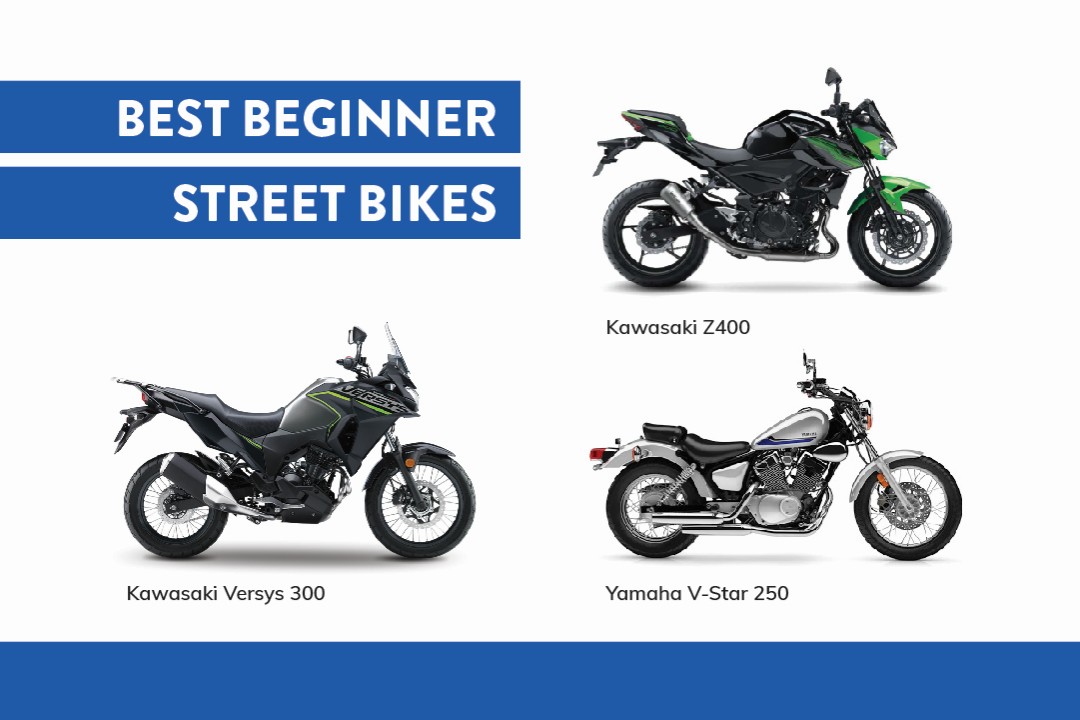 If you're looking for a solid, good first motorcycle in the street category, check out bikes like:
Kawasaki Z400 – $4,999 – ABS/399CC engine
Yamaha V-Star 250 – $4,499 – 249cc engine
Kawasaki Versys 300 – $5,699 – 299 cc engine
All of these bikes are fantastic entry level motorcycles for street riding, have a reputation of being well-built and reliable, and all come at a price point lower than $6,000 brand new. In addition, they have plenty of bite but aren't overwhelmingly powerful, weigh less than their larger counterparts, and are easy to handle, not to mention they're incredibly fun to ride.
Best Beginner Sport Bikes
So you're dreaming of dragging that knee on the race track? More power to you! However, as a new rider, you have a long way to go before you can aspire to be the next Valentino Rossi. Some of the best beginner sportbikes are small-displacement race bike replicas. Full-on litre bikes are for experienced riders. You need to get used to the way a sports bike handles first and add power later. Remember that sportbikes have a forward-leaning seat position which affects the way the motorcycle feels and leans into corners. When you're just starting out, it may take a while to master the basics.
One of the best entry-level motorcycles in the sports bike category is the Honda CBR125. It ticks all the boxes: it's lightweight, nimble, and forgiving for a new rider. This bike is reliable (Honda is famous for building solid, indestructible motorcycles). Additionally, it's ridiculously fun to ride even with its small-displacement engine. The CBR also looks the part with its race replica colour scheme and sleek design, and it will give you a feel of how a sport bike handles both on the street and on the track. Finally, it won't break the bank, either, and since these bikes are popular among new riders, you'll probably easily find it a new home once you're ready to move on to bigger machines.
Another excellent beginner sport bike is the Kawasaki Ninja 250. Slightly more powerful than the Honda CBR125, the Ninja is a great bike for a first-time motorcycle rider. It will happily tackle curvy mountain roads and weekend ride-outs as well as serve as a solid street or commuter bike whenever needed.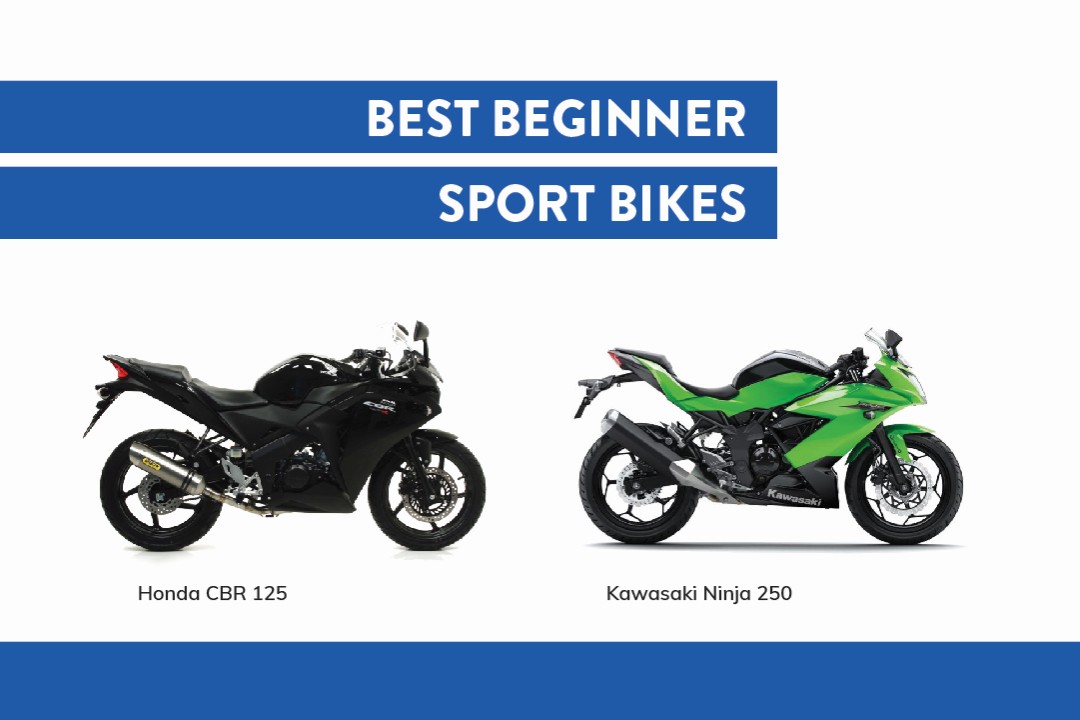 Beginner sport bike suggestions:
Honda CBR125 – From $1,000 used – 125 CC engine
Kawasaki Ninja 250 – From $1,500 used – 249 CC engine
Best Beginner Dual Sport Bikes
If you're not entirely sure whether you'll be riding street or dirt – or, perhaps, a little bit of both – a dual sport bike is the best choice for you. Much like with street bikes, when you're asking for a first motorcycle recommendation, dual sport is going to come up a lot, and for good reason. Some of the best beginner dual sport motorcycles are amazingly easy to handle and build confidence quickly; they're well-balanced, sturdy, and reliable, and their main attraction point is the versatility they offer.
You can confidently take a dual sport bike to work, for a weekend trip, or off the road, and it will happily chug along whatever you throw at it. In addition, they're easy to modify: if you decide to stick to tarmac roads, you're good to go with a set of good street tires and a higher windshield. If, on the other hand, you'll discover you want to ride more dirt, simply get a better suspension and throw a pair of more aggressive tires on, and you're ready for Back Country Discovery routes.
If you're looking for a good beginner dual sport, test-ride a Yamaha Tenere 700, a Kawasaki KLR650, or a Suzuki V-Strom 650. All of these motorcycles have reliable, mid-sized engines, great ergonomics, and affordable price tags, and they will serve both as fantastic entry level bikes and fun motorcycles to ride once you've gained more experience.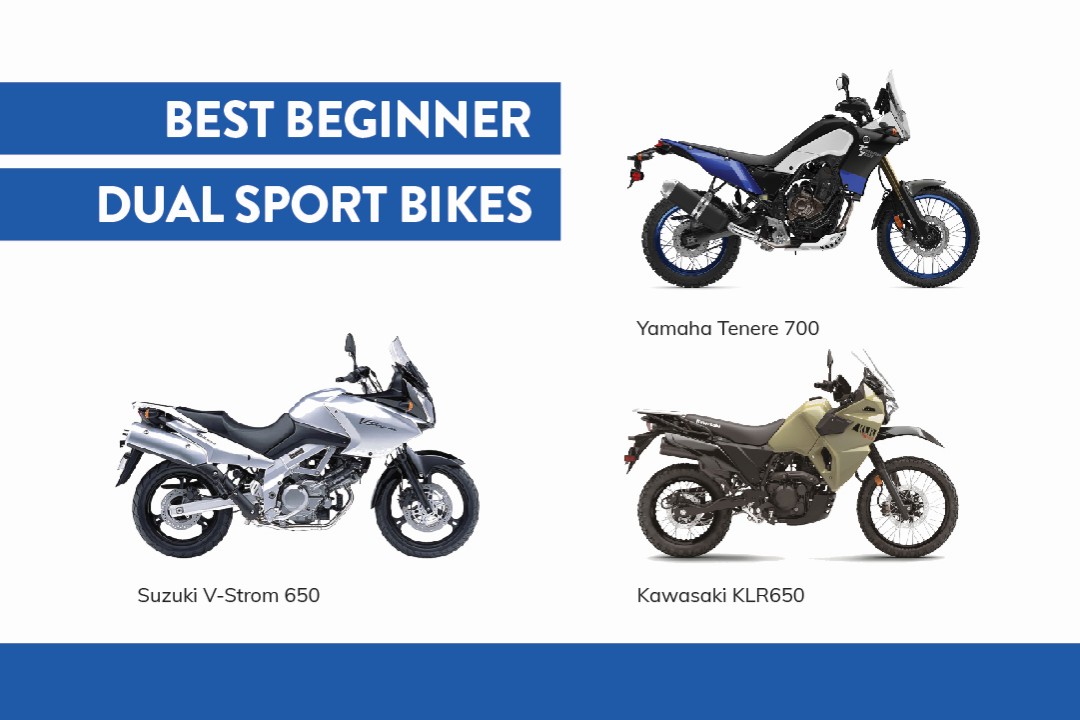 Dual Sport Bike Specs:
Yamaha Tenere 700 – $10,999 – 689 CC engine
Kawasaki KLR650 – $6,999 – 652 CC engine
Suzuki V-Strom 650 – $8,999 – 645 CC engine
Best Cheap Beginner Motorcycles
When looking for your first motorcycle to buy, the price will naturally play a big part in your decision-making. First and foremost, think about whether you want a brand-new bike or a second-hand machine.
Both choices have their own advantages and disadvantages. A brand-new motorcycle will have at least a two-year warranty. In addition, you can expect zero mechanical issues as long as you service it regularly. Buying brand-new, you can choose from the latest models. And, there is something to be said about the feeling of getting a shiny new motorcycle. The main disadvantage is the big price tag and the fact that the bike will lose 30% or more of its value as soon as it's rolled off the showroom floor.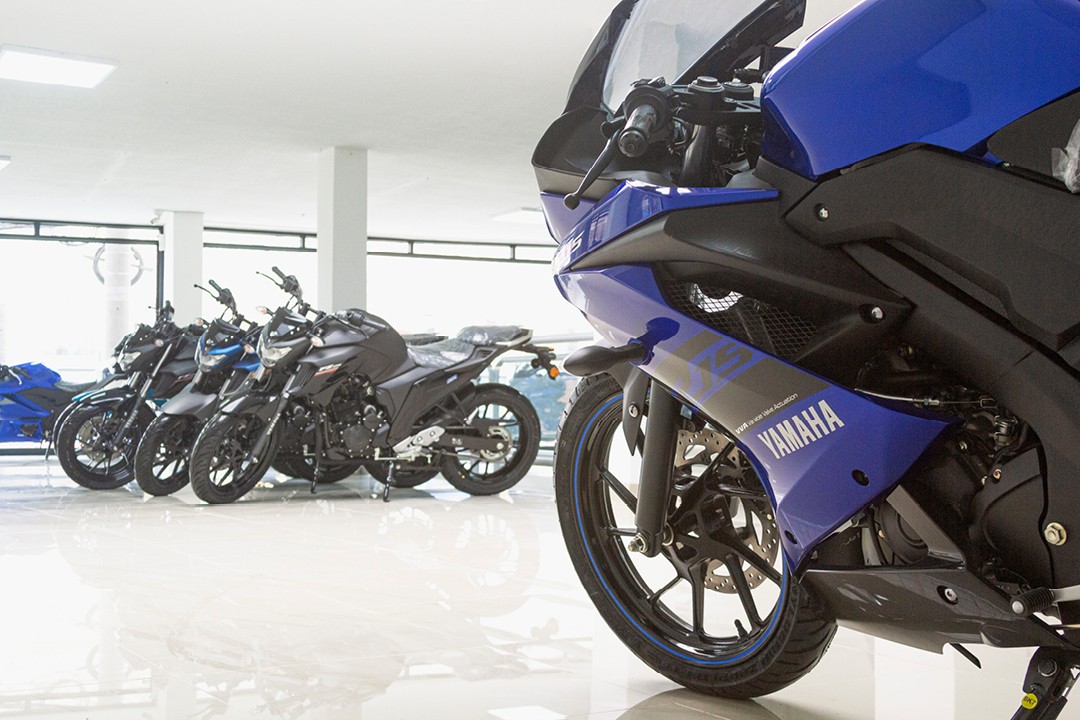 Budget vs Expectations
If you're looking for a good first motorcycle second-hand, expect to spend much less. Pre-owned bikes are often sold in good condition. Besides, you're looking to save a large chunk of change by buying an older model. However, you never know how the bike has been ridden by its previous owner and what issues it may have. As a new rider, you don't have as much experience to check the bike and evaluate its condition expertly. This can be a challenge.
Finally, a lot will depend on the brand of the motorcycle. The cheapest beginner motorcycles are made in China, Taiwan, and India (think Zongshen and Bajaj). While a lot of riders frown upon Chinese or Indian-made motorcycles, they can actually make great beginner bikes. And, best of all, they're the cheapest to buy.
The most expensive bikes will bear brand names like KTM, Ducati, and BMW. All these European brands boast superior quality and design, so expect to pay accordingly. If you're looking for a mid-level option, the best cheap beginner motorcycle will probably be Japanese. Honda, Yamaha, Suzuki, and Kawasaki are well known for being priced somewhere in the middle. Much better built than their Chinese counterparts yet cheaper than their European competitors, Japanese motorcycles usually make great and relatively cheap beginner bikes.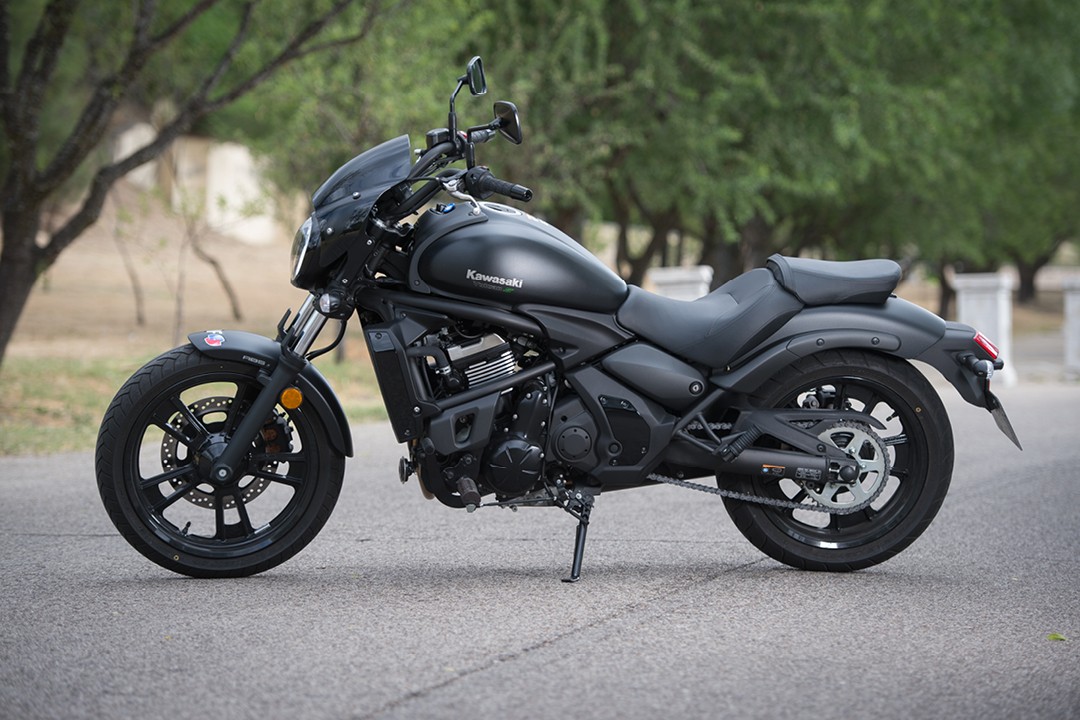 Things You Need to Know Before Buying a Motorcycle
As a first-time motorcycle rider, you need to know a few more things before buying your starter bike. First, you will have to figure out what kind of riding you want to do. Then, see which brands you like the most and what you can afford. Next, you'll also need to think about safety – both yours and the bike's.
Rider Safety
Want to know one of the biggest rookie mistakes new riders tend to do? Lots of newbies spend all their hard-saved cash on the bike and only leave a fraction of their budget for gear. Don't do this and make sure you invest in high-quality protective motorcycle gear. Your helmet, riding boots, jacket, pants, and gloves are meant to protect you in case of a crash. Even at slow speeds, motorcycle accidents can quickly turn nasty. It's your job to be protected as best as you can. Budget for good-quality, reliable motorcycle gear. Never skimp on protection – remember, most veteran motorcyclists swear by ATGATT (all the gear, all the time).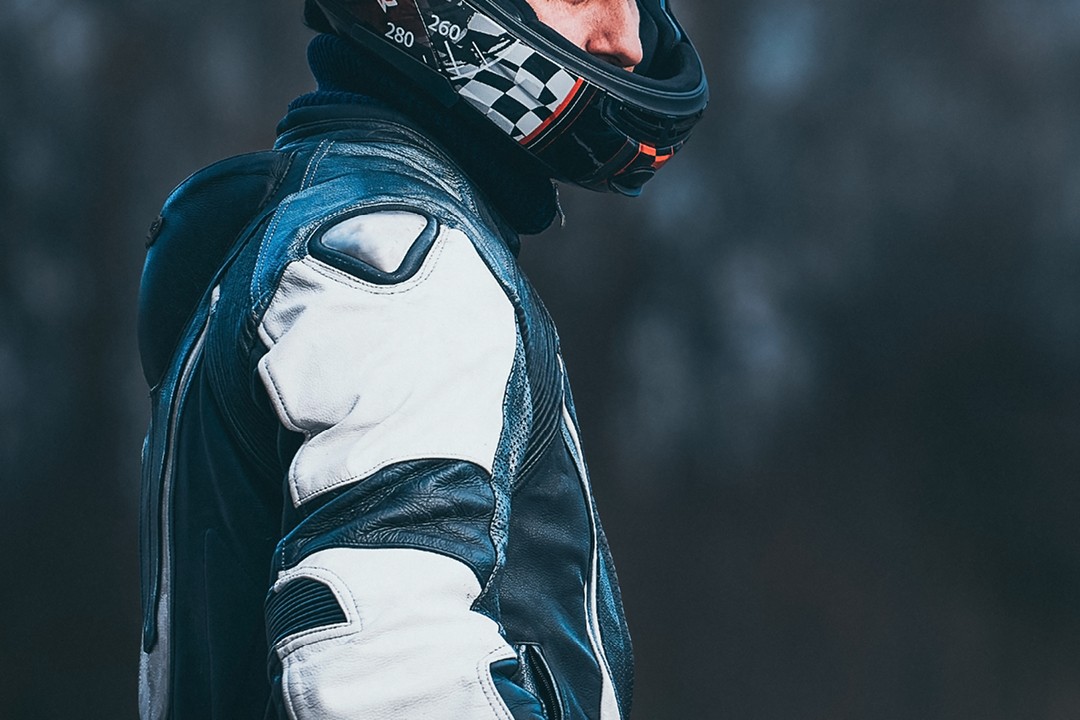 Motorcycle Safety
The same goes for your motorcycle. Before you take your new bike home, think about where you're going to keep it. Do you have a secure garage or parking space where the bike will be safe? What about those times you're parking it on the street? Additionally, think about what you're going to do when leaving it at a friend's place, or when you're traveling. Unfortunately, motorcycle theft is a surprisingly common occurrence. This is why it's best to protect your bike as much as you can.
Consider getting a heavy-duty disc lock and chain to deter theft. If you want some additional peace of mind, think about installing a motorcycle GPS tracker on your bike. A motorcycle tracker will alert you if your bike is being moved. I case of theft, your chances of recovering the bike will increase with live GPS locations being sent directly to your phone.
Finally, don't forget you'll have a few extra expenses like motorcycle insurance. You may also want to get a few basic accessories. For street and dual sport bikes, it'll likely be an aftermarket seat, higher windshield, and probably some luggage options. For sport bikes, it may be a seat cowl or bar-end mirrors for better looks. Personalizing your first motorcycle isn't a necessity. But then, bikes aren't exactly sensible essentials. So if you feel like adding a few custom touches to your new steed, go for it – and enjoy the ride!
Wondering how YOU can protect your bike?
Check out Monimoto smart trackers