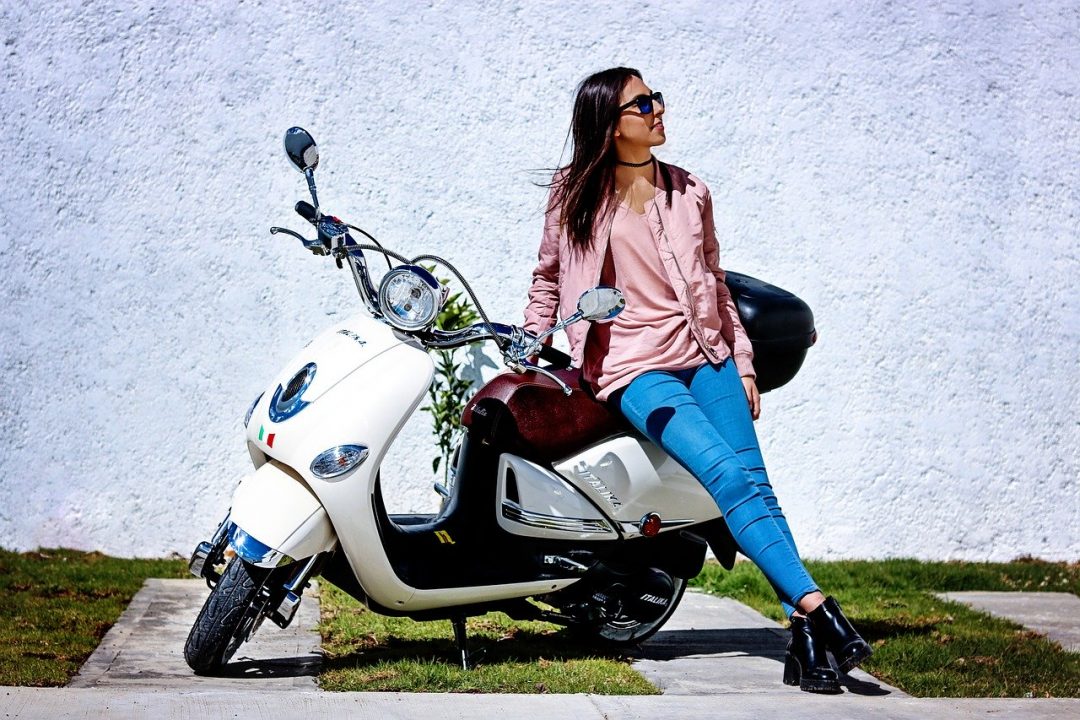 Commuting on a scooter is easily the most economical – and fun! – way to get to work. Scooters are incredibly fuel-efficient, nimble, and easy to ride. However, if you're planning to use your trusty moped daily, there's a scooter commuter must-have kit we highly recommend considering. Just a few simple mods and farkles can make your daily commute much safer and easier in any weather and any traffic conditions.
While most stock scooters come equipped with the essentials (such as storage space underneath the seat), taking care of your riding gear as well as adding a few modifications can make a big difference to your riding experience. The best part is, you don't need to be a mechanic to install things like a top box or a windshield, and a few additions concerning safety and comfort can be a game-changer.
Here's what we recommend having in your scooter commuter must-have kit:
Rider's Gear
Helmet, Eye Protection, Gloves
While scooters are smaller than motorcycles and you will be going at slower speeds, the reality is that you may still hurt yourself in case of an accident. On a scooter, your feet and legs are better protected than on a motorcycle. However, you will still need a good quality helmet, eye protection, and gloves.
When it comes to scooter helmets, most commuters prefer open-face or modular helmets. They do offer enough protection in city conditions but do make sure you have good eye protection as well. Good quality, anti-glare sunglasses or goggles work well with both helmet types.
Finally, make sure you have a pair of gloves to protect your hands from the weather and in case of an accident. Ideally, get a pair of winter gloves as well as thinner, lighter gloves for the summer if you commute year-round. Otherwise, a pair of universal gloves will do.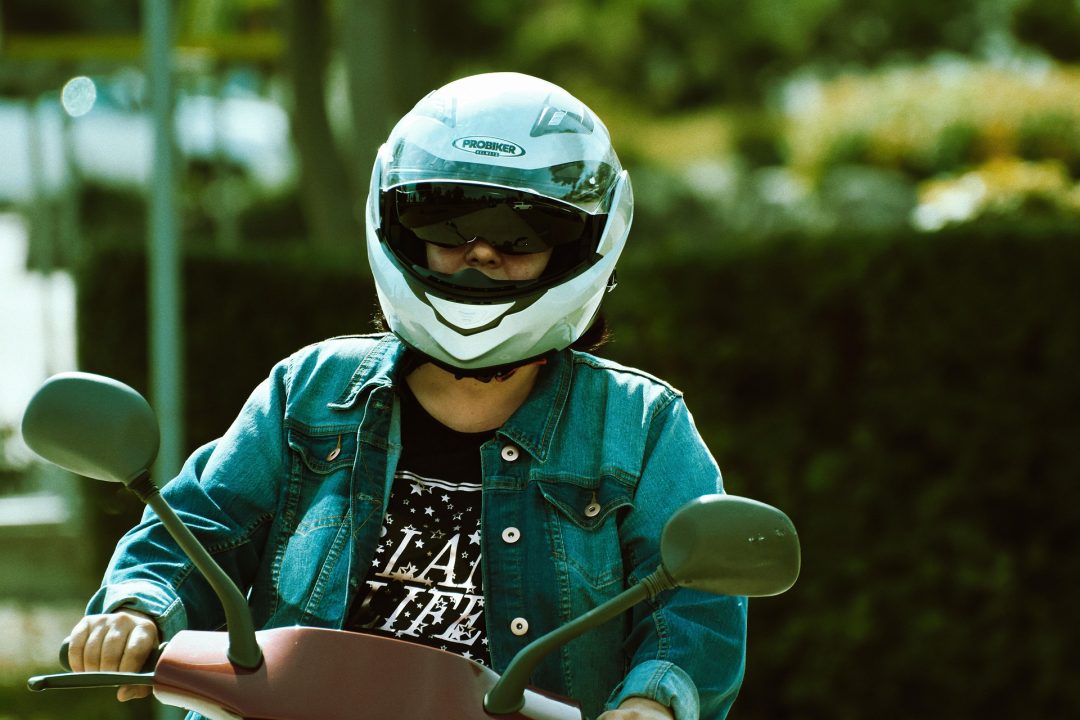 Waterproof Gear for Scooter Commuters
Depending on where you live, rain is probably a frequent reality regardless of the season. Because you are commuting on a scooter, there is no need to invest in a heavy-duty adventure riding suit. However, getting some rain gear will make the daily commute much more comfortable and pleasant. After all, getting soaked on your way to work is no fun.
When it comes to waterproof gear for scooter riders, there are several options to choose from. A simple rain poncho is easily the cheapest piece of waterproof gear you can find. You can also use rain gear meant for cyclists, which usually consist of a pair of waterproof pants and a light jacket.
If you want something a little sturdier, consider getting a rain skirt, also known as a leg and lap apron. These aprons are made specifically for scooter riders and protect you from rain as well as mud, road grime, and debris.
Another great alternative is a one-piece rain suit that you'll find in any motorcycle shop or dealership. 100% waterproof, these suits often have hi-vis colors or stripes added to them making you more visible to car drivers, something that adds to your safety in darker, rainy conditions. Finally, you can get a pair of waterproof pants and a rain jacket separately, but again, don't go for black: bright neon green or orange will make you stand out and be seen by other drivers.
Scooter Commuter Mods
Whether you bought your scooter new or pre-owned, chances are, it could use a few mods to make your commute safer and more comfortable. While aftermarket farkles and gadgets aren't a necessity, they do improve your overall commuting experience. Just like with your scooter, you don't necessarily need to buy them new: scour the internet for better deals or shop second-hand on sites like eBay if you're on a budget.
Kitting out your scooter for commuting is completely up to you, so get creative and improvise as much as you want. To help you get started, here's a list of our favorite scooter commuter must-haves:
Top Box or Luggage Rack
If you're commuting to work on your scooter, chances are, you'll be bringing your work bag, a change of clothes, and perhaps your lunch with you. While most scooters have inbuilt storage space underneath the seat or tank, you may want a little extra for things like your helmet and gloves, basic tools, or rain gear.
Top boxes for scooters are typically cheap and easy to install. You don't need any mechanical skills to do it yourself, as it's usually a very simple setup. Make sure the top box you choose is made from sturdy material and locks well to keep your stuff safe. Since most top boxes come with a small luggage rack, you may remove the box and simply use the rack for smaller bags as needed.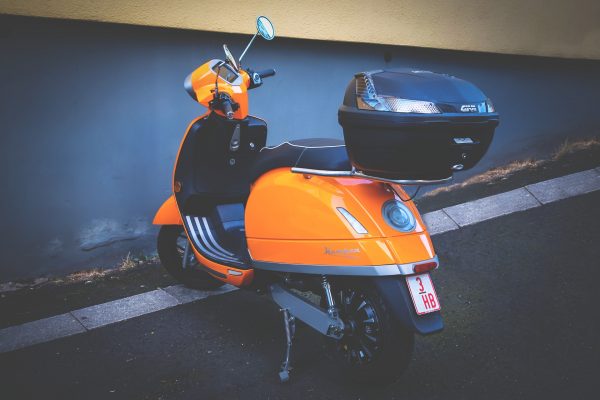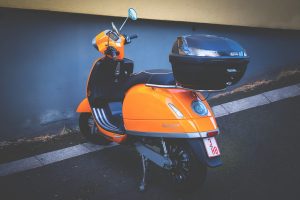 Windscreen
Granted, if you're commuting to work on a scooter, you probably won't be going at death-defying speeds. However, a windscreen can make a big difference even when you're stuck in city traffic. Windscreens protect your body from weather and road grime as well as wind, so if you're commuting to work year-round, it can significantly improve your comfort.
Make sure you choose a clear windshield, so it doesn't impair your visibility. It doesn't have to be tall, either: even a smaller windscreen will make a difference in foul weather. To be durable, however, it needs to be at least 3mm thick.
Just as with other scooter mods, windscreens are easy to install. There are plenty of YouTube tutorials you can use; alternatively, search online motorcycle forums for advice. If you just don't have the time or patience for it, on the other hand, see if you can get it installed at your local dealership.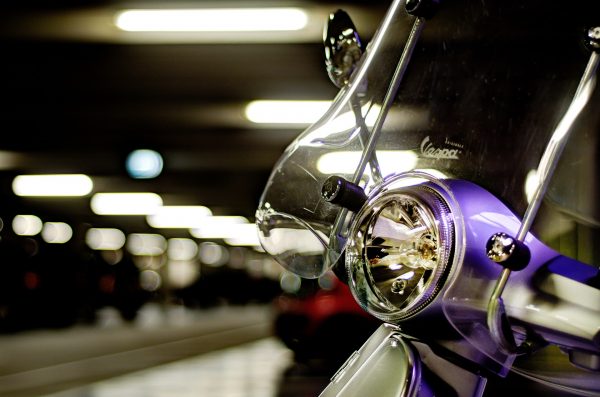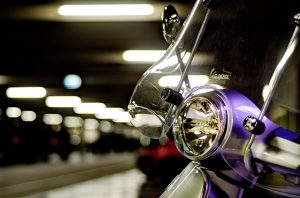 Mesh Seat Cover
This one is for those of you who commute in the summer. If the summer days get scorching hot in your area, getting a mesh seat cover for your scooter can be a game-changer. Designed to let air flow through, these covers prevent your scooter seat from getting too hot. If you want less sweat, less heat, and more comfort during those hot summer days, get a mesh seat cover.
Phone Mount
If you're commuting to work, chances are, you know the route by heart already. However, having a phone mount is handy for so many situations where you do need navigation: road closures, traffic information, or those times when you need to meet a friend in town or find that new dealership that's just opened in the opposite part of the city.
Phone mounts come in different shapes and forms, so keep it simple and choose something that's durable but economical.  If you commute in all weather conditions, make sure you get a waterproof phone cover in addition to the phone mount. Finally, consider installing a USB port charger on your scooter if you know you'll be using your phone for navigation most of the time.
Scooter Safety
Motorcycle and scooter theft in the UK is a serious problem. Mopeds and scooters are at a greater risk than motorcycles, as these small two-wheelers are simply easier to move. However, that doesn't mean you can't protect your ride. Using several safety measures is usually the best policy, so make sure you lock your scooter down, cover it, and track it at all times.
Lock and Chain
A heavy-duty chain, a steering lock, and a disc lock are your first line of defense against thieves. Don't skimp on the chains and locks, as they are a great thief deterrent: thieves typically target scooters and motorcycles they can steal quickly. If your scooter is chained and locked up well, attempting to steal it will cost thieves precious time. That alone can often prevent your scooter from being stolen, as the thieves will look for an easier target instead.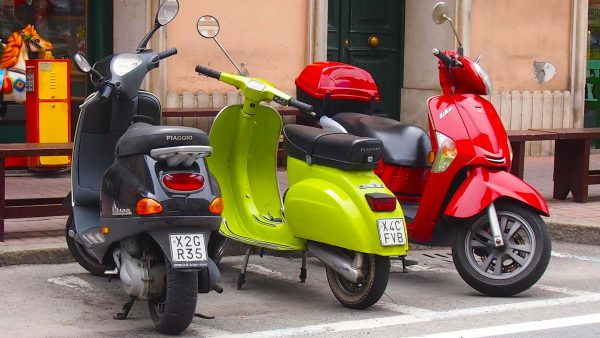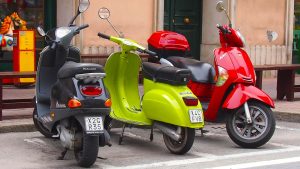 Make sure you lock your scooter up every single time you park it. Even if you're just nipping for a coffee and you won't leave your scooter on the street for longer than fifteen minutes, lock it up. It only takes a minute to put the chain through the rear wheel, lock the steering, and click the disc lock in place. However, it can make a huge difference when it comes to scooter theft.
Bike cover
Another simple but effective way to prevent your scooter from being stolen is a bike cover. For one thing, if you're parking your scooter on the street, a bike cover will protect it from bad weather. But more importantly, a bike cover also works as a thief deterrent. If they can't see your bike, they're less likely to be tempted to steal it.
Make sure the bike cover is dark grey or black, making it impossible to see-through and attracting less attention. Use Velcro straps or reusable cable ties to secure the bike cover over your scooter so it doesn't get blown off and is harder to remove. When not in use, store the cover in your top box or luggage space underneath the seat.
Motorcycle Tracker
However well you protect your scooter, it may still get stolen as thieves are getting more and more creative. A motorcycle tracker can help you recover your ride. Small, wireless, and easy to hide, Monimoto trackers aren't easily found and disarmed by thieves and immediately send out an alarm to your phone if your bike is being moved. Live tracking in real-time makes it much easier for the police to find your stolen bike and retrieve it.
There are plenty of different motorcycle trackers to choose from. We recommend picking a tracker that is small and doesn't have to be connected to the bike's battery, because disabling all electronics is among the first things thieves do when they steal a motorcycle or a scooter. In addition, the tracker needs to be well hidden and have long battery life.
Fun Gadgets
Now that you have the scooter commuter must-have kit, it's time to have a little fun. If your scooter isn't just your means of transport but also your pride and joy, you can add a few stylish details to customize it further. From "Batmobile" stickers and handlebar tassels to license plate frames and windscreen stickers, there are no limits to what you can do.
Regardless of whether you own a timeless Vespa or a futuristic Japanese scooter, here are a few fun gadgets you can add to personalize it:
Cup Holder
Love your coffee? Get a cup holder for your scooter so you never have to go caffeine – free. There are several options to choose from: simple plastic holders, lavish padded ones to keep your coffee or tea hot at all times, and stylish ones to add a touch of class. Some cupholders attach to the scooter with a simple carabiner, and you can take them off and use them throughout the day.
License Plate Frame
If nameplates are too much and regular ones are too plain for you, think about adding a license plate frame. From elegant minimalism to funny decorations, license plate frames add color and character to your scooter. It's one of the simplest but effective ways to effortlessly customize your ride.
Matching Messenger Bag
If you're commuting on your scooter, chances are, you carry a should bag or backpack. Why not make it fun? Match your bag with your luggage, riding gear, or helmet to make a statement. Better yet, match at least three items of your gear or luggage: that way, you're sure to stand out. Is it practical? Not at all, if you choose function over form. But is it fun? You bet!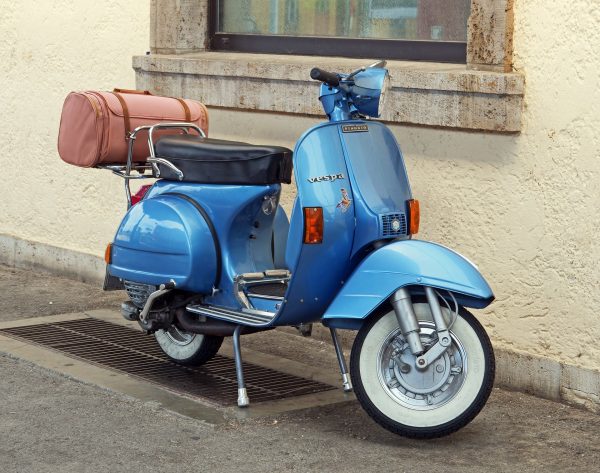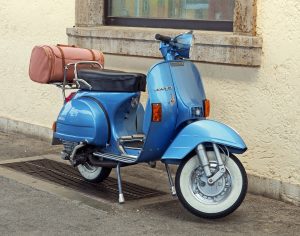 What is in your scooter commuter must-have kit is ultimately your decision. You may use all of the suggestions outlined here or mix and match a few items that are essential to you or specific to your scooter. And if you find it hard to decide, use this simple criterion: will the new mod or gadget make your ride safer, more comfortable, or more fun? If the answer is yes, go for it and enjoy the ride.
Wondering how YOU can protect your bike?
Check out Monimoto smart trackers