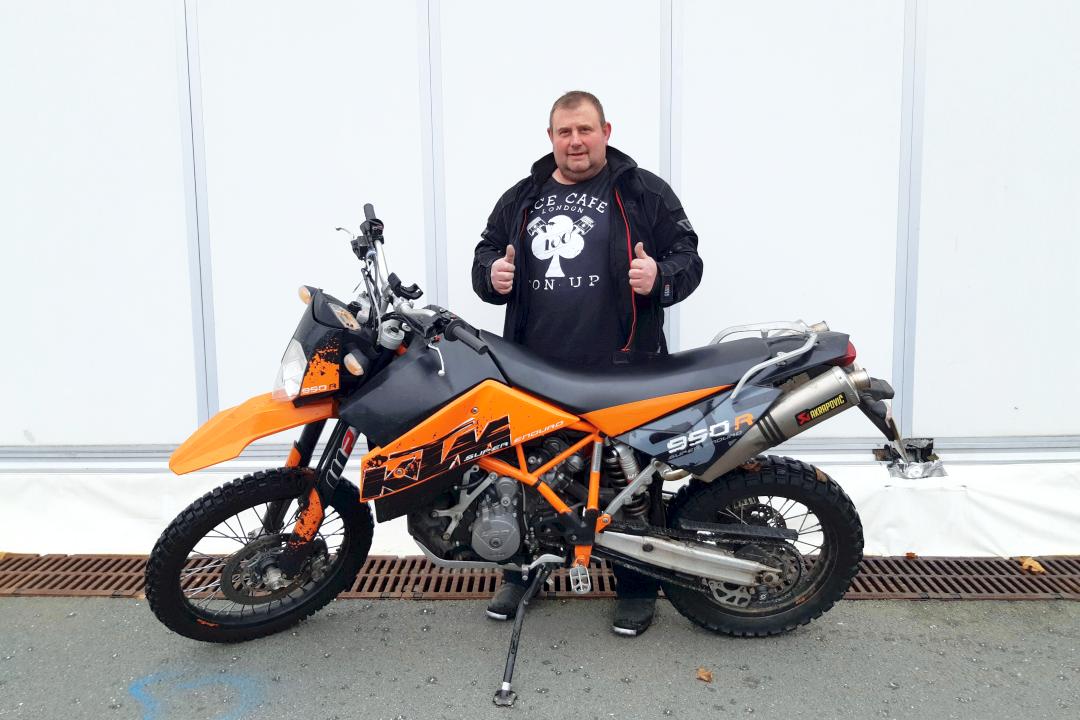 Of all the motorcycles in the UK that get stolen, only 14% of them are recovered. Doug has had a motorbike stolen and recovered twice now. That makes him both the luckiest and unluckiest rider we've ever encountered at Monimoto. Here's how it happened.
Back in 2017 while attending the Motorcycle Live Show in Birmingham, Doug's BMW HP2 was stolen from outside the hotel he was staying at. Despite reporting it to the police, doing his own investigating and even hiring a car to scour the streets himself, he didn't find it. It was two weeks later that his HP2 turned up, burnt out in a park.
New purchase – Monimoto smart tracker
Vowing to not have that happen again, he sought out Monimoto at Motorcycle Live 2018 for some advice on GPS security devices. Ultimately purchasing our Monimoto smart motorcycle GPS tracker for his KTM 950R. Another happy customer.
But two short days later, we heard from Doug again.
The stolen motorcycle
After leaving us at the show he returned to his hotel and set up his new motorcycle tracker while sitting in the comfort of his room. At 10pm the same night he attached the Monimoto tracking system to his KTM before going to bed.
Not wanting to spend the day lugging heavy bags around a busy show, he opted to leave his bags and locks in his room.
He parked his motorcycle directly in view of the busy hotel restaurant and returned to his room. But while in the lift he received a call from his new motorcycle tracker app alerting him that his motorbike was on the move.
Doug ran back out to the now empty parking space that his KTM had occupied five minutes ago, just in time to watch his own motorcycle disappear up the road.
Absolutely gutted, Doug alerted the police to the situation. They then began to chase the thief while Doug updated them with the location of his motorbike according to the GPS tracker.
Successful motorbike recovery
That's where Doug's luck turned around. While feeling helpless and repeatedly phoning the police with updates, another police car happened to turn into the same car park. Doug explained the situation and joined the officers in their car. Then using the real-time location updates from the Monimoto app began to chase down his motorcycle. Soon, three police cars with their sirens blaring, were in pursuit as the thief led them on a chaotic chase around the streets of Birmingham.
After three and a half hours, the police finally caught up with the thief at an abandoned house. Overgrown foliage masked the front of the property, hiding the motorbike inside. As the officers pushed their way through the dense bushes, Doug's KTM appeared, standing alone in the garden. Unfortunately, knowing he was being followed, the thief had already made his getaway.
Doug was convinced from his own past experience that if he didn't find his motorcycle that day, he wouldn't see it again. After an emotional rollercoaster, he felt complete relief as he was reunited with his prized KTM. Luckily, it had only suffered minor damage from it's ordeal.
In order for the thieves to get away with Doug's motorcycle, they snapped the steering lock and broke the ignition barrel. They had also managed to dent the Akrapovic exhaust when they dropped it. Mysteriously, the mirrors were also removed and – judging by the number of bike shops the thief stopped at – most likely sold.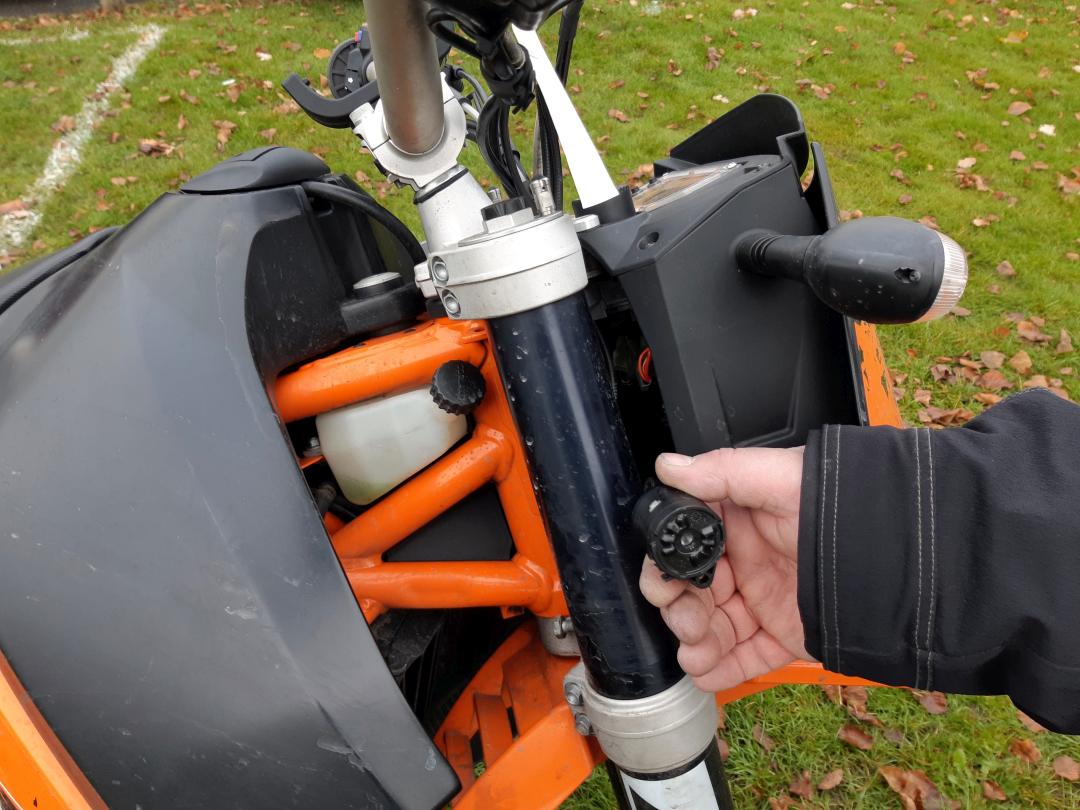 Replacement mirrors and an ignition barrel are all that it took to get Doug's KTM back on the road. Even when you add to that the price of the Monimoto motorcycle tracker, it still cost Doug less than his insurance excess. Plus, he has his pride and joy KTM 950R back in his possession. An all-round success story.
Doug tells us he is "truly grateful for the help of the police. But he's sure he wouldn't have seen the KTM again had he not fitted the Monimoto motorbike tracking system. He also uses the same tracker in his classic Land Rovers and has since convinced three of his friends to get a Monimoto tracker too.
Protect your motorcycle too
Doug's tracker paid for itself within hours of fitting it. They're easy to fit, set-up and use. Plus, if the worst should happen Doug's experience is a testament to how effectively and instantly the motorbike gps tracker works in a real-life situation.
Wondering how YOU can protect your bike?
Check out Monimoto smart trackers