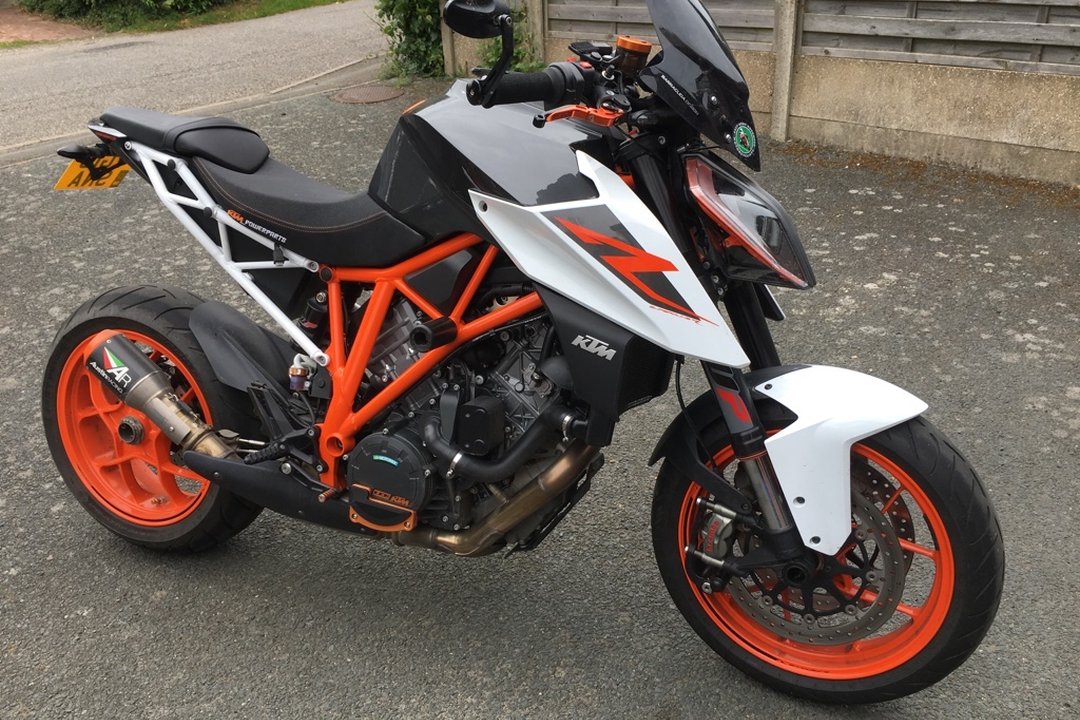 An attempted motorcycle theft can be a terrifying experience, especially if you know you've secured your bike as best as you could. Motorcycle security is every bike owner's concern, especially while away from home or traveling. On the road, you can't count on the safety of your own garage. In situations like that, a motorcycle tracker can make a huge difference.
For Tom Pearce, owner of a KTM 1290 Super Duke R, his worst nightmare almost became a reality. Three young thugs tried to steal his beloved bike during a motorcycle event. Despite having utilized three tiers of security – a steering lock, a chain, and a disc lock – Tom had almost lost his motorcycle to theft.
Rally Volunteer
An avid fan and competitor of motorcycle rallies, these days Tom often chooses to volunteer at events to give back to the community. "Having competed in a number of rallies in the past, I now content myself with helping out", Tom said.
In May, Tom was volunteering at the prestigious 40-hour BritButt Rally, organized by the Iron Butt Association UK. BritButt is a popular event attracting hundreds of riders, rally fans, and supporters. Taking place in Leicester, the Rally participants would cover 11,000 miles in eleven days collecting points and competing for the BritButt title.
Knowing the size and scale of the event, Tom knew motorcycle security had to be his priority. Yet, despite being an experienced rider and taking several steps to make sure his bike was safe, Tom came very close to losing his KTM to motorcycle thieves.
Attempted Motorcycle Theft
Leicester's Premier Inn hosted the rally riders this year, including Tom Pearce and his Super Duke.
"It was at six minutes past midnight on 26th May 2019. I was having a late-night drink at the bar of the Leicester Fosse Park Premier Inn. It served as our start and finish point for the weekend rally.
My bike, along with three or four others belonging to my colleagues were in the hotel car park, to the front of the main doors", Tom explained. Feeling his bike was as safe as it could be, Tom was relaxing inside the hotel.
As he was chatting to other rally riders and enjoying a drink, his phone suddenly went off.
"My phone started to ring, and when I looked, it was from Monimoto, telling me that my bike was moving".
At first, Tom stared at his phone screen in disbelief. "I had left my bike with the steering lock on, a Roadlok disc lock fitted to one of the front discs, and a sturdy chain through the rear wheel, looped through a chain on the next door motorbike", Tom explained. He felt he had done more than enough to ensure the safety of his KTM.
Yet, the bike was moving.
A Short Chase
Accompanied by two other riders, Tom sprang to action.
"I ran out of the bar with two of my colleagues. We headed straight into the car park, where we saw three young thugs in hoodies standing around my bike.
They had bolt-cropped the chain, defeated the steering lock, and had lifted my bike off of its side stand, ready to push it away. However, they had failed to spot the disc lock, which was still in place. The act of lifting it from the side stand had activated the Monimoto device, which in turn had alerted me", Tom said.
Spotting Tom and the two other riders running towards them, the would-be thieves abandoned their efforts to steal the motorcycle. The trio jumped into a car and sped off as Tom and his friends ran towards the bike.
Going the Extra Mile
According to Tom, what gave his motorcycle a fighting chance was the disc lock and the Monimoto tracking device.
"The thieves defeated the steering lock and the chain. Luckily, they failed to spot the disc lock which gave me a few valuable seconds after the Monimoto activated. This has saved my bike from being taken out of the car park, and I am extremely thankful to have fitted both devices. I am quite sure that had the Monimoto not been fitted, the would-be thieves would have turned their attention to the disc lock and the bike would have been gone", Tom explained.
We're proud to have saved yet another bike from being stolen and we're grateful that Tom has decided to share his story with us. Success stories like this are what keeps us motivated to help you protect your bike and share thousands of happy and stress-free miles with our Monimoto family!
Wondering how YOU can protect your bike?
Check out Monimoto smart trackers