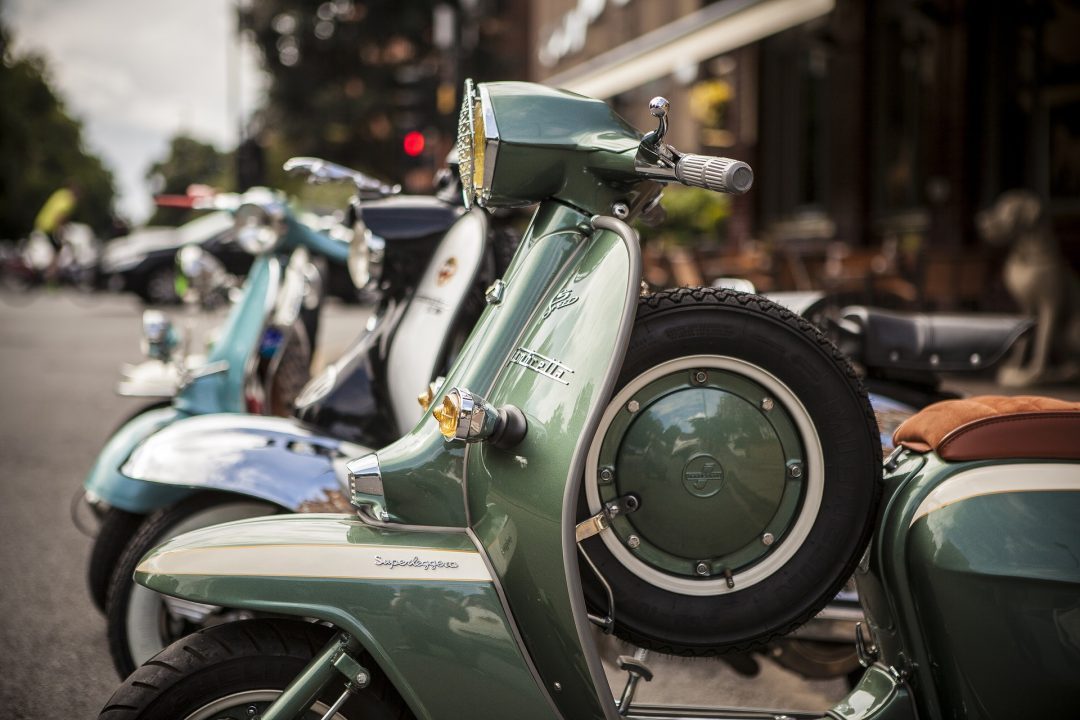 In London, scooters are everywhere: beloved by the urban commuters, scooters make up a big part of the capital's traffic.  Just like motorcycles, scooters are a very individual choice. From small, nimble 50cc Vespas to luxury maxi-scooters like the Yamaha T-Max, there is something for everyone out there.
Scooters are so popular because they are affordable, incredibly fuel-efficient, and much cheaper to insure than cars or motorcycles. Scooters take up less space, both in traffic and parking lots. The maintenance costs are low (most scooters just need an oil and oil filter change once in a while). Finally, it's much easier to learn to ride a scooter and obtain a license – in most cases, all you need is a completed CBT course. Because of the smaller wheels and low center of gravity, scooters are maneuverable, fun, and easy to throw around.
If you're thinking of getting a scooter, you'll need to figure out what make, model, and size would work best for you. To help you make a decision, we made a list of the most popular London scooters. Starting with the powerful and comfy maxi-scooters and finishing with smaller, budget-friendly bikes, this is a comprehensive guide to help you figure out what's best.
The Big Guns: 350-560 CC
Large maxi-scooters, such as the Yamaha T-Max, are a little like luxury cruisers. With impressive engine size, typically ranging from 500 to 650 CC,  edgy urban-style bodywork, and unparalleled comfort, maxi-scooters combine the best of two worlds: mopeds and motorcycles. While it's a "twist and go", a maxi-scooter has the power delivery of a mid-range motorcycle, the comfort of a tourer, and the features of the ideal commuter such as heated grips, a protective windscreen, heated seat, and plenty of storage space.
Maxi-scooters are great for riding solo and two up. Because of their size, they can also be used for weekend rides and trips. In essence, the large, 350-650cc scooters are comfortable motorcycles with a "twist and go" riding mode.
Should you get one? Yes, if comfort and higher top speeds are important to you.
Most Popular London Scooters under 600cc
Yamaha T-Max 560
The king of maxi-scooters, Yamaha T-Max is the most popular choice in Europe. In the UK, this bike is also among the most popular London scooters. With its impressive power delivery, a large 560cc engine, and a sporty feel to it, the T-Max can be used for commuting, leisure riding, and even travel. This comfortable scooter handles with surprising agility, and Yamaha really crammed the 2020 model chok-full of handy features such as LED lights, heated grips and seat, a larger taillight, and plenty of storage space among others.
The only cons of this scooter we can think of is the higher price point (£10,199) and the fact that the T-Max isn't just popular with riders – it's also popular among thieves. If you're thinking of getting this scooter, make sure you protect it as best as you can both at home and while away, and install a motorcycle tracker just in case.
Honda Forza 300
Another popular bike, Honda Forza is a great choice for London commuters. This high-spec scooter has a much more acceptable price point at £5,099, but it holds its ground when it comes to its engine size of 280cc and its fast acceleration due to an upgraded transmission system. Agile, powerful, and fast, this scooter can do 215 miles on a full tank, which is great news for riders. Finally, as the saying goes, Honda is Honda: the manufacturer is world-famous for building solid, reliable bikes, so you're looking at a very durable scooter that will last.
Yamaha X-Max 300
The little cousin of the Yamaha T-Max, X-Max is smaller, lighter, and even more fuel-efficient, but has a similar sporty feeling because of the same traction control and transmission that the T-Max has. The X-Max is an ideal city bike, capable of filtering through traffic, accelerating fast when you need it to, and easy to maneuver. The scooter comes with handy commuter gadgets such as storage space, USB charging ports, and adjustable windscreen.
The Mid-Range Scooters: 125-250cc
According to dealer statistics, 150cc scooters are among the most popular two-wheeled "twist and go" machines in the UK. Small, light, and affordable, the 150cc range scooters still have plenty of kick in them. While unsuitable for longer travels, the 150cc scooters are ideal for London: highly maneuverable and able to easily filter through traffic, these smaller mopeds are perfect for the daily commute.
Much like the larger, more powerful scooters, the 150-250 cc ones have sufficient storage space underneath the seat, can be modified, and are even more fuel-efficient than the bigger versions.
Should you get one? Yes, if you are primarily planning to use your scooter for commuting.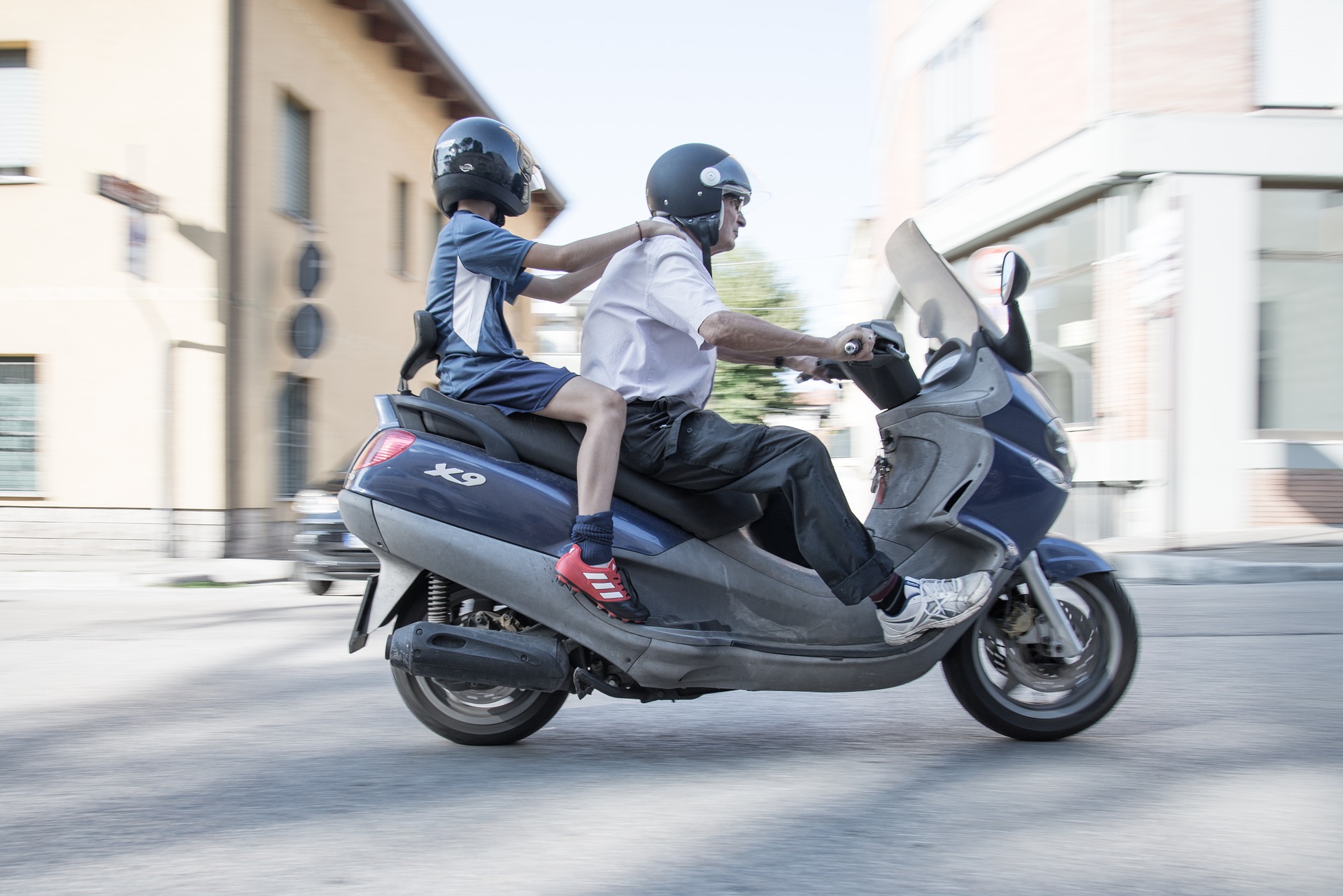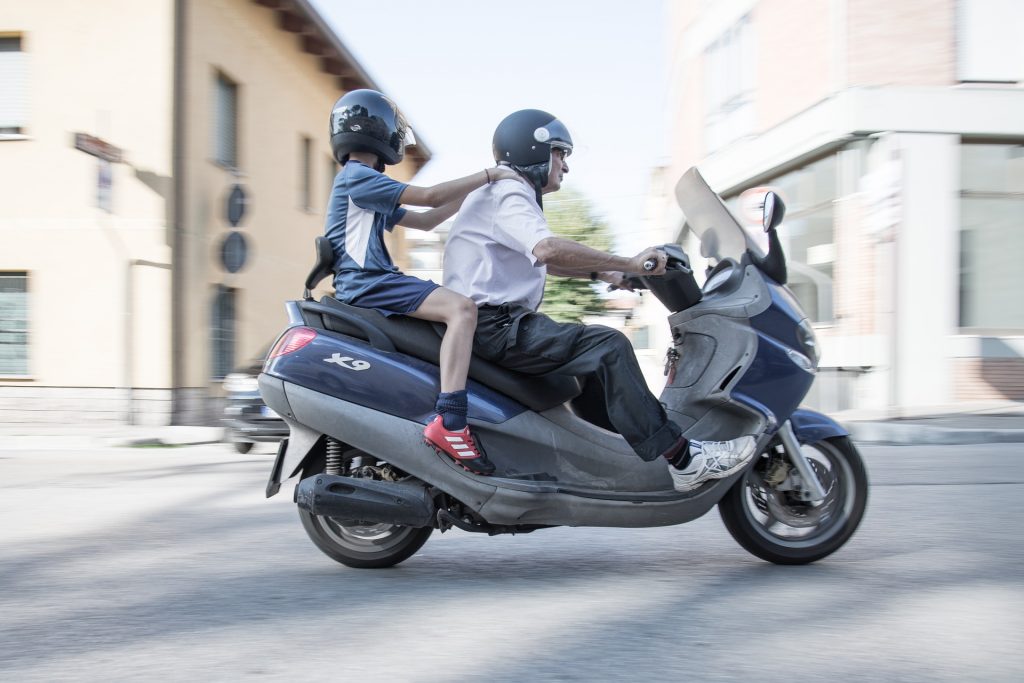 Most Popular London Scooters Under 250cc
Honda PCX 125
The PCX 125 is Honda's best-selling scooter in the UK, and we can see why. Small yet surprisingly sturdy and reliable, with an improved Smart Power engine that has a little more top-end power, amazingly fuel-efficient (8 liters of petrol will last you for over 240 miles) and costing £2,929 brand-new, this is a perfect bike for beginner riders and seasoned commuters alike. Although compact, the PCX has generous storage space, boasts a modern, urban look, and is incredibly easy to handle. What's not to love?
Yamaha S-Max 150
If the Yamaha S-Max scooter could be described in one word, we would probably go for "fun". The 155cc engine feels great in city traffic, but it's also peppy enough to take you on a dual carriageway over the weekend. Because the scooter has plenty of wind and weather protection, the vibration is minimal even at higher speed. Although small and compact, the S-Max has a 32-liter storage space underneath the seat, capable of hosting your crash helmet, rain gear, and a laptop.
At the price point of £3,174, it's not the cheapest scooter out there, but if you love the looks, the iconic Yamaha "Max" series, and the fun engine, it might be the right bike for you.
Small and Nimble: 50cc Scooters
Need a cheap, universal run-around? Small 50cc mopeds are fantastic little bikes to ride in the city. They may have less power than the mid-range scooters, but the 50cc mopeds more than make up for it in agility, fuel efficiency, and ease of handling. In addition, they are so simple mechanically they barely need service, bringing maintenance and insurance costs even lower.
"The Fun Fifties" are easily the best scooters for beginner riders, as they are so uncomplicated, light, and forgiving. They can also be the perfect match for urban commuters, especially as they take up as much parking space as a bicycle and can be easily tucked away just about anywhere.
Should you get one? Yes, if you are a beginner rider or if your budget is a little tight.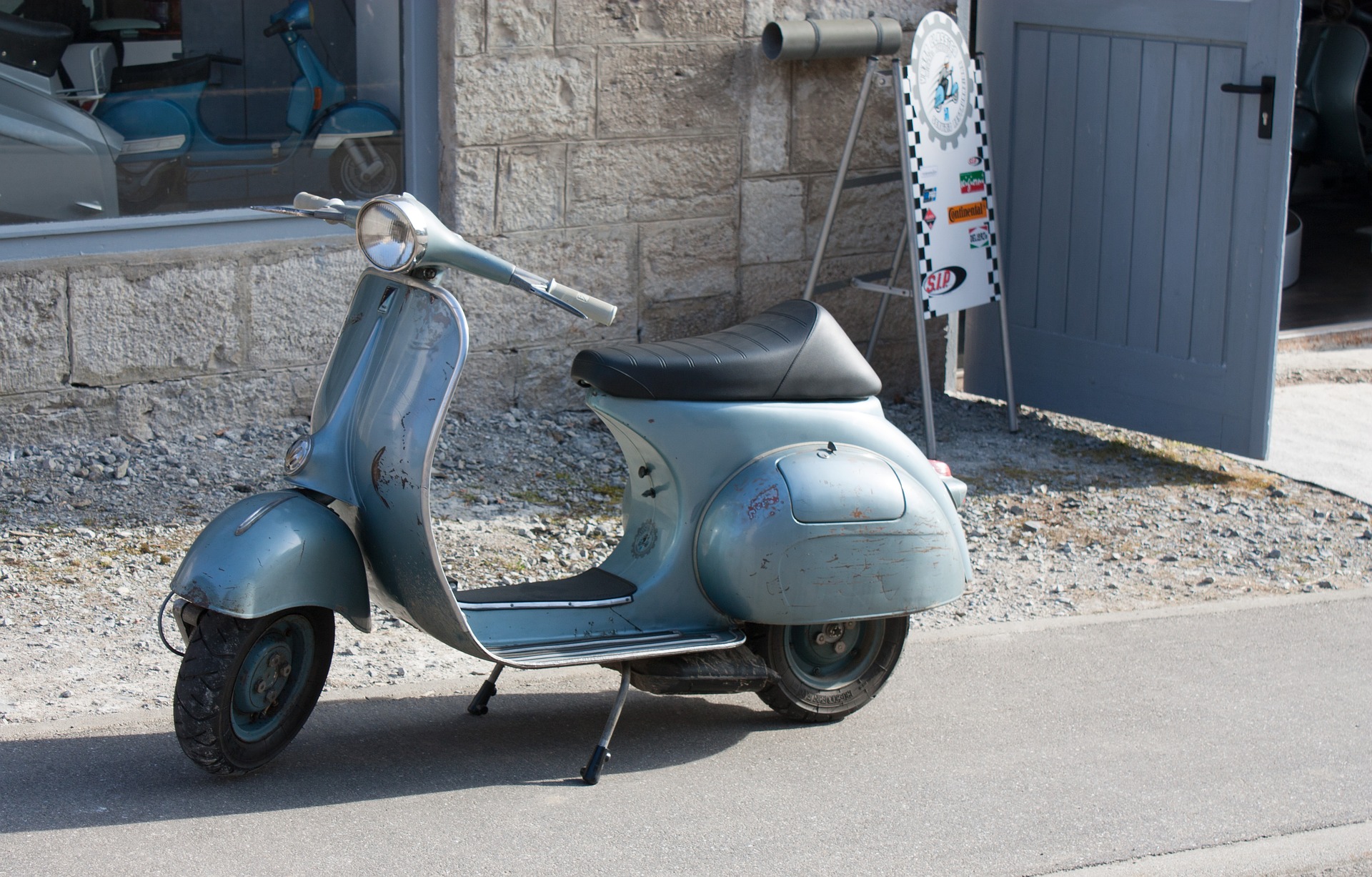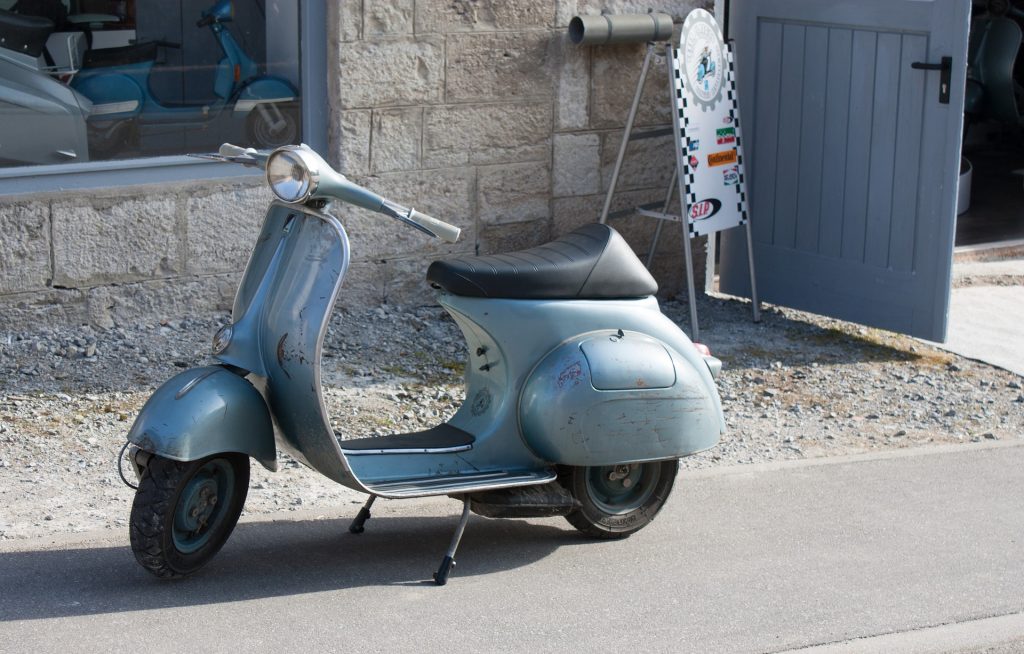 Most Popular London Scooters Under 50cc
Vespa Primavera
This 50cc scooter is another London favorite. At the price point of £3,399, you're not paying for the engine size or the luxury comfort: you're paying for style. Vespa is a classic, and that says it all. The most important decision when picking out a Vespa Primavera is its color, not storage capacity; this little Italian scooter is all about style and statement rather than horsepower. £
At the same time, its 50cc engine is more than enough for riding around the city, wriggling around traffic, and getting to work in time. The Vespa Primavera, going strong since 1946, is environmentally friendly and fuel-efficient at 85 miles per gallon. If you're looking for fun and class combined, look no more – the Primavera is perfect for you.
Aprilia SR50R
Love racing references? Aprilia SR 50 R, unlike the dreamy Primavera, is an Italian scooter that's all about the racing heritage. Featuring aggressive bodywork and decals, the SR 50 R has a sportier, more dynamic look. Costing £2,699 brand-new, Aprilia SR 50 R is more affordable than the iconic Vespa, and it packs a bit of a punch. The 50 cc two-stroke engine is capable of accelerating fast and keeping up with the city traffic, making this small scooter a great bike for commuters and delivery riders.
Peugeot Kisbee 50
When it comes to the most popular London scooters in the 50cc category, the Peugeot Kisbee 50 often tops the best-selling lists. With the price point of £1749 brand-new, it's no wonder the Kisbee sells so well. This scooter is among the most functional small mopeds out there: compact and light, it still has plenty of storage, comfortable flat floor, passenger grab handles, and space under the handlebars for extra bags or that scooter coffee cup holder you've been eyeballing on eBay. With its 50cc engine, the Kisbee is able and willing to battle both city traffic and smaller backcountry roads. Since it has so much storage space and a flat floor, it can also serve as a beast of burden for your grocery shopping after work. The Peugeot Kisbee 50 is a true all-rounder for city dwellers.
Yamaha Aerox 50
Yamaha knows what it's doing when it comes to scooters. The Aerox 50, another gem from the Japanese manufacturer, is a fantastic little bike for riding around the city. It features a unique, sporty look and it's surprisingly high-spec for a small scooter. The 50cc engine has both great performance and high fuel efficiency, while the aluminum wheels and better suspension make for a smoother ride. The Yamaha Aerox 50 has less storage space underneath the seat than the Kisbee, but it's enough for a crash helmet or a bag.
The Aerox costs £2,874 brand-new, placing it in the more affordable scooter category.
Budget Bikes
If you're looking for a budget scooter instead of the luxury bikes like the Yamaha X-Max or the elegant runarounds like the Vespa Primavera, you may consider getting a Taiwanese or Chinese-made bike. Granted, Chinese motorcycles and scooters might still inspire controversy and skepticism in veteran riders, but the market is rapidly changing. Brand names like Kymco and Lexmoto are making their way into the mainstream, so if you're buying your very first scooter and the budget is tight, these bikes might be a good choice for you. As an example, the Kymco Agility 50 scooter costs £1499 brand-new, almost a thousand pounds less than its Italian or Japanese counterparts.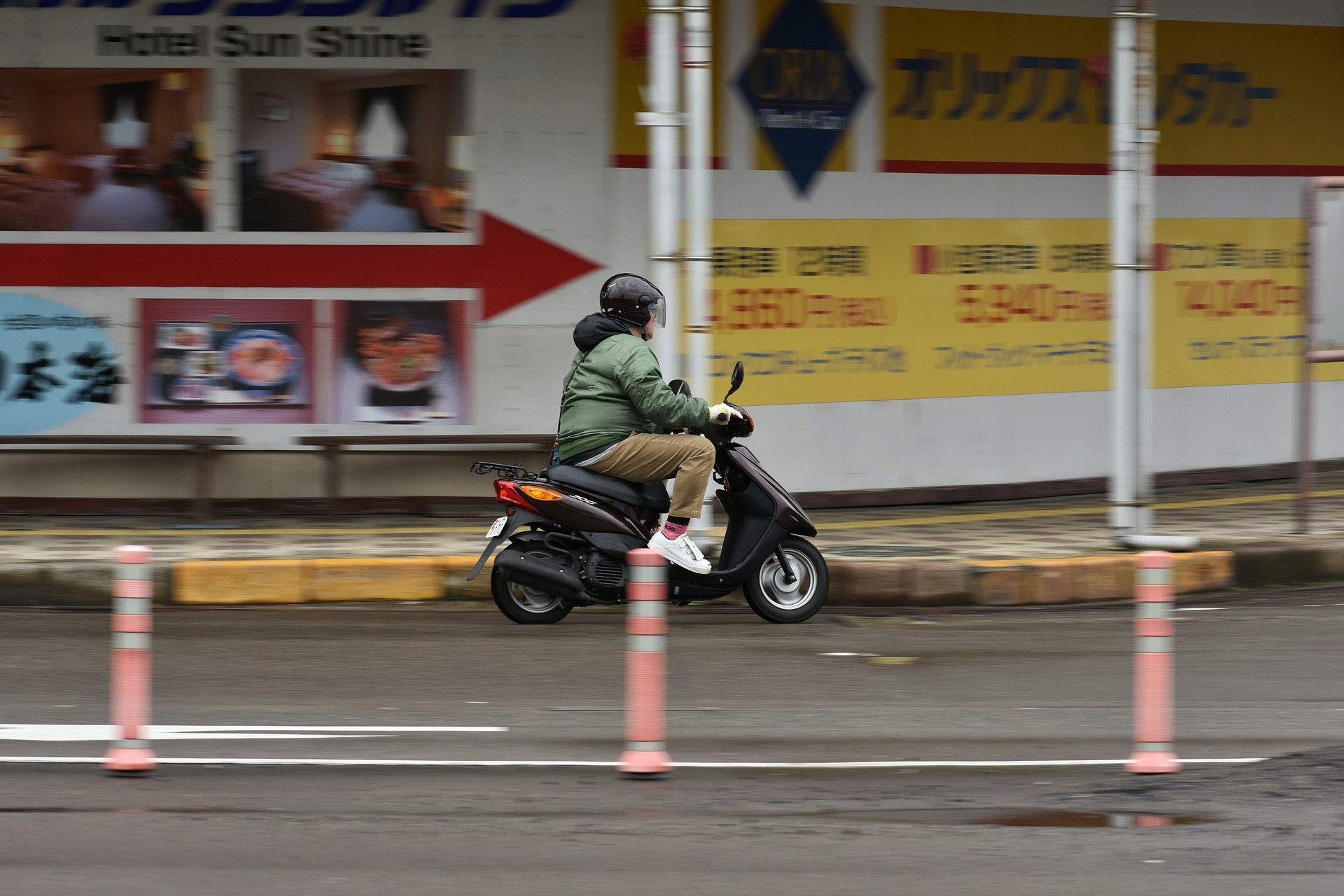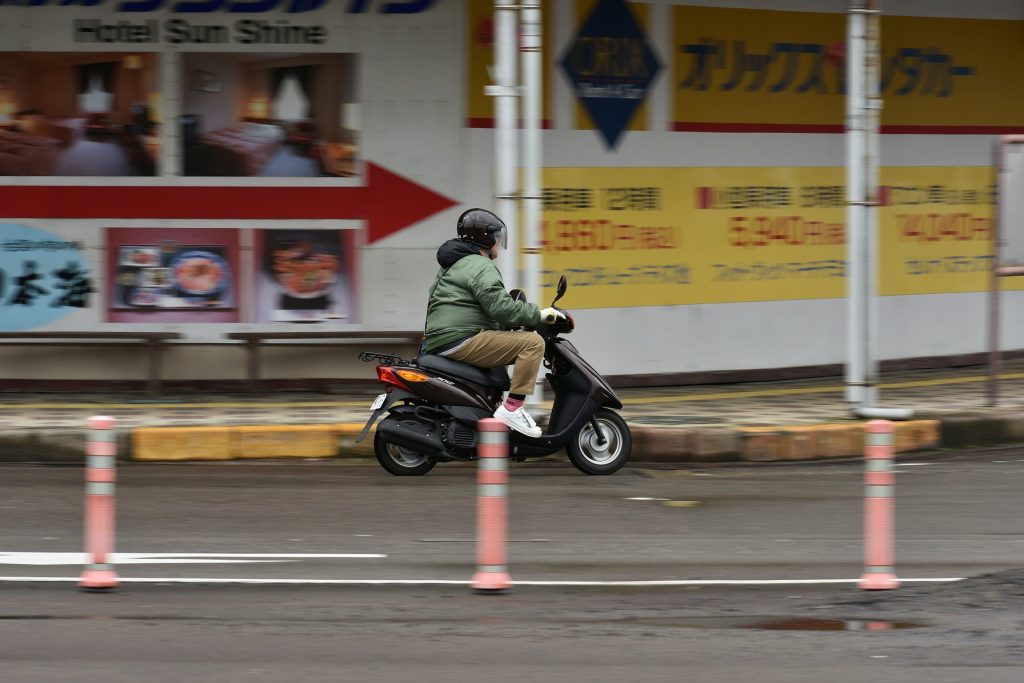 When choosing a scooter, it's all about that perfect intersection between comfort, economy, reliability, and power. That ideal point is different for everyone, so if you're considering several makes and models, think first in priorities. What's most important for you? The speed, the style, the comfort? Think about these categories, then see which scooter matches your priorities best. Most importantly, be realistic and don't start with the 560cc scooter if you're a beginner rider. Choose something that's light, easy to handle, and cheap to maintain – you can always upgrade later.
What is your favorite London scooter, and what do you love about it most? Let us know in the comments below!
Wondering how YOU can protect your bike?
Check out Monimoto smart trackers