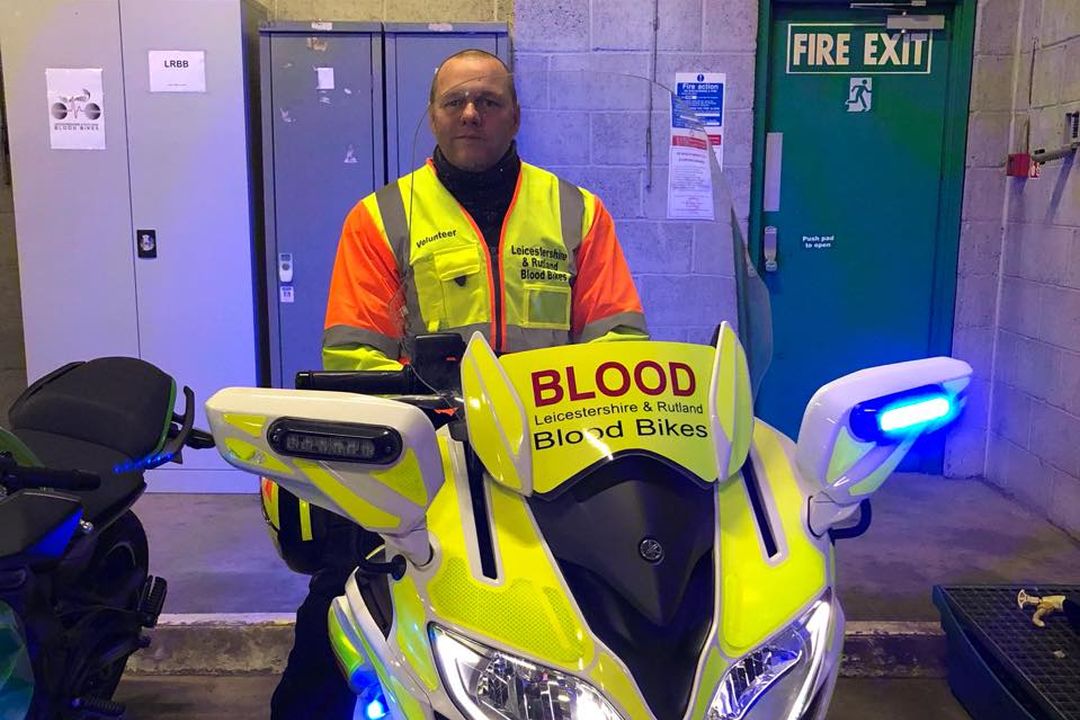 Blood biker?
By day these people are electricians, lawyers, priests, and pilots, but by night they are the Blood Bikers. A blood bike is a motorcycle used to courier urgent and emergency medical items in the UK.  More than 1,500 volunteers provide coast-to-coast coverage, carrying everything from blood, platelets, and plasma to breast milk, vaccines, and surgical equipment.
Darren
Darren is one of them. He has been a Soldier in the British Army for 22 years and has been riding motorbikes for most of his life.
This is what Darren told us about his experiences:
"I have always wanted to volunteer as a Blood Bike Rider, however, the entry standards are quite strict, for obvious reasons. You had to have been riding a large capacity motorbike for 5 years+ and you also had to have completed an advanced motorcycle riding test with the Institute of Advanced Motorcycles (IAM) or Royal Society for the Prevention of Accidents (RoSPA).
I have a friend who was an IAM Trainer/Assessor so every time we went on a social ride out he would give me guidance on some of the aspects required of an advanced motorcyclist, and I had become quite a proficient rider.
When I arrived at my most recent assignment as a soldier in Leicestershire, I decided that now is the time. To be able to sign up as a Blood Bike Rider for the Leicestershire & Rutland Blood Bikes (LRBB) I had to complete the Government Run Enhanced Rider Assessment which I passed with flying colours. The LRBB also required me to attend a few evenings of training, as well as an assessed ride along one of the potential routes and then I was ready to go.
Volunteering for this group is a great satisfaction but can be demanding, especially if you have a full-time job, but the feeling that you are doing something for your local community is reward enough. The duties run from 7 pm to 7 am, and you have a choice of 3 bikes which are; a BMW R1200 RT; a Yamaha FJR 1300 or a Kawasaki Versys.
If you are interested in volunteering and have the criteria I have described, then please contact your local branch, as I'm sure they would love your help in any way shape or form."
Future plans
Darren is not going to settle. Now he is planning to set out on the Round the World solo motorbike trip under the nickname of Jersey Biker.
Monimoto team is glad to be supporting Darren throughout his trip and keeping his bike safe with Monimoto smart GPS tracker.
Wondering how YOU can protect your bike?
Check out Monimoto smart trackers